Cats, crafts, and colors galore! Gabby's Dollhouse invites you to play along with Gabby and her feline friend Pandy Paws. Together, they'll embark on an animated adventure filled with magic. If you're wondering how to watch Gabby's Dollhouse on Netflix, here are some methods to do so.
Where to Watch Gabby's Dollhouse Season 6
Good news! You and your family can enjoy not only Gabby's Dollhouse but everything Netflix has to offer. With Netflix, there are no extra costs and no contracts. Watch from your smartphone, tablet, smart TV, laptop, or streaming device. Plans range from $6.99 to $19.99 a month, making it easy to pick an option that gives you access to hit TV shows, movies, documentaries, and more. 
RELATED: Exclusive SuperKitties Music Video Introduces the Fearless Felines
How Many Episodes Are in Gabby's Dollhouse Season 6?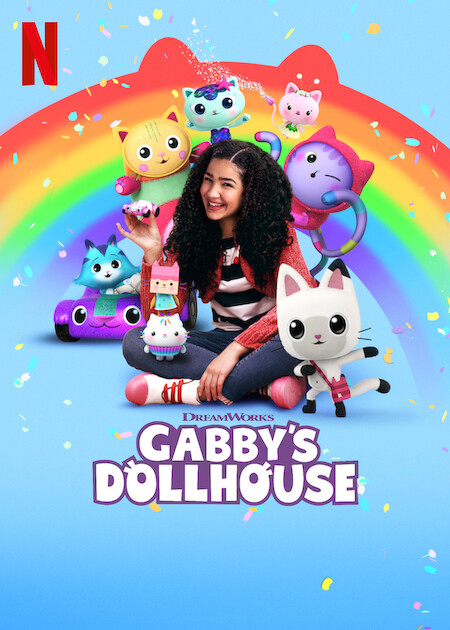 There are six episodes in Gabby's Dollhouse season six. Each episode lasts 25 minutes on average. You can check the complete list of Gabby's Dollhouse episodes and their scheduled date release here below.
Season Six
"A CAT-Tabulous Christmas": November 1, 2022
"CatRat's Puzzle Hunt": November 1, 2022
"Super Thinkers": November 1, 2022
"Paper Cup Popper": November 1, 2022
"Dollhouse Dress-Up Chest": November 1, 2022
"Kico the KittyCorn": November 1, 2022
Previous Seasons
Season Five: July 2022
Season Four: February 2022
Season Three: October 2021
Season Two: August 2021
Season One: January 2021
What Are the Critics Saying About Gabby's Dollhouse Season 6?
Gabby's Dollhouse has no official critic reviews. IMDB rates the series a 7.3/10 based on audience scores. If you're looking for a show you'll enjoy alongside your children, viewers say this one is worth watching. Parents love the colorful, fun characters, the cute stories, and the positive narratives the series includes.
"So no surprise that this series also tries to make sure that preschoolers learn a thing or two along the way, like how to love who you are, how to love others, and how to be kind to friends." – Kristin Smith, Plugged In
RELATED: Exclusive The Makery Trailer & Key Art Preview Imaginative Educational Show
Is Gabby's Dollhouse Season 6 Suitable for Kids?
Gabby's Dollhouse is rated TV-Y, which is suitable for all viewers, including kids under the age of 7. Parental supervision is recommended for very young audiences.