Anna Faris is one of Hollywood's most reliable comediennes. Ever since 2000 when she burst on to the scene in the Wayans' brothers Scary Movie franchise, she has consistently made audiences laugh out loud. She has also popped up in some more dramatic films too, albeit briefly. Faris had appearances in Brokeback Mountain, Lost in Translation, and May. What's more, she has done a lot of voiceover work in Cloudy With a Chance of Meatballs, the Alvin & the Chipmunks franchise, and The Emoji Movie. In 2018, she starred in the gender-swapped remake of Overboard. Here are the top five roles of Anna Faris' career.
Cindy Campbell in the Scary Movie Franchise (2000, 2001, 2003, 2006)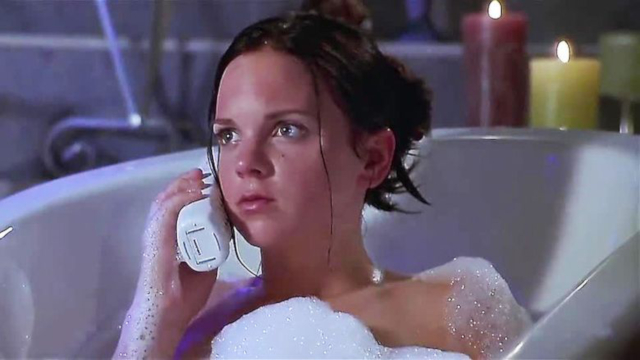 The Scary Movie franchise is where Anna Faris became a household name. She took on the role of Cindy Campbell. The Wayans' brothers original film is by far the best one, and Faris' skewering of Scream's Neve Campbell is spot on. When Ashley Tisdale took over the lead in the fifth film, she just couldn't quite fill the void left by Faris' departure. Throughout the 2000s, Faris was essentially the modern day Leslie Nielsen. Nobody was doing spoof better than her.
Samantha James in Just Friends (2005)
Just Friends is one of Ryan Reynolds' funniest films. It tells the story of a former overweight kid, who left for the West Coast after his high school humiliations and the romantic rejection of his best friend. Many years later, now that he looks like Ryan Reynolds, Chris is quite the Lothario. Through a comedy of errors, he winds up in his hometown around Christmas and runs into his old best-friend/crush, Jamie (Amy Smart). Hilarity ensues. However, a real spark plug in this film is Anna Faris' as Samantha James. Samantha is a hyper-sexualized pop star whom Chris has been tasked to take care of. They have a slight history, but Samantha is a bit off-kilter. Just Friends is a delight on the surface, but you know exactly what is going to happen with the romance. Having Faris's Samantha in there really keeps the viewer on a hilarious edge. You just never know what she is going to do.
Brandi in Observe & Report (2009)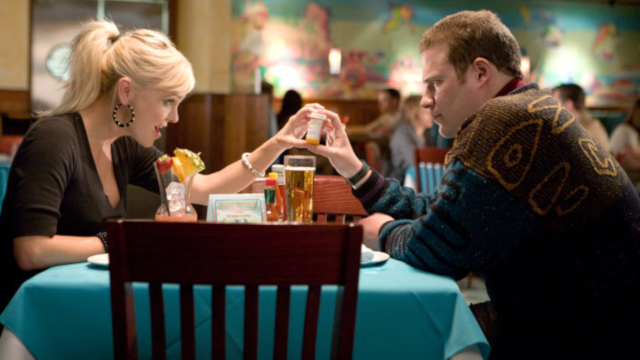 Observe & Report Jody Hill's R-rated answer to Paul Blart: Mall Cop. Seth Rogen as the main character Ronnie. He thinks he is Dirty Harry, but he is just mall security. He wears his racism on his shirt (hilarious interaction with Aziz Ansari) and lusts after Anna Faris's Brandi. Brandi is the stuck-up make-up counter girl who has fallen victim to the mall parking lot flasher. It was Ronnie's task to capture this flasher, so he becomes obsessed with protecting Brandi. When Brandi finally submits to a date, it gets fueled by copious amounts of alcohol and Ronnie's prescription pills. Faris fully commits as the joke takes a dark turn, earning the film a spot on this list.
Shelley in The House Bunny (2008)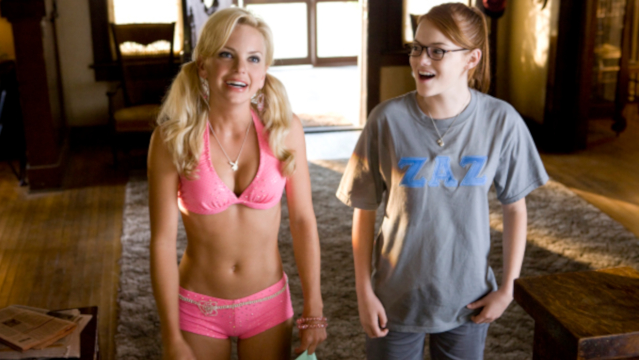 The House Bunny is better than it has any right to be. Although the supporting cast including Emma Stone and Colin Hanks is wonderful, Anna Faris owns this movie, full stop. Her superficiality clashing against the world of a nerdy sorority is never not funny. Living in the Playboy mansion doesn't prepare oneself for the real world.  What happens when you turn 27 and they kick you out?
Christy Plunkett in Mom (2013-Current)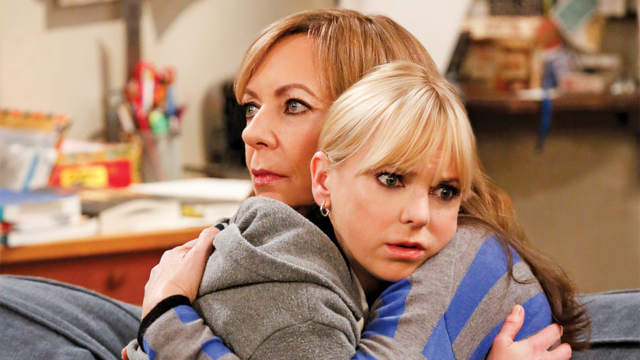 The culmination of Anna Faris' career had led to a supremely successful sitcom on CBS. She was no stranger to sitcoms, having a successful multiple-episode run as Erica on Friends. Currently in its 6th season, Mom is one of the highest rated comedies on television.  The story follows Faris' Christy as a newly-sober single mother who is navigating her complicated life with her overbearing, ex-junkie mother (Allison Janney). It is a delight to watch Anna Faris play the woman on the straight-and-narrow as everyone around her struggles less successfully with their own addictions.
We are a participant in the Amazon Services LLC Associates Program, an affiliate advertising program designed to provide a means to earn fees by linking to Amazon.com and affiliated sites.