Best friends Chad and JT are on a mission to spread positivity through pranks in Chad and JT Go Deep. In this mockumentary series, they'll work to spread awareness of silly, humorous, and zany issues. If you're wondering how to watch Chad and JT Go Deep on Netflix, here are some methods to do so.
Where to Watch Chad and JT Go Deep
Good news! You and your family can enjoy not only Chad and JT Go Deep but everything Netflix has to offer. With Netflix, there are no extra costs and no contracts. Watch from your smartphone, tablet, smart TV, laptop, or streaming device. Plans range from $6.99 to $19.99 a month, making it easy to pick an option that gives you access to hit TV shows, movies, documentaries, and more. 
RELATED: Exclusive Fisherman's Friends: One and All Clip Previews Comedy Sequel
How Many Episodes Are in Chad and JT Go Deep?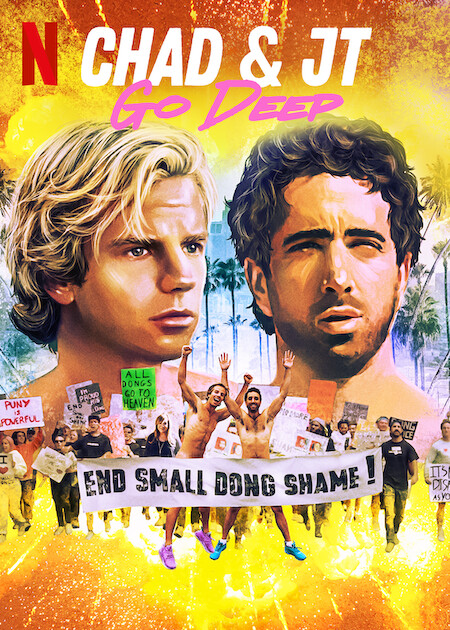 There are six episodes in Chad and JT Go Deep. Each episode lasts 20 minutes on average. You can check the complete list of Chad and JT Go Deep episodes and their scheduled date release here below.
"A Major Faux Pas": August 23, 2022
"Raising Awareness": August 23, 2022
"Shmole Island": August 23, 2022
"Small Dong Shame": August 23, 2022
"Stokers Unite!": August 23, 2022
"Going Deep": August 23, 2022
What Are the Critics Saying About Chad and JT Go Deep?
Chad and JT Go Deep received a 93% from audience viewers. Most audiences found the premise hilarious, and the pranks equally so. If you're a fan of zany humor, mockumentaries, or just want a silly comedy to zone out with, viewers agree this is one to watch.
"Joke for joke the show is not as richly saturated as 30 Rock or as guffaw-filled as Detroiters; still, it manages to create comedy out of unacceptable behavior and group dynamics, a punch line I am always down for." – Isabel Parigi, Pajiba
"Clocking in at less than 20 minutes, watching an episode of Chad and JT Go Deep is a low-intensity engagement, which suits the drifty, slacker vibe of their brand of comedy." – Johnny Loftus, Decider
RELATED: The Drop Interview: Jillian Bell & Joshua Leonard Talk Hulu Comedy
Is Chad and JT Go Deep Suitable for Kids?
Chad and JT Go Deep is rated TV-MA, which is suitable for viewers ages 17+. The series may contain real-world topics, themes, and frightening or intense scenes not suitable for younger viewers.