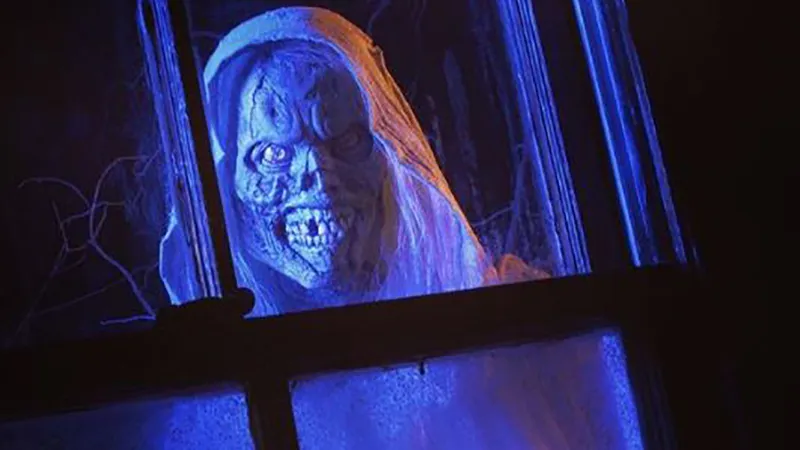 Legendary special effects producer and director Greg Nicotero took to Instagram this morning to reveal that the first episode of the upcoming horror anthology series Creepshow has finished production, and in doing so revealed the new version of The Creep from the series! The hooded figure appeared on the poster and throughout the original film as he revealed the many twisted tales of the movie. Check him out below!
RELATED: Greg Nicotero's Creepshow Anthology Starts Production
 

View this post on Instagram

 
The six-episode season, which began production in Atlanta, Georgia earlier this month, will feature a variety of talented writers penning the episodes, with one episode being based on the Stephen King short story "Survivor Type" from the collection Skeleton Crew. The other episodes include:
"Silvery Waters of Lake Champlain" by Joe Hill ( NOS4A2 )
"House of the Head" by Josh Malerman ( Bird Box )
"The Companion" by Joe Lansdale ( The Bottoms )
"The Man in the Suitcase" by Christopher Buehlman ( The Lesser Dead )
"All Hallows Eve" by Bruce Jones ( The Hitchhiker )
"Night of the Paw" by John Esposito ( The Walking Dead: Webisodes )
"Bad Wolf Down" by Rob Schrab ( Monster House )
The TV series will be an anthology of original stories, each made by a different director, with the series scheduled to kickoff on Shudder in 2019. Nicotero's KNB EFX Group will create the creature and makeup effects on the show, which will be produced by The Cartel with Monster Agency Productions, Taurus Entertainment, and Striker Entertainment.
The original 1982 Creepshow was directed by George A. Romero from a screenplay by Stephen King that paid tribute to the EC horror comics (ala "Tales From the Crypt") of the 1950's. The film featured stars such as Hal Holbrook, Adrienne Barbeau, Leslie Nielsen, Ted Danson and Ed Harris, and grossed $21 million at the box office. It was followed by a sequel in 1987, directed by the first film's cinematographer Michael Gornick from a screenplay by Romero, once again based on short stories by King, grossing $14 million.
An in-name-only Creepshow 3 was released direct-to-video in 2006 with no participation from Romero or King, which is why the Romero-produced 1990 anthology Tales from the Darkside: The Movie is often referred to by fans as "the REAL 'Creepshow 3,'" as it also includes a King story originally intended for Creepshow 2.