This past decade has been one of the most binge-worthy in television history, delivering dozens of hit series from zombie drama The Walking Dead to delectable serial killer thriller Hannibal and animated smash Rick and Morty. As the decade has come to a close, ComingSoon.net is looking back at the past decade with lists of the 10 Best TV Shows of the Decade featuring associate editor Kylie Hemmert and staff writers Grant Hermanns and Maggie Dela Paz. Check out our lists and be sure to let us know your thoughts and favorites in the comments below!
RELATED: ComingSoon's 10 Best Movies of the Decade
Grant Hermanns
1) Rick and Morty – The animation genre has seen a number of stellar entries this decade, but none have been as monumental or as influential as Adult Swim's Rick and Morty. Following the titular mad scientist grandpa and his anxiety-fueled grandson on their various adventures, creators Dan Harmon and Justin Roiland — also the voice of the two characters — help move the series past its Back to the Future parody roots to deliver some hilarious and zany hijinks alongside the most intelligent and frequently heartbreaking character developments seen on the small screen. With clues, foreshadowing and Easter eggs hidden throughout, the series demands multiple laugh-filled rewatches.
2) Atlanta – While Donald Glover established himself as a talented comic with his stand-up and main role on Community and music with his rap persona Childish Gambino, he proved to the world he is a complete talent to watch with the premiere of his FX series Atlanta, which he created, starred in, executive produced and even directed a few episodes. Set in the titular Georgia city as a struggling college dropout unites with his up-and-coming rapper cousin to try and turn his life around for himself, as well as his ex-girlfriend and their daughter. Glover delivers a phenomenal performance in the lead role, balancing his comedy with some introspective drama, but the writing ensures the other main characters get just as much screen time and development as Glover's Earn and the performances from the stellar Brian Tyree Henry, Zazie Beetz, and Lakeith Stanfield help elevate it to even further hilarity and powerful heights. With five Emmys currently under its belt, although criminally not giving statues to its supporting cast, the often surreal dramedy is one of the most hilarious, intelligent and endlessly rewatchable series of the decade.
3) Westworld – Bringing a movie to the small screen is no easy feat, with some proper examples including Fox's The Exorcist and Netflix's Dear White People, but arguably one of the most successful efforts that even outshines its source is HBO's Westworld. Based on the 1973 film of the same name, the story is set in the titular theme park in which customers find themselves in the most immersive recreation of the old west that contains human androids known as "hosts" that begin to break their programming and turn on their creators. Michael Crichton's film was considered groundbreaking for introducing the idea of computer viruses and the series expands past its escapism plot to deliver some intriguing mysteries, two of the most shocking twists in television history — one being the most heartbreaking and unpredictable ever — and brilliant character development supported by strong performances from its ensemble cast.
4) The Haunting of Hill House – Mike Flanagan has already proved to be one of the best contemporary horror directors thanks to Oculus and Ouija: Origin of Evil, but he blew the collective audiences' minds in 2018 with the premiere of his Netflix series adaptation of the classic Shirley Jackson novel The Haunting of Hill House. More a loose adaptation of its source material, the story follows the Crane family as the adult siblings reflect on the traumatic experiences they had living in the titular house as kids following one of their deaths. While Flanagan delivers plenty of his trademark horror and masterfully hides Easter eggs throughout the series, namely various spirits in almost every shot of the house, he also uses the extended runtime of a series to give his characters the chance to breathe and properly develop into fascinating subjects supported by great performances from its cast. In addition, behind Westworld, it contains one of the most heartbreaking and shocking twists TV has ever seen.
5) Stranger Things – Netflix's sci-fi horror adventure series Stranger Things has been one of the most surprising and exciting shows of the decade since its debut in 2016. Set around a group of kids in an Indiana small town in the '80s as they learn of a scientific experiment threatening their small town and team up with a young girl who has powers to save everyone. Drawing upon many of the tropes for all of its genres and subverting many of theme while also completing relishing in others and wonderfully recreating its retro time period, the Duffer Brothers have created one of the most fun, intriguing and thrilling series to watch for both the streaming service and television as a whole. Not to mention, the series has a stellar cast that saw the triumphant return of Winona Ryder, as well as the long-awaited breakout for David Harbour and proper introductions to Finn Wolfhard, Millie Bobby Brown, Charlie Heaton, Maya Hawke, and Natalia Dyer.
6) Key & Peele – Though Jordan Peele is out blowing audiences' minds with his work in the horror genre, this surprise comes from the general public's initial perception of him as one of the funniest minds out there alongside frequent comedy partner Keegan-Michael Key in their hit Comedy Central sketch series Key & Peele. Following in the footsteps of their work on Mad TV, the duo's sketch series is one of the smartest and easily-quotable comedy hits in existence, with their creative minds coming up with the hilarious recurring bits and characters of President Barack Obama and his anger translator Luther, the anger-fueled substitute teacher Mr. Garvey and loud couple Meegan and André. The reason these two are still frequently paired together in comedy is because their chemistry both in writing and performing is arguably the best the genre has ever seen, carrying over as they leapt on to the big screen with the hilarious Keanu and family hit Toy Story 4 and scoring them two Emmy wins and 16 nominations.
7) BoJack Horseman – Any series dealing with trauma and depression in a sensitive and realistic manner is already a hit in my book, but for BoJack Horseman to tackle these elements in the animated genre while also satirizing the entertainment industry in Hollywood in a world of humans and anthropomorphic animals live side-by-side is an absolute marvel to watch. Though some of its animation might not be anything to write home about, the show's world has not only been fully fleshed out to feature both real and animal versions of celebrities but its the writing regarding its main characters that truly make this one of the most fascinating series to watch. Exploring trauma, addiction, self-destructive behaviors, racism, sexuality and existentialism, the series is frequently funny thanks to its talented ensemble cast of Will Arnett, Alison Brie, and Amy Sedaris, but is also an intelligent and occasionally heartbreaking dive into the human experience, even through the eyes of its animal characters.
8) Louie – Personal controversies aside, Louis C.K. is one of the most talented minds in the stand-up comedy world and prove he could translate this talent into television with the arrival of his FX series Louie in 2010, on which he wrote, directed, starred in and even edited the entirety of the series. Inspired by his life and following a semi-fictionalized version of himself as he navigates his life as a stand-up comic, single father and struggle in the dating world, the series' loose storytelling structure helped hold the door open to keep things fresh with every episode as it would jump in tone from outright hilarity to smart introspection, all of which helped earn C.K. and the series numerous awards including two Emmys. Though FX parted ways with the comedian after he confessed to allegations made against him in 2017, it should be noted the many ways this series broke new ground for television and FX, including the first uncensored "fuck" on a non-premium cable network and allotting complete creative control to its people involved, setting an easier path for future hits such as Glover's Atlanta, Ryan Murphy's various series and Pamela Adlon's Better Things.
9) The Walking Dead – While the past couple of seasons may have proved an ultimate disappointment for longtime fans of the series, there's no denying that AMC's adaptation of Robert Kirkman's The Walking Dead is still one of the most important and exhilarating series of the past decade. Set in a post-apocalyptic world overrun by zombies and following an ensemble group of survivors struggling to survive against both walkers and non-infected, the series has done well over the years to deliver plenty of strong and compelling character development thanks in part to its incredible cast while also throwing in plenty of zombie-killing action to satiate genre fans. In addition to helping further establish AMC as a network to watch alongside Breaking Bad and Mad Men, The Walking Dead revived interest in the zombie genre among audiences and the rest of Hollywood.
10) Hannibal – One of the most disappointingly short-lived series in history, Bryan Fuller had a daunting task of bringing Thomas Harris' Hannibal novel franchise to life on the small screen and he made it look effortless with the NBC psychological horror-thriller. Acting as a modern-day prequel to the first novel in Harris' series, Red Dragon, Hannibal follows FBI profiler Will Graham as he investigates various macabre serial killer cases while under supervision from forensic psychiatrist Dr. Hannibal Lecter, who he would later learn is a serial killer himself and become his greatest enemy. Fuller and the writer's room do a phenomenal job to build the relationship between Graham and Lecter in fascinating fashion while developing the two and their supporting characters in intelligent style and are supported by stellar performances from Hugh Dancy and Mads Mikkelsen in the lead roles as well as Laurence Fishburne and Gillian Anderson. While there is plenty of talks about a possible revival or a film continuation with the original cast returning, the fact we currently only have three delectable and easily rewatchable seasons of the series is criminal.
Honorable Mentions: Ash vs. Evil Dead, Constantine, High Maintenance, The Americans, The Leftovers, Luke Cage, Legion, Preacher, Penny Dreadful, The Newsroom, F is for Family, House of Lies, Letterkenny, Brooklyn Nine-Nine
Kylie Hemmert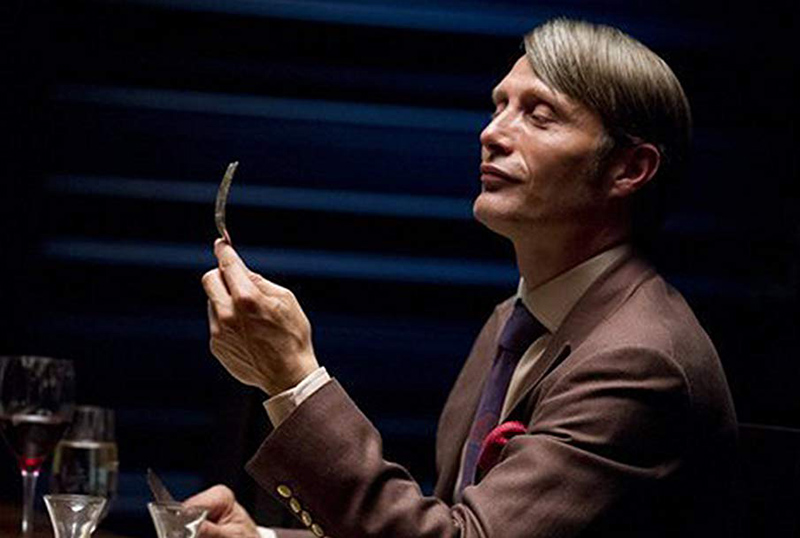 1) Hannibal
2) The Walking Dead
3) Justified
4) The Haunting of Hill House
5) Mr. Mercedes
6) Game of Thrones
7) The End of the F***ing World
8) Sharp Objects
9) Mindhunter
10) Penny Dreadful
Maggie Dela Paz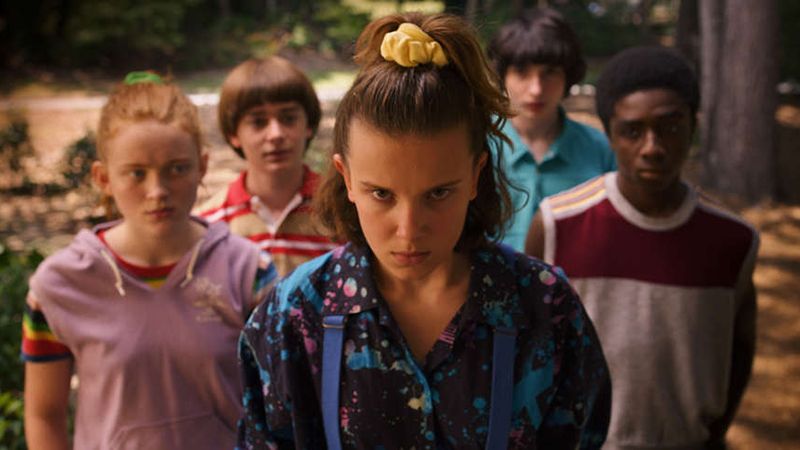 1) Stranger Things
2) Killing Eve
3) The Handmaid's Tale
4) The Marvelous Mrs. Maisel
5) Fleabag
6) Brooklyn Nine-Nine
7) Game of Thrones
8) The Crown
9) Westworld
10) Big Little Lies