Join the worst cops on the squad in Paradise PD. These cops are bad — but not the corrupt kind! Watch as they stumble, bumble, and somehow manage to make it all work in this small-town animated cop comedy. If you're wondering how to watch Paradise PD on Netflix, here are some methods to do so.
Where to Watch Paradise PD Season 4
Good news! You and your family can enjoy not only Paradise PD but everything Netflix has to offer. With Netflix, there are no extra costs and no contracts. Watch from your smartphone, tablet, smart TV, laptop, or streaming device. Plans range from $6.99 to $19.99 a month, making it easy to pick an option that gives you access to hit TV shows, movies, documentaries, and more. 
RELATED: Interview: J.J. Villard on King Star King & Adult Animation
How Many Episodes Are in Paradise PD Season 4?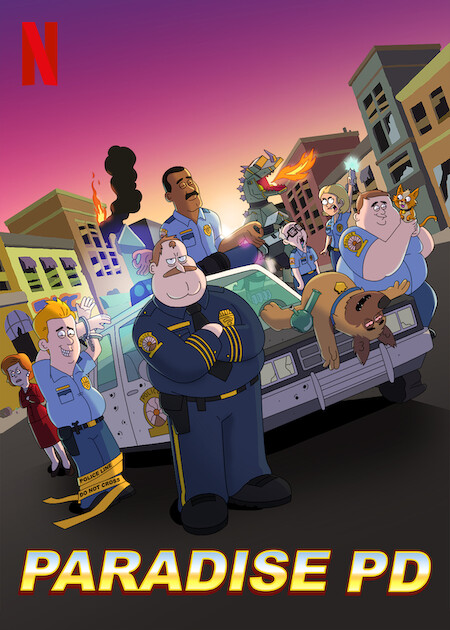 There are 10 episodes in Paradise PD season four. Each episode lasts 30 minutes on average. You can check the complete list of Paradise PD episodes and their scheduled date release here below.
Season Four
"The Brozone Lair": December 16, 2022
"Diddy's Home": December 16, 2022
"A Star Is Porn": December 16, 2022
"Good Jeans": December 16, 2022
"The Shartist": December 16, 2022
"The Butt Cut": December 16, 2022
"Boat!": December 16, 2022
"King of the Norf": December 16, 2022
"Sack to the Future": December 16, 2022
"The Eternal Reckoning": December 16, 2022
Previous Seasons
Season Three: March 2021
Season Two: March 2020
Season One: August 2018
What Are the Critics Saying About Paradise PD Season 4?
Paradise PD received a 44% from audience viewers. Reviews for the fourth season are mostly negative, with many stating the show has lost its humor — and plot. Unless you're a die-hard fan of the series or love this style of animated show, this one may be a pass.
"While there's plenty here that will shock and awe, none of it feels particularly funny, rewarding, or interesting." – Brittany Vincent, Decider
"Naughty and raunchy, season four pushes all boundaries to end on a high." – Romey Norton, Ready Steady Cut
RELATED: Aqua Teen Hunger Force Season 12 Announced Ahead of Plantasm HBO Max Release
Is Paradise PD Season 4 Suitable for Kids?
Paradise PD is rated TV-MA, which is suitable for viewers ages 17+. The series contains severe depictions of sex and nudity, violence and gore, profanity, alcohol and drugs, and frightening or intense scenes.