Fears abound as the first generation of superheroes begin to pass the torch to the next. Based on the comics, Jupiter's Legacy follows the struggles of their children to live up to their parents' legacies — and the difficulties of an ever-changing world. If you're wondering how to watch Jupiter's Legacy on Netflix, here are some methods to do so.
Where to Watch Jupiter's Legacy
Good news! You and your family can enjoy not only Jupiter's Legacy but everything Netflix has to offer. With Netflix, there are no extra costs and no contracts. Watch from your smartphone, tablet, smart TV, laptop, or streaming device. Plans range from $6.99 to $19.99 a month, making it easy to pick an option that gives you access to hit TV shows, movies, documentaries, and more. 
RELATED: Shazam! Fury of the Gods Posters Showcase the Superhero Family
How Many Episodes Are in Jupiter's Legacy?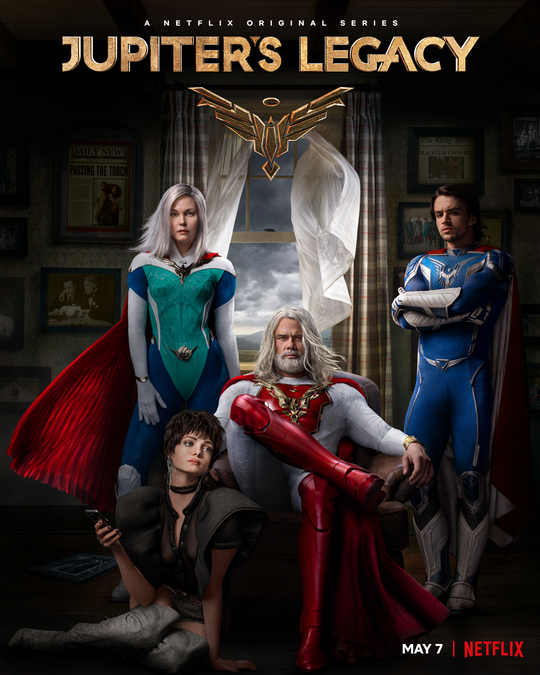 There are eight episodes in Jupiter's Legacy. Each episode lasts 60 minutes on average. You can check the complete list of Jupiter's Legacy episodes and their scheduled date release here below.
"By Dawn's Early Light": May 7, 2021
"Paper and Stone": May 7, 2021
"Painting the Clouds with Sunshine": May 7, 2021
"All the Devils Are Here": May 7, 2021
"What's the Use?": May 7, 2021
"Cover Her Face": May 7, 2021
"Omnes Pro Uno": May 7, 2021
"How It All Ends": May 7, 2021
What Are the Critics Saying About Jupiter's Legacy?
Jupiter's Legacy received a 42% from critics and a 72% from audience viewers. While reviews are mixed between critics and audiences, many still enjoyed the series as a whole. They found the casting to be excellent, the visuals to be appealing, and the plot to be interesting. However, many also felt that the series was a bit too convoluted and dragged on when it shouldn't have.
"Despite being chock-a-block full of cracking action sequences and absorbing exchanges, the first season of Jupiter's Legacy has only just scratched the surface of this tale." – Sabrina Barr, Metro.co.uk
"Jupiter's Legacy goes to great lengths to set up thematic conflicts but does little to actualize them in nuts-and-bolts storytelling." – Travis Johnson, Flicks
RELATED: Exclusive Grounded Trailer Previews Unique Superhero Show
Is Jupiter's Legacy Suitable for Kids?
Jupiter's Legacy is rated TV-MA, which is suitable for viewers ages 17+. The series contains severe depictions of violence and gore. It also contains moderate depictions of profanity, alcohol and drugs, and frightening or intense scenes as well as mild depictions of sex and nudity.