It's time for The Venture Bros. season 7 to take a breather after the three-part season premiere. There's only 10 episodes in a season, so it's already 1/3 of the way to the end! Last week's episode wrapped up the Morpho trilogy and left the Monarch in a rare position. Because the Guild of Calamitous Intent believes that the Monarch killed the Blue Morpho, he's now a hero to the villains. The Venture Bros. Season 7 Episode 4 advances the timeline by picking up two months later.
Rise of the Monarch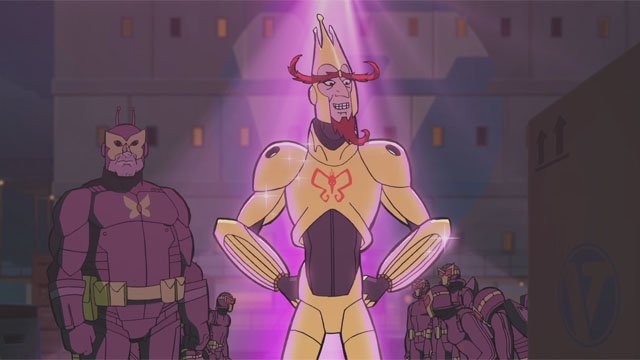 In a dream sequence, Monarch saw himself as the supervillain he always wanted to be. Even Gary/21 was given an upgrade and a small army of high tech henchmen. However, it was just a passing fantasy while the Monarch failed his latest Guild test. Monarch placed in Level 5, which was relatively low considering the Guild's generosity. It also left him far short of his goal to once again become Rusty's arch-nemesis.
Meanwhile, Rusty ran into some problems of his own, literally. Rusty faced the VenTech board and he presented Jonas Jr.'s hover belt as his own invention. Unfortunately, Rusty's dive through the window left him badly injured and humiliated in front of the board. That led to a hospital stay for the Venture family patriarch.
"I Love You, Kate Jackson"
Monarch discovered that he had depleted his trust fund while fixing up his family's estate. He was so desperate to get the funds to upgrade that he attempted to rob the bank on the spot. Fortunately, Dean's new college roommate, Brown Widow, stopped the robbery before it really began. Meanwhile, Brock Sampson escorted Dean to college and his new dorm room. Back at home, Hank quickly claimed Dean's room as his own before renting out his old room as an Airbnb. That led to some potentially fatal wounds for Hank's first guests, because Brock and Sgt. Hatred assumed they were intruders.
Things weren't exactly coming up Hank at the college. Sirena couldn't make time for Hank and she seemed to be more interested in hanging out with Dean on campus. In his frustration, Hank visited his father in the hospital and poured out his heart. For once, Rusty gave Hank the paternal attention he always wanted. Then he ruined the moment by revealing that he thought Hank was Kate Jackson.
Super Science Showdown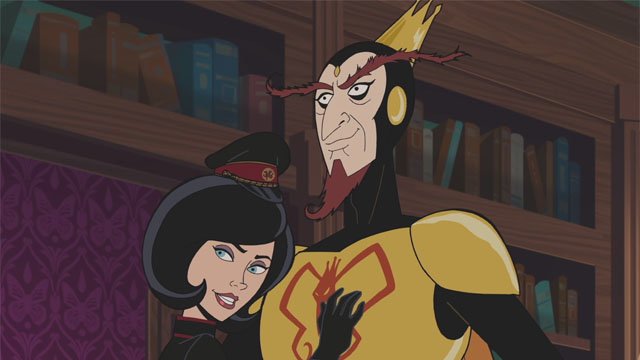 Dean was dismayed to learn that Rusty signed him up for several science classes without his knowledge. When Dean tried to get out of them, Professor V. Von Helping convinced him to give Botany a try. Von Helping also revealed that he is the son of a supervillain called Von Hellfire. Later, Dean and Sirena were the only students present when the Monarch and Gary attacked Von Helping. They witnessed Von Helping's monstrous true form when they made the mistake of threatening Sirena's life.
At the peak of his frustration, Dean confronted the Monarch and wrote him a check for $1 million dollars to go away. Both Sirena and Von Helping were impressed, although Dean was alarmed by his physical reaction when Sirena kissed him. Back at home, Dr. Mrs. the Monarch shared her delight with her husband, as his newfound funds made him the Guild's top earner for the month.
What did you think about The Venture Bros. season 7 episode 4? Let us know in the comment section below!