ComingSoon.net had the chance to speak with Emmy nominee Giancarlo Esposito about his character Stan Edgar and what fans can expect in the second season of The Boys, which premiered today on Amazon Prime Video. You can check out the interview below!
RELATED: CS Interview: The Boys Creator Eric Kripke Talks Music, Adapting the Comics & More
In Season 2, The Boys are on the run from the law, hunted by the Supes, and desperately trying to regroup and fight back against Vought. In hiding, Hughie (Jack Quaid), Mother's Milk (Laz Alonso), Frenchie (Tomer Capon), and Kimiko (Karen Fukuhara) try to adjust to a new normal, with Butcher (Karl Urban) nowhere to be found. Meanwhile, Starlight (Erin Moriarty) must navigate her place in The Seven as Homelander (Antony Starr) sets his sights on taking complete control. His power is threatened with the addition of Stormfront (Aya Cash), a social-media-savvy new Supe, who has an agenda of her own. On top of that, the Supervillain threat takes center stage and makes waves as Vought seeks to capitalize on the nation's paranoia.
The Boys is an irreverent take on what happens when superheroes, who are as popular as celebrities, as influential as politicians and as revered as gods, abuse their superpowers rather than use them for good. It's the powerless against the super powerful as The Boys embark on a heroic quest to expose the truth about the supergroup known as "The Seven." The show retains most of the comics (available for purchase here) boundary-pushing violence and sexuality while exploring the dark side of superhero celebrity and fame.
RELATED: The Boys Season 2 Trailer Features New Footage
The series was created by Evan Goldberg and Seth Rogen, who are responsible for another subversive comic book-inspired series, AMC's Preacher, and Supernatural creator Eric Kripke.
Season 1 is available for streaming on Amazon Prime Video.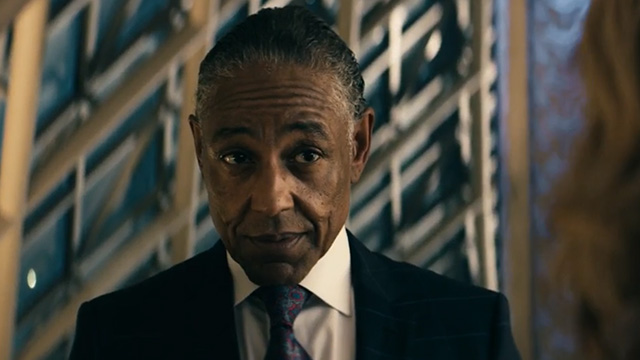 ComingSoon.net: Can you talk about the dynamic between Homelander and Stan?
Esposito: I love the villain-to-villain dynamic because I always feel like I'm going to win [laughs], depending on how my character written, which is always to me informing the power that Stan has. When you have that kind of power of a very huge company, the explanation is sometimes worthy to be explained to Homelander. It seems as if there could be the possibility of a father-son dynamic in terms of educating Homelander as to what the company really is and what it really does has to, or possibly, would come out eventually and I think it's going to be a surprise not only to Homelander but our audience what really is happening.
After all, all of these Seven feel like they were born with these powers and Stan obviously knows differently and has been cultivating and manipulating different people into understanding and preying upon their desire to become stars. With Homelander, he feels like he is the biggest star, so I'm really interested in exploring the idea that Stan would be able to share certain things with Homelander in regard to his growing up. Part of me wants to look at him and say, 'Homelander, grow up,' and then when I look at some of the previous episodes I realize this guy's a real dangerous wild card, and so how will Stan play him and I think that's very important. I often look at Homelander and each time I rewatch certain scenes I think, 'Wow, he's a sensitive little child,' who, I'll refer to a scene with his son, he's looking to be loved and looking to be complimented and looking for his self-esteem to be boosted, he's looking really for a parent.
CS: What's your secret to playing these terrifying antagonists, especially when in a room of superpowered ones?
Esposito: I think my secret is to be centered and with Stan, when I watch Stan, he seems so different than some of the other powerful, in-control, slightly villainous characters I played before and I was looking and going, 'Why is that?' He's not rocked by the world, he's a guy who's on top of the world and circumstances are going to happen and he has to take steps to mitigate the damage, as he says in one scene to Homelander. I think that really gets to Homelander, you know, 'You're running around thinking you're running the show and I have to mitigate all the damage because you've allowed the public to know what Compound V is.' So what I feel really my secret is to listen, I really take Anthony in when I'm in those very intense scenes with him, I really take the other actors in and I feel like I'm not threatened by him because I'm going to find a solution and I'm going to find a way to convince any of those Seven coming to me with their problems or Homelander with his big ego, I'm going to try to figure out how to get them to understand that it's bigger than they are.
The other part of it is that it's bigger than Stan, I love the scene where Stan wants all these things from the Defense Department and he's asked, 'Who is going to be in charge of all these people?' and it's the same person as always: 'Me. The buck stops here.' He is that guy and he can do that job, so for me, it's getting calm and really listening and understanding that to have power, you don't have to display that you have power, you either have it or you don't and that's really it. Power is in being calm and not getting excited when you're confronted with an emotional person, it's having the ability to take a step back and have a different mindset about how the situation will unfold.
CS: What was it like bringing the layered character of Stan to life in a show that's such a balancing act?
Esposito: I've fallen in love with this show, all of this happened completely by accident, I was in a studio in Canada shooting Jett and turned a corner and there was Eric Kripke with his editor and his assistant and all the folks I knew from working with Eric on Revolution. We're just chatting, 'What are you doing, blah blah blah' and he takes that proverbial director/producer step back and crosses his arms and I said, 'Eric doesn't even start.' He said, 'Welllll, would you?' I said, 'Of course I would.'
I went into it and did a scene and it was play because it was easy and it was fun and I loved this guy and then I started to really think about who Stan was and how he could be developed and that's when I realized, 'Oh, there's an opportunity here to really reflect the power of big corporations, the power of big corporations manipulating people to get them to be superheroes in our case.' Then I started to see all the similarities between what's going on in where I live, America, today, and how this is, in a way, a political/socio-economical corporate guy. I said, 'Oh, wow, this could be bigger than just one corporation, this could be many corporations guiding the planet' and I thought, 'This is an interesting thing to play within my thinking.'
The Boys Season 2
The Boys Season 2

The Boys Season 2

The Boys Season 2

The Boys Season 2

The Boys Season 2

The Boys Season 2

The Boys Season 2

The Boys Season 2

The Boys Season 2

The Boys Season 2

The Boys Season 2

The Boys Season 2

The Boys Season 2

The Boys Season 2

The Boys Season 2

The Boys Season 2