Just in time for the premiere of his latest series on Netflix (and his 4/20 birthday!), ComingSoon.net got the opportunity to chat with The Midnight Gospel co-creator and star Duncan Trussell to discuss the animated cerebral comedy focused on an intergalactic space-caster.
RELATED: The Midnight Gospel Trailer: New Series From Adventure Time Creator
In The Midnight Gospel, traversing trippy worlds inside his multiverse simulator, a space-caster named Clancy explores existential questions about life, death and everything in between as he gets to interview beings living in other worlds by leaving the comfort of his extra-dimensional home. The series is set in a fantastical universe using interview clips from Duncan Trussell's podcast, Duncan Trussell Family Hour.
The series is co-created by Pendleton Ward and actor-comedian Trussell.
RELATED: Central Park Trailer: First Look at Apple TV+'s New Animated Sitcom 
Trussell described how the series originally came to life after the Emmy-award winning creator and storyboard artist of Cartoon Network's Adventure Time listened to his podcast in the "early days of podcasts when people didn't really have faith in it."
"I was astounded that someone like Pendleton reached out to me and listened to my podcast, because Adventure Time is an amazing work of animation and so beautiful offering in universe, it really blew my mind," Trussell recalled. "Then he and I started to become friends and during that time he left Adventure Time, we would go get coffee and talk about an idea he had for how to turn my podcast into an animated series. My heart leapt in my chest, I thought 'This is so crazy.'"
Despite this initial excitement, Trussell laughed as he notes that by the end of their coffee meeting Ward said "I don't know if we should waste our time, man" and that the potential series wasn't brought up again for nearly a year before Ward reached out again with newfound interest.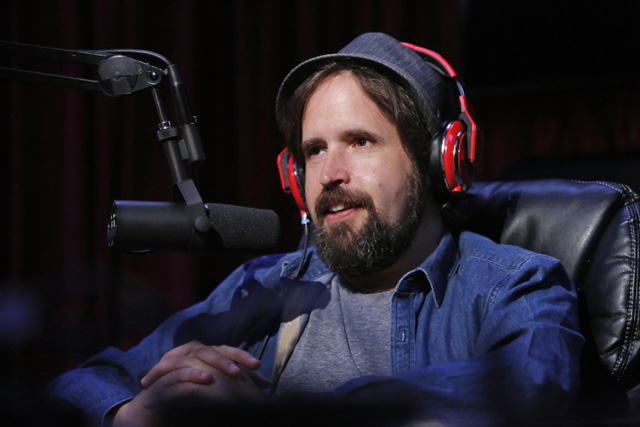 "He contacted me and said let's do it and he started working on a way to take apart the podcast and turn it into an entertaining animated show," Trussell said. "The embrionic idea was imagining a version of Indiana Jones and replacing the dialogue with podcast conversations and that was a funny idea and then we began developing it out to 'During the apocalypse, people aren't just going to talk about the apocalypse, being in apocalyptic movies the situation revolves all around the survival.' Sort of the genesis of the show is what would happen if we took these podcast conversations and made them the dialogue that was happening during the various forms of the apocalypse."
This concept expanded as the writer's room began exploring various potential apocalypses and finding a way to ensure that the podcast material was able to match up the storylines they built around the episode, which Trussell described as a "laborious process" while also realizing it helped evolve into a series with a story arc.
"We wanted to create a variety of challenging disintegrating situations and then have these conversations happen and the first episode started as me having that proof of concept and expanding it in the animation, which is the scene on the roof where Clancy is talking to Dr. Drew about how daunting it all is while Dr. Drew is shooting zombies," Trussell said. "We're taking these two polarities that probably shouldn't be brought together and putting them together and that's probably going to produce funny moments and then as the show progresses, you realize it produces some great poignant moments and also produces a lot of challenges, which is that if you're not careful in meeting the animation and podcasts together, then the podcast can accidentally become the background music. So each episode came with a set of unique challenges as we applied the dialogue to each story."
The Midnight Gospel is currently available for streaming on Netflix!
(Photo Credit: Getty Images)