In Legends of Tomorrow season 4 episode 3, the team heads to London in 1977. A new magical entity threatens to throw the UK into anarchy. The Waverider crew sets out to place one of their own inside a previously unheard of band called The Smell to suss out which of the band members is magical. Through a series of misadventures, Ray becomes the Legends' man on the inside with the punk band.
Time Bros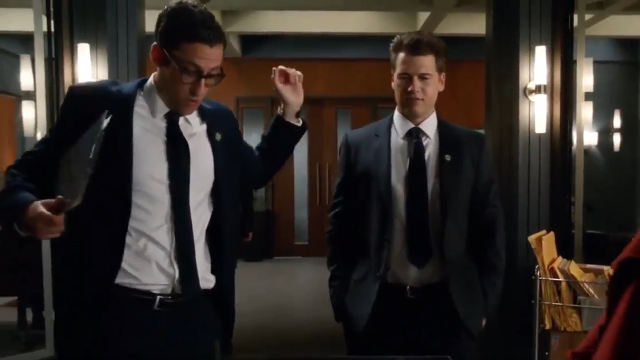 While the rest of the team is off time-hopping and having adventures, Nate is realizing the banality of office life at the Time Bureau. Ava wants Nate to help the Bureau update 6 years of protocols and procedures to deal with the magical threats to the timeline. Sensing his new Time Bro is becoming frustrated, Gary takes Nate under his wing and shows him around the office, introducing Nate to wild things like Taco Monday.
When a magical threat surfaces in the pair travel to Pleistocene Era to deal with it. Outside the office, Nate asks Gary about his relationship with Constantine, which Gary says is just like Nate and Amaya's in that both Nate and Gary were dumped. While the two only manage to run from a saber-tooth tiger, the magical threat disappears when Gary gives Nate a tropical plant from that era to commemorate their first mission together. The plant turns out to be the magical anomaly, which Gary and Nate have to kill as it runs around the Bureau.
Panty Dropper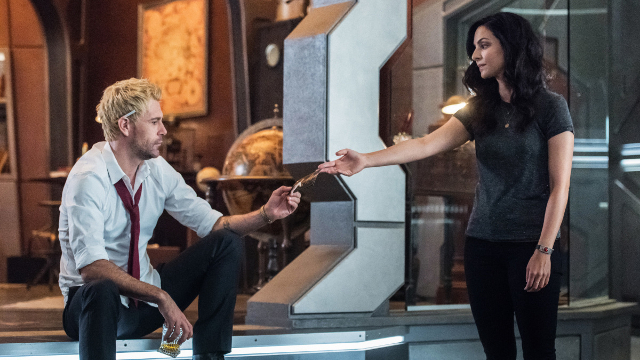 Mick doesn't like Constantine and doesn't want him on the mission, so Constantine heads to a Liverpool pub, where Zari tracks him down. The waitress at the pub is Constantine's mother, who he only just met, as she died in childbirth. Constantine tries to kick his father, but the timeline protects itself and won't allow him to do so. Zari says she understands the desire to fix one's past and take care of her loved ones, but they can't do that here. Zari gives Constantine a surveillance photo she took of Constantine and his mother.
Doing Bad Things for Good Reasons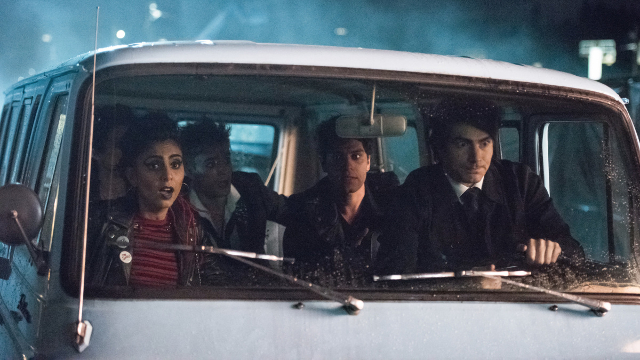 Ray tells the band that his name is Rage to get in with them. Ray eliminates the possibility that the band member Constantine suspected is a leprechaun. The band thinks Ray's a narc, but he proves himself to them by stealing one of the queen's prized corgis, not realizing that he was getting help from Mick and Sarah along the way. The band makes Ray one of their own by giving him a tattoo of a corgi with a mohawk.
Later, the band discovers that Ray isn't who he says he is, showing a flyer of Ray, Nate, Sarah, and Amaya in disco clothing from a previous episode. Charlie tells the group that each of them was someone different at past points in their lives. All that matters is who they choose to be going forward. Ray thanks Charlie and tells her that he really is there to find the magical disturbance. Charlie reveals that she is a shapeshifter who was locked away by small-minded mortals who saw her as different and imprisoned her. She is not going back to that.
When the team comes to send Charlie to Hell, she knocks Ray out and morphs into him, using the Atom suit to fight off the team. Ray orders the suit to stop. As the team traps Charlie, Ray pleads with them to let her go while Charlie morphs into each of them in turn, asking where their moral compass is, before turning into the disco flyer version of Amaya. Unable to send someone who looks like Amaya to Hell, the team imprisons her aboard the ship after Constantine strips away her ability to shapeshift ever again.
Sarah goes to tell Nate that she has a problem on the Waverider and needs his help. Nate says he only took the Bureau job to get off the ship for a while. Everywhere he went on the ship, he was reminded of Amaya. Now, he's ready to come back. Sarah tells Nate that on second thought, maybe he should help out at the Bureau a little while longer.
What did you think about Legends of Tomorrow season 4 episode 3? Let us know in the comments below!