As someone who grew up with the original two Home Alone movies and watches them every year during Christmastime, I think we should legally classify watching Home Sweet Home Alone as a method of torture. This Christmas comedy (and I'm using "comedy" very loosely here) is a reboot/sequel of the Home Alone franchise, and this is Hollywood's fourth attempt at making a Home Alone movie sans Macaulay Culkin. Did anyone ask for this movie? No. Did anyone expect this movie to be good? Negatory. So that leaves me with two questions: what the hell did I just watch, and why did I watch it?
John Hughes and Chris Columbus crafted two classics with Home Alone and Home Alone 2: Lost in New York. Those movies are funny, charming, and emotional, and they're perfect for the Christmas setting. Home Alone 3 is only noteworthy for featuring a very young Scarlett Johansson. And let's be honest: nobody on the planet has ever enjoyed watching Home Alone 4: Taking Back the House or Home Alone: The Holiday Heist. But since Disney acquired 20th Century Fox and got the rights to this franchise, they decided to do what they do with everything: make a sequel.
I went in with low expectations, and I still found myself baffled. Three minutes into the movie, there are so many failed attempts at humor and so much dead air that I was already begging for mercy. This movie really wants us to laugh at Rob Delaney punching a snowman and apologizing to it, but there is nothing remotely funny about any of this movie's gags. Instead, the film's idea of humor is the mom being casually racist to an Asian airline worker and then devolving into all of the jokes you have already seen before from a children's movie. We'll delve into more on that later.
This movie stars Archie Yates as Max Mercer, a boy left alone by his family because he fell asleep watching TV in a warm, comfortable BMW (definitely no product placement here). Let's talk about this family; I have no idea what this family is like. The opening scenes of the first two Home Alone movies spend time on the McCallisters and what that family is like, so you know their faces, and you get an idea of how they interact. Unfortunately, the family is not developed at all in this movie. I don't remember a single person in that family, and neither will you.
Once Max gets left home alone, the movie ends up halfheartedly going through the motions of a Home Alone movie with Max having fun and running through the house while his mother, Carol (Aisling Bea), has to find her way back home. But none of it is handled with any charm or care. This movie is devoid of any emotion, as it's only rehashing what you've seen before. The subplot with Carol finding her way back home to her son is given so little screentime that we don't get invested in it. Max's realization that he wants his family back happens way too quickly, and it doesn't make you feel anything since it barely sets up his relationship with his family in the first place. The movie doesn't even set up a reason for why Max would want to be away from his family. This script is that lazy.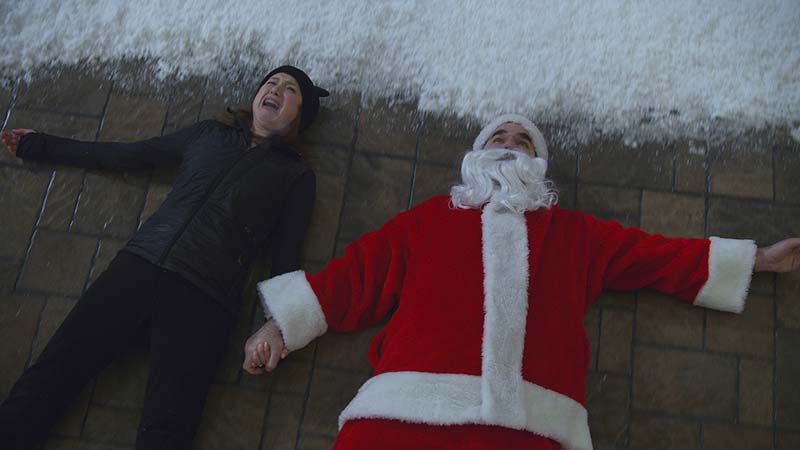 Perhaps the most significant difference this movie has from the original (besides the quality) is how it handles the thieves. The first two movies had the Wet Bandits (later known as the Sticky Bandits), and those two were hilarious, but you could tell that they, especially Harry, posed a threat to Kevin. This time around, the thieves are a married couple portrayed by Rob Delaney and Ellie Kemper (who have no chemistry, by the way), and they want to steal a doll from Max's house because it's worth a lot of money and they have financial issues. The fact that the thieves in this movie are an innocent, well-meaning couple who we sympathize with makes the booby trap section of the film less fun to watch because they don't deserve to be injured the way Harry and Marv did.
Let's talk about the booby traps. Unfortunately, they are not as funny as the original two. The first booby trap is simply a frozen road, which leads to the couple crashing their car into a pole. That's just not funny. And we also have a few booby traps that are just old internet trends, like stepping on Legos and mixing Diet Coke and Mentos. The slapstick does not work very well, and there's no excusing this dialogue. Every time one of the adults tries to use teenage lingo, your body will lock up in pain. At some point, the movie will ask if you give up or if you're thirsty for more. You will not be thirsty for more. You will give up.
What were they even trying to do with this movie? The film brings back Devin Ratray as Buzz McCallister, and he references the events of the original two Home Alone movies, which may be the only acceptable part of the film. But why make a sequel/remake of the original in the first place? In the movie, a character even says, "I don't know why they're always trying to remake the classics. They're never as good as the originals." Look, I get that this is the movie's attempt at being self-aware, but that doesn't excuse the fact that this awful movie has no reason to exist.
This movie is completely helpless. This movie is what the French call Les Incompétents. I'm going to feed this movie to my tarantula. This movie is such a disease. There are six movies in this series, and this is the fourth one that had to make trouble. And to the people who made this movie—look what you did, you little jerks. There's no reason to watch this movie when you can watch the first two. But I'm going to give Home Sweet Home Alone something special. I'm gonna give it to the count of ten to get its ugly, yella, no-good kiester off my computer screen before I pump its guts full of lead. One, two—two out of ten!
SCORE: 2/10
As ComingSoon's review policy explains, a score of 2 equates to "Terrible." Almost irredeemable, it is likely a waste of time for almost everyone involved.