The '90s has always been one of the most celebrated decades in culture, but the horror genre was one of the most important of the time, as it went through a revitalization as filmmakers tried to deliver new films that could terrify audiences once again rather than have them laughing in their seats at the ridiculous nature of the story. Let's take a look back at some of the best films from the time.
The Blair Witch Project
Release: 1999
Director: Daniel Myrick, Eduardo Sanchez
Stars: Heather Donahue, Michael C. Williams, Joshua Leonard
Rotten Tomatoes: 87% "Certified Fresh" from Critics, 56% from Audiences
It was regarded as one of the most acclaimed and successful films of the decade, earning nearly $250 million off of its $60,000 budget and receiving praise for its mysterious nature and atmosphere leaving the scares to the imagination. Following a group of student filmmakers exploring the Black Hills near Burkittsville, Maryland and the local legend of the Blair Witch, the film truly was a marvel to watch and, though not the first to employ it, made the found-footage technique more popular among filmmakers.
Candyman
Release: 1992
Director: Bernard Rose
Stars: Tony Todd, Virginia Madsen, Xander Berkeley, Vanessa Williams
Rotten Tomatoes: 70% from Critics, 61% from Audiences
Tony Todd has been one of the most recognized faces in the horror genre, thanks in part to his appearance as the too-wise coroner in the Final Destination franchise, but he really made a name for himself in the hit series Candyman. Based on the short story The Following by Clive Barker, the film follows a graduate student studying urban legends who discovers the Candyman legend, in which a son of a slave was murdered after having his hand cut off. The film earned a lot of positive reviews for its mysterious atmosphere, stylish gore and powerful performances from Madsen and Todd.
Flatliners
Release: 1990
Director: Joel Schumacher
Stars: Kiefer Sutherland, Kevin Bacon, Julia Roberts, Oliver Platt
Rotten Tomatoes: 48% from Critics, 59% from Audiences
The debate of what happens to a person in the afterlife has always been the focus of the drama genre, but the topic got a horror twist in 1990's Flatliners. Following a group of medical students experimenting with stopping their hearts to experience near-death experiences, the film received mixed reviews upon release, critics praising the stylish direction and performances, while also criticizing it for its failure to capitalize on its interesting premise. The film was a box office hit and has subsequently become a cult classic, driving the studio to greenlight a remake almost 30 years later.
From Dusk Till Dawn
Release: 1996
Director: Robert Rodriguez
Stars: George Clooney, Harvey Keitel, Quentin Tarantino, Juliette Lewis
Rotten Tomatoes: 64% from Critics, 76% from Audiences
Writer/directors Robert Rodriguez and Quentin Tarantino have made major names for themselves thanks to the pulpy dialogue and intriguing characters developed on screen amidst some gory action. And the two first came together in their '90s cult classic From Dusk Till Dawn. After breaking his brother out of prison and robbing a bank, Seth and Richie Gecko take a family hostage and head to Mexico, hiding out in a bar that is filled with vampires. The hybrid of gritty crime drama and B-movie thrills proved to be a hit for audiences and a fair amount of critics, establishing it as a fan-favorite from the decade that spawned two sequels and a TV series developed by Rodriguez for his cable channel, El Rey Network.
It
Release: 1990
Director: Tommy Lee Wallace
Stars: Tim Curry, Harry Anderson, Annette O'Toole, Richard Thomas
Rotten Tomatoes: 57% from Critics, 63% from Audiences
Before Andy Muschietti and Bill Skarsgard brought the terrifying character to the big screen last year, Stephen King's evil clown Pennywise, also known as It, was played by Tim Curry for the TV miniseries adaptation of the classic novel. Following a group of outcast kids known as The Losers Club and their three-decade battle against the shapeshifting evil, the film has received critical acclaim for Curry's performance as Pennywise, while the structuring and visual effects received criticism.
Jacob's Ladder
Release: 1990
Director: Adrian Lyne
Stars: Tim Robbins, Elizabeth Pena, Danny Aiello, Matt Craven
Rotten Tomatoes: 69% from Critics, 84% from Audiences
Horror-thriller Jacob's Ladder set the precedent on how to keep audiences guessing until the very final twist. Following a Vietnam veteran who begins to experience fractured flashbacks and bizarre hallucinations after returning home from the war, the film was a modest success commercially and critically, earning praise for its disturbing visuals and powerful performances. The film has become a cult following in the years since its release and has acted as a major inspiration for numerous other works, including the Silent Hill franchise and The Evil Within.
Misery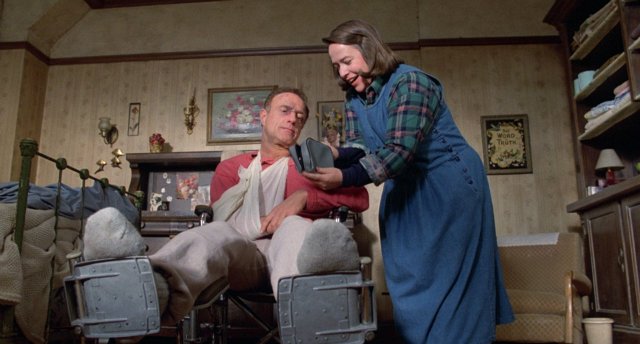 Release: 1990
Director: Rob Reiner
Stars: Kathy Bates, James Caan, Frances Sternhagen, Richard Farnsworth
Rotten Tomatoes: 89% "Certified Fresh" from Critics, 89% from Audiences
It's been cited by critics and King himself as one of the best adaptations of a Stephen King work, and almost 30 years since its release, Misery still acts as one of the most shocking and thrilling horror films of all time. After an author gets in a car crash in a snowstorm, he's taken captive by a crazed fan who tortures him and forces him to write new entries into the titular novel franchise. The film not only received praise for the stellar lead performances from Bates, for which she won an Oscar for Best Actress, and Caan, but also for its tense pacing and faithfulness to its source material.
Scream
Release: 1996
Director: Wes Craven
Stars: Neve Campbell, Courtney Cox, David Arquette, Jamie Kennedy
Rotten Tomatoes: 79% "Certified Fresh" from Critics, 79% from Audiences
Writer/director Wes Craven is widely known as one of the most highly-acclaimed minds of the horror genre, namely for introducing the world to the frightening killer Freddy Krueger, but he took a meta-filled turn in 1996's slasher classic Scream that would flip the genre on its head. The film follows high schooler Sydney Prescott (Campbell) as she becomes targeted by a serial killer disguised in a costume known as Ghostface. Combining black comedy and satirizations of horror cliches while also utilizing the classic "whodunnit" mystery formula and slasher gore, the film earned widespread praise for its unique structuring and was a box office smash, leading to three sequels and a TV spin-off.
The Silence of the Lambs
Release: 1991
Director: Jonathan Demme
Stars: Jodie Foster, Anthony Hopkins, Ted Levine, Scott Glenn
Rotten Tomatoes: 95% "Certified Fresh" from Critics, 95% from Audiences
In a decade filled with introducing terrifying new franchise characters to the big screen, one of the most diabolical and popular was Hannibal Lecter, whose theatrical debut began with 1986's Manhunter but rose to stardom in 1991's adaptation of the the Thomas Harris novel, The Silence of the Lambs. When a serial killer known as Buffalo Bill begins terrorizing the country and killing young women, young FBI trainee Clarice Starling (Foster) turns to brilliant cannibalistic serial killer Lecter (Hopkins) for help getting into Bill's psyche. The film earned rave reviews across the board from critics and audiences and has been considered one of the best films of all time, also setting the record for being only the third film to win all five major awards at the Oscars: Best Picture, Best Actor, Best Actress, Best Director, Best Adapted Screenplay.
Tremors
Release: 1990
Director: Ron Underwood
Stars: Kevin Bacon, Fred Ward, Reba McIntire, Michael Gross
Rotten Tomatoes: 85% "Certified Fresh" from Critics, 75% from Audiences
The '90s was a big decade for Kevin Bacon, appearing in countless dramas and horror films, but arguably one of his most celebrated and fan-adored of the time was the monster movie, Tremors. Set in the fictional small town of Perfection, Nevada, the film follows best friends Val McKee (Bacon) and Earl Bassett (Ward) as they fight to save their town from a colony of underground mutated worms they call "graboids" that are killing off the residents. Though Bacon stated prior to the film's release he had no faith in the film, it would go on to become a critical smash and moderate box office hit, subsequently enjoying large success on home media and earning a cult following leading to five direct-to-DVD films, a cancelled TV series and an upcoming TV series that will see Bacon return to the franchise for the first time since its debut outing.
What was your favorite horror film from the '90s? Any not on this list?