Holy awesome trailer, Batman! After what feels like a decade of speculation, behind-the-scenes sneak peeks, theories and delays, Matt Reeves' The Batman finally debuted its first full-length trailer — not to be confused with last year's teaser — and, as someone who had genuinely high expectations for this film, my excitement level has reached near astronomical levels for the one known as Battinson (this will catch on, trust me).
Here's the trailer in case you missed it:
Ok, so now what do we do? The movie doesn't flap* into theaters until March 4, 2022, which gives us approximately (counts fingers) four months to lay down some heavy-duty detective work to determine what's going on with this flick.
RELATED: Gotham Knights Story Trailer Shows Mysterious Court of Owls
Anyways, here are six thoughts/observations on the trailer, as well as DC FanDome in general.
DC is Trending Up
I'll be completely honest: I'm a Snyder fan through and through. I loved his trilogy of DC films — Man of Steel, Batman v Superman: Dawn of Justice, and this year's magnificent Zack Snyder's Justice League. So, yes, I want more of this particular universe.
However, after this year's DC FanDome, I'm pretty jacked about the direction DC is headed. The Flash didn't offer up enough footage to arrive at any sort of substantial conclusion, but I am very curious to see how Andy Muschietti utilizes Ben Affleck and Michael Keaton alongside everyone's favorite crimson speedster and Sasha Calle's Supergirl. This one has the potential to be really great so long as all of the elements come together.
Black Adam likewise looks pretty great. I dug the look and tone of the film, and think Dwayne Johnson is a nice choice for the part, provided he actually plays Black Adam and not another variation of his Rock persona.
Aquaman and the Lost Kingdom looks fun, while Shazam! Fury of the Gods looks like more Shazam!, and there are certainly worse things than that.
My favorite bit, outside of The Batman, was the update on Batman: Caped Crusader, which is essentially Batman: The Animated Series Part II. It sounds amazing. I grew up watching that show and cannot wait to see the direction Bruce Timm and company take the property now that the kid-friendly shackles are off.
Batgirl and Blue Beetle are two intriguing properties that could lead to some exciting adventures, while DC League of Super-Pets could be fun for the whole family.
There are probably plenty of people looking forward to Peacemaker, although I'm more hesitant. While the show does look good, I'm not sure we need more from that particular character. Time will tell and hopefully, I'm proven wrong.
RELATED: Batman Unburied Casts Sam Witwer, Gina Rodriguez & More
The Batman is Battinson Unhinged
Of course, the big finale was Matt Reeves' The Batman. I'll confess that I was a tad underwhelmed by last year's teaser. The pic looked great and I liked the style, but it felt too grounded and a little too reminiscent of Christopher Nolan's take on the Dark Knight. Now, for me, Nolan's trilogy is perfection with a clear beginning, middle, and end. Once that series ended, I was ready for a completely different take on Batman, which is probably why I enjoyed Affleck's interpretation of the character — finally, a superhero Batman that can beat the living piss out of 20 armed men.
Naturally, that dream ended and then Battinson looked like more of the same.
Except, this trailer was unbelievably great. The visuals. The gritty tone. The intense action. The score. The characters. While clearly more grounded than Snyder's iteration, Pattinson already looks like a terrific (and different) interpretation of the Batman character — one who is slightly unhinged and short-tempered.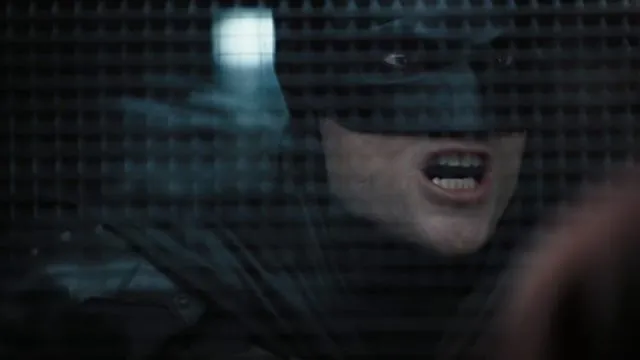 This looks like Batman. Angry, brooding, violent Batman, one whose tenacity for violence shocks those around him, including Zoë Kravitz's Selina Kyle/Catwoman:
We've seen brooding Batman (Keaton), goofy Batman (Kilmer/Clooney), depressed/angry Batman (Bale), and superhero Batman (Affleck) but never unhinged-to-the-point-that-everyone-is-genuinely-afraid-of-him Batman. So, this is pretty cool to see.
After all, a guy who dresses like a bat clearly has issues, right?
The Penguin
I recall listening to Kevin Smith's stellar commentary for Batman Returns a while back and he pointed out that Danny DeVito's Penguin was in fact not a proper portrayal of a Penguin, but, rather, a mutated pervert of some sort, and explained that Philip Seymour Hoffman's performance in Mission: Impossible III was closer in spirit to the comic book baddie than DeVito's ooze-spewing mutant.
Now, at that point, I had seen Batman Returns thousands of times and the thought never crossed my mind, but Smith was on point. The Penguin should be a debonair gangster in a tux and not a sewer-living monster — penguins are, after all, rather clean birds.
Anyways, all that to say I'm really excited to see Colin Farrell's take on the character, especially considering that he looks like the one Smith described:
There are reports that Farrell only has about ten minutes of screen time, which leads me to deduce that the whole Batman/Penguin chase sequence happens at the beginning of the film — perhaps offering our first glimpse of Battinson (it's growing on you, right?) in action — and works as a sort of Raiders of the Lost Ark-style prologue before we dive headfirst into the actual story.
The Riddler
Speaking of which, we don't learn anything about the plot in this trailer; and see very little of the main antagonist, Paul Dano's villainous Riddler outside of this Zodiac-style shot:
Plus this Joker-styled news bit:
The Batman is rumored to clock in at nearly three hours, taking place over Halloween and features Batman solving a series of murders, or something along those lines.
Are we finally going to see The World's Greatest Detective in action? Hell, yeah!
Anyways, I'm digging Dano's very interesting take on The Riddler. However, here's a question: what's this guy doing? Clearly, he's a serial killer. Clearly, he's leaving behind clues, as Riddlers are want to do: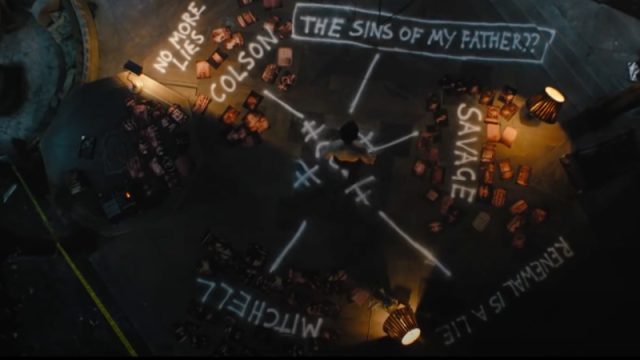 Also, something's clearly up with his face because, well, we never get to see actually see it — unless WB is holding out hope that we're all really excited to see Paul Dano.
Finally, seeing as he's arrested at the beginning of the trailer and kind of seen speaking to Batman from prison, there's obviously a sort of Hannibal Lector-flavored Riddler coming soon to a theater near you … Has he kidnapped or murdered a number of people and hidden them across Gotham City for Batman to find?
With the direction this is headed, The Batman is going to be awesome.
Catwoman
The Batman will give us our third big-screen interpretation of Selina Kyle, and from everything I've seen, Zoë Kravitz fits the role like a glove. This was one of those casting decisions, along with Jeffrey Wright as Commissioner Gordon, where my reaction was like, "Yup. Perfect." The actress looks the part, and her bits with Battinson look like they were ripped straight out of a comic book: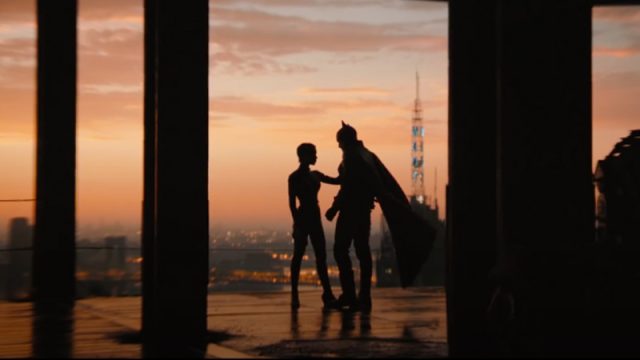 That shot is glorious. As is the bit with Selina kicking what I assume is a henchman dumb enough to break into her pad:
As you can see, Matt Reeves really likes orange and yellow color tones.
I have no idea what Selina's role in the film is, though I'd venture to guess she tries to steal something from The Penguin and has her first interaction with Battinson as a result. Unless, my whole idea about the prologue is wrong, in which case Selina is at a completely different party sporting Natalie Portman's hair from Closer: Who really knows at this point, but it's fun to guess.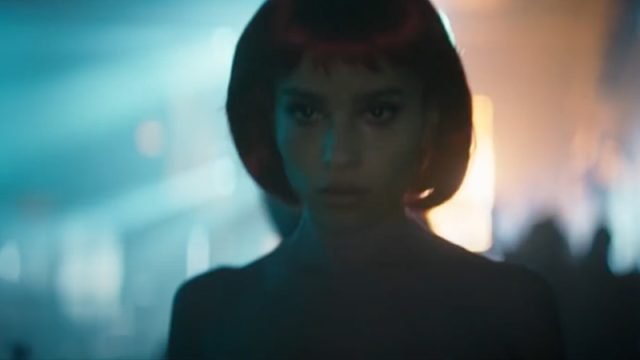 Other Odds and Ends
The action to this pic looks insane. I love the bit where Batman just walks through a hail of gunfire, which makes a similar moment in The Dark Knight Rises — during which Batman dodges a henchman's bullets — look a tad wimpy by comparison.
Alfred looks like he gets in on the action this time out what with that cut over his eye. Plus, the CGI on Andy Serkis looks amazing.
Finally, I like that we get a little Arkham Knight-inspired violence when Batman zaps a thug with an electrical thingy.
Actually, that's one of the things I love about The Batman so far: it looks like a nice mix between comic book Batman, Arkham Knight Batman, Nolan Batman and Snyder Batman sprinkled with Reeves' amazing film style. That's a winning combination while also offering a fresh take.