ComingSoon.net had the opportunity to speak with Jayma Mays (Red Eye, Drunk History) and Emmy nominee Erinn Hayes (Childrens Hospital, They Came Together) about starring in Orion Pictures' Bill & Ted Face the Music. You can check out the interview below and click here to purchase Bill & Ted Face the Music!
RELATED: CS Interview: Holland Taylor on Playing The Great Leader in Bill & Ted Face the Music
Bill & Ted Face the Music centers on Bill S. Preston (Winter) and Ted "Theodore" Logan (Reeves), who are now fathers and have yet to fulfill their rock 'n' roll destinies. Their lives change when they are visited by a messenger from the future who warns them that only their song can save life as we know it.
Click here to own Bill & Ted's Excellent Adventure!
Click here to own Bill & Ted's Bogus Journey!
Joining Winter and Reeves are Samara Weaving (Ready or Not) and Brigette Lundy-Paine (Atypical) as Bill and Ted's daughters, respectively. The film will also feature Anthony Carrigan (Barry), Jillian Bell (Workaholics), Kristen Schall (Toy Story 4), Holland Taylor (Gloria Bell), Kid Cudi, Erinn Hayes, Jayma Mays, and Beck Bennet. William Sadler is also set to reprise his role as Death alongside franchise returners Amy Stoch and Hal London Jr. Newcomer.
RELATED: Bill & Ted Face the Music Review: Nostalgia & Fun Outweigh Predictability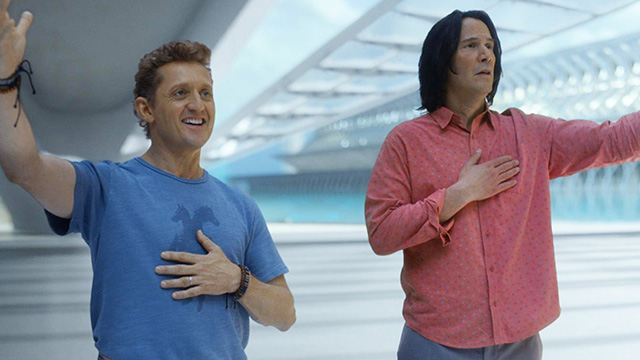 ComingSoon.net: The Bill & Ted franchise is obviously an iconic one and one that seems to be so fun to be a part of. But what was it about Face the Music that really interested you both in wanting to join? 
Erinn Hayes: Well, I mean, listen, I loved these movies when they came out. I just absolutely did. I watched them multiple times. My brother and I were obsessed with them. And then, I honestly thought there was no chance. Like this audition came around and I was like, 'Oh, that's cute. They'll see me for this, but they're definitely going to get somebody who's like, legitimately famous for this.' And then, I got the part and I was like, wait, what? Like I really get to be in Bill & Ted? This is one of the coolest things to ever happen to me. So just to be a part of whatever it turns out to be, this next iteration of these iconic movies was very exciting for myself.
Jayma Mays: Well, yeah, and the same for me. I actually remember the audition coming in. And before they even had — they were like, there's this audition for Bill & Ted, I was like, yes, yes. Going in, whatever it is, going in, I will play the phone booth if that part is available. Whatever you've got.
Hayes: I would love to see your audition for the phone booth.
Mays: You know what? That part was already cast. And they were like, ah, damn it… And I had a great fit for it. But no, I was super excited. And then it was a similar thing. I told my husband, I was like, there is this audition for Bill & Ted. He's like, 'Yes, yes, you're going in, you're going in. I will pay them to let you be a part of this movie.'
CS: That's awesome. So then, one of the nice things, too, about this one is that Joanna and Elizabeth, they both get more expanded and developed roles in comparison to the past. What was that like for you seeing this further evolution of these two characters in comparison to their predecessors?
Hayes: Yeah, you don't know much about them in the previous movies. And we actually got a chance. Like we get on set and we went into this like, three or four hour like, script session, where we talked about these therapy scenes and about the relationship and what long-term relationships are, what they've been doing for all these years and how they view each other as sisters and their spouses and where they were at. So it was really fun to like, jump in like that. I thought we'd just show up and get on the set and maybe rehearse it a couple of times and do it, but we got to really work on it and develop it, which was a wonderful time.
Mays: Yeah, I think they were very inclusive. Like way more so than most jobs I've ever had.
Hayes: Yeah.
Mays: And I felt very lucky to be a part of that kind of discussion of kind of who we want these people to be. And actually, I had a really good time working with Erinn, you, Erinn, as–
Hayes: Me Erinn?
Mays: You, Erinn. Because I always feel like we always wanted to make sure like, you know, they're sisters and there were these ideas of maybe finishing each other's sentences and just kind of being one with each other, in a way, because there's all these couplets on set of Bill and Ted and then the daughters. And then we felt like a couple as well, in a way. So it was a lot of fun to work on together.
Hayes: Yeah, and we're in everything together, you know?
Mays: Yeah, right.
Hayes: So we had to be, especially with the guys, with their characters having been on this journey for a long time and them being such a duo, it was like, oh, well it does make sense that we [become] this duo. You know, we've gone through all these different times. We were back in the 16th century and now we're doing this new thing together. So these two people that have been learning together for all these years.
Mays: That's right. And princesses. I do like to just keep mentioning that. We are princesses. At the fore of the movie, we are princesses, yeah.
Hayes: And we do mean in the royal we.
CS: So then in developing these further expansions of their personas, what would each of you say were your biggest creative challenges in bringing your characters to life?
Mays: Well, probably just that, what we were just talking about. I think the fact that that's kind of all we knew about them in the first two, right, is that they had been found by Bill and Ted back in like, medieval times and then they fell in love and brought them to the future. So we didn't know much about them. So I think that was probably the trickiest part to make it feel like we were families, right, and that we had these daughters that are in their late teens, early 20's. And how do we make sure that that feels real, right, and that we've experienced this life together as two families, very closely-knit families, and what's that like, and how does that kind of show on screen? And then the scenes that were given, how do we give them that bit of depth?
Hayes: Yeah, just to create the past with the in-between times in these last two movies because truly, that is what we know. We know they came, they traveled through time, they fell in love, they got married. They were in the band briefly. And then, what did they do, you know, and how do we make that seem real? I do wish — while you're describing that, Jayma, I really have this wish that there was a moment like we could've seen all six, you know, six of them at home in kind of one big like, unit, how they would've all worked together. But it was that kind of connectedness to where it's almost like one marriage, one family with both of our families together and how do we — that was a challenge. Like how do we convey that? But we would probably be just almost as close to each other's husbands as we are to each other and to our own husbands and to the other child —
Mays: The children, yeah.
Hayes: It was tricky. And it's such a fast-paced movie, too. You don't have a lot of time to push that, to build that in.
Mays: That's right. And it's a complicated time travel subject.
CS: Well, since you mentioned that you two time travel a lot throughout the film, I noticed that there were moments where you were traveling and we didn't get to see your travels. Do you think we'll ever be able to see those in the future, be it a special feature or a spin-off film, even?
Mays: We clearly need like a "Rosencrantz and Guildenstern".
Hayes: Well, yeah, Liz and Jo, they —
Mays: My mom will start a petition and that'll go really well online, I'm sure.
Hayes: It was really complex though, to figure out when we would be popping back in. We were talking to Dean [Parisot], the director, we're like, what have we seen. And they're like, multitudes. You've seen multitudes of things… So we had to like, kind of converse between the two of us like, all right, what did we just see, you know?
Mays: Yeah, how bad was it?
Hayes: What was that last thing we just saw, to try to convey some sense of that and bring it into when we pop in, because we don't see it. That's right.
CS: Got you. Okay, well, fingers crossed for that petition to work. What was it like, then, building the rapport with each other as well as the rest of the cast to make that family and friendly bond feel real on screen?
Hayes: Well, that was probably the easiest thing.
Mays: Yeah, I feel the same.
Hayes: We had like, a giggly good time together.
Mays: Yeah, it felt super easy. Like, and I was going to say, just meeting Erinn on that part…I met her and we had a little chance to chat. We had time to like, just hang out for probably 30 minutes or something on our own. And I remember just being like, oh, I like this girl, like this is going to be fun and easy and like, I think we're both on the same page like maybe use a sense of humor. And what we're saying the film or the writing could be like sisters. So that part, you're right. It's all super easy.
And actually, the same with the daughters. They're such cool, interesting, talented women. I was like, wow, where did they find these amazing women? And I remember at the table read, they started doing their thing. Because it's like, who are these girls going to be and how are they going to portray these characters? And they started doing the read through and it was like, oh, they're incredible. Like I couldn't take my eyes off of them. And then, like Alex, for instance, when I landed in New Orleans, I had, I think it was an email, I can't remember, a voicemail. Alex was like, do you just want to meet up for a coffee and meet? We're doing this thing together. And so, everyone was just so kind and again, inclusive and wanted to get along and just wanted to make a good film and have fun. That all had just kind of — yeah, was incredibly smooth.
CS: That's awesome.
Hayes: I would agree.
(Photo by Vincent Sandoval/WireImage via Getty Images & Jason LaVeris/FilmMagic via Getty Images)
Bill & Ted Face the Music
Bill & Ted Face the Music

Bill & Ted Face the Music

Bill & Ted Face the Music

Bill & Ted Face the Music

Bill & Ted Face the Music

Bill & Ted Face the Music

Bill & Ted Face the Music

Bill & Ted Face the Music

Bill & Ted Face the Music

Bill & Ted Face the Music