ComingSoon.net had the opportunity to speak with Emmy winner Holland Taylor (Hollywood, The Practice, Mr. Mercedes) about her role as The Great Leader in Orion Pictures' Bill & Ted Face the Music. You can check out the interview below and click here to purchase Bill & Ted Face the Music!
RELATED: CS Interview: William Sadler Talks Death in Bill & Ted Face the Music
Bill & Ted Face the Music centers on Bill S. Preston (Winter) and Ted "Theodore" Logan (Reeves), who are now fathers and have yet to fulfill their rock 'n' roll destinies. Their lives change when they are visited by a messenger from the future who warns them that only their song can save life as we know it.
Click here to own Bill & Ted's Excellent Adventure!
Click here to own Bill & Ted's Bogus Journey!
Joining Winter and Reeves are Samara Weaving (Ready or Not) and Brigette Lundy-Paine (Atypical) as Bill and Ted's daughters, respectively. The film will also feature Anthony Carrigan (Barry), Jillian Bell (Workaholics), Kristen Schall (Toy Story 4), Holland Taylor (Gloria Bell), Kid Cudi, Erinn Hayes, Jayma Mays, and Beck Bennet. William Sadler is also set to reprise his role as Death alongside franchise returners Amy Stoch and Hal London Jr. Newcomer.
RELATED: Bill & Ted Face the Music Review: Nostalgia & Fun Outweigh Predictability
ComingSoon.net: What was it about Face the Music that piqued your interest to want to be a part of it?
Holland Taylor: First of all, I remember the original movie and there's something very, very goofy and good-natured about it, it's kind of irresistible. Also, the reason why I think it tapped into so many people's appeal and why it's so perennial, I'm not at all surprised at the huge interest in Bill & Ted Face the Music, is because the ultimate reality of the goodwill in that movie, of the basic virtues, the basic values of that movie are actually what it stands on and it continues in Face the Music.
Why it's so successful, I think, is because those two actors, Keanu and Alex, are such truthful actors and they're desperately sincere in this movie and they worked very, very hard to make the scenes real rather than just throwing them away and not making them with the intention of phoning in a performance. On the contrary, they couldn't be more earnest in this movie and that's one reason why it was such a pleasure to play the little bits I get with them is because they took it deathly seriously, so it allowed me to do the same, which is why it's funny. I think the truth about comedy is that if you don't play it for real, it won't even be slightly humorous, but for it to be really funny it has to be for death-defying reality.
CS: What was it like building the rapport with them and Kristen?
Taylor: You don't have that much time to build rapport. We were shooting in New Orleans, it was about 100 degrees, it was muggy, we were hiding in our trailers in air conditioning until we had to go and get ready and go on set and when you're playing a character or supporting role where you come in for a week or so, you don't have a lot of time to get to know everybody, so you get to know them in the work.
Kristen Schaal is a wonderful comedian and a great girl and she and I clicked immediately, we played The Great Leader and her daughter, the daughter is the emissary who goes to Earth to find Bill and Ted and give them their assignment to write the song to unite mankind and stabilize the universe. She is the daughter and, theoretically, The Great Leader was the wife of Rufus, George Carlin's character, so what we did was play the reality, which was a mother who's a little irritated and snippy with her daughter who is a little annoyed with her mother, because that's the actual human reality of the scene. That's what makes it funny, it's not The Great Leader and an emissary to Earth, it's a mother and her daughter, so that's what we played and it was really great fun to be in outer space and playing these simple truths.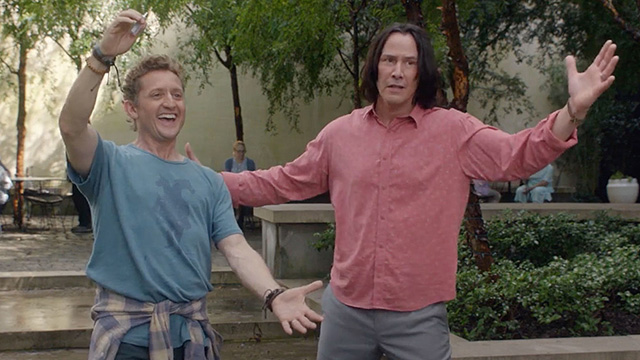 CS: Creative challenges?
Taylor: When you're playing with someone as good as Kristen, it's not hard at all, same with Alex and Keanu. Good actors just jump right to it and they were so centered in these wonderful, earnest and sweet characters who are so well-intentioned and mean to do good that I, as an authority over the whole universe, needed them to do this deed that would save the universe and time and space as we know it. Just to actually take those elements and concepts to heart seriously and play it for real, and they just jumped in with both feet from the very first take, it was deadly serious and therefore deathly funny. It wasn't a challenge at all.
CS: Had you known George Carlin around the time of the first two movies?
Taylor: In show business, you sort of cross paths with everyone sooner or later, but that's hardly knowing a man, but he is sorely missed, though, my god. How devoted we were to him, which you find out when someone leaves, he's still so much missed. They have a little hologram of him in the movie, which I thought was very neat.
CS: What was it like hearing the news of the simultaneous release plan?
Taylor: I guess it's the best option they can do, we're in the middle of one of the great tragedies on Earth of my lifetime, so I can hardly be overly concerned what kind of release the movie has. I hope for all the people that created it, myself included, that it does well and is seen by a lot of people. Of course, ideally, it would be wonderful to see it in a big movie theater but people have to be wise and careful and this is just an extraordinary experience we're having, this is once-in-a-century difficulty for humankind and a time of terrible social and political disturbances.
This is a really fraught time and something none of us has ever experienced before, so how a movie opens is something I can't place too much anxiety on, but I'm glad that it's opening in a hybrid way. The thing is people have really been waiting for this movie and the same kind of benign goodwill that is very refreshing to see. The series I did for Netflix, Hollywood, opened earlier in the summer really just as our lockdowns began and because of the goodwill of that series, I think it increased its success and its following tremendously and people really desperately want to feel that goodwill can prevail in this time.
Bill & Ted Face the Music
Bill & Ted Face the Music

Bill & Ted Face the Music

Bill & Ted Face the Music

Bill & Ted Face the Music

Bill & Ted Face the Music

Bill & Ted Face the Music

Bill & Ted Face the Music

Bill & Ted Face the Music

Bill & Ted Face the Music

Bill & Ted Face the Music