Comingsoon.net was invited to a presentation at the Disney Animation Studios that included a sneak peek of Frozen 2, as well as a discussion with the Director or Story, Mark Smith, and Head of Story, Normand Lemay, which you can check out below! 
RELATED: Elsa Wants to Borrow Sven from Kristoff in Frozen 2 Clip
Frozen 2 will see the return of stars Kristen Bell (The Good Place), Idina Menzel and Josh Gad (Murder on the Orient Express), as well as the additions of Sterling K. Brown (This is Us) and Evan Rachel Wood (Westworld).
Why was Elsa born with magical powers? The answer is calling her and threatening her kingdom. Together with Anna, Kristoff, Olaf, and Sven, she'll set out on a dangerous but remarkable journey. In Frozen, Elsa feared her powers were too much for the world. In Frozen 2, she must hope they are enough.
The film is helm by Academy Award-winning team—directors Jennifer Lee and Chris Buck with Peter Del Vecho serving as a producer. It also features music from Oscar-winning songwriters Kristen Anderson-Lopez and Robert Lopez.
RELATED: Frozen 2 Soundtrack: Listen to Panic! At the Disco's Into the Unknown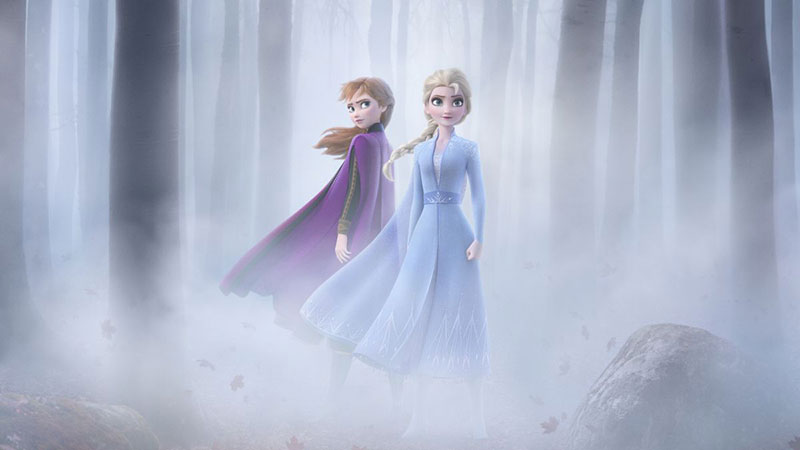 ComingSoon: Hi, I'm so incredibly excited to be here discussing Frozen 2 with the both of you. The biggest thing that stood out to me in the presentation is this idea of Elsa being a Disney mythic. Can you talk a bit more about that? It feels sort of like you're going to a territory very rarely seen in these films. There are other Disney movies that include Fairy Godmothers and the like, which are mythical characters, but we don't know where they come from; are there any elements you may have pulled from those older classics as inspiration for where you took Elsa in this?
Mark Smith: We didn't have a specific myth; it was more like an archetype of a character. Elsa has these sorts of mythic powers, sort of unexplained, but totally logical and it fits in with 'Frozen' that she would feel like she has something to do because of this; some destiny, some fate. She questions, "Why else would I be born with these ridiculous powers. I mean, it's got to mean something."
Normand Lemay: Usually these mythical characters they put it all on themselves, so like in the first movie but even more so in this one, it's like the weight of the world is on their shoulders and you have Anna, that fairy tale character, who puts a positive spin on things. You need that. She believes they need each other completely to achieve some kind of balance.
Smith: Also with Elsa, there's just a hint of tragedy. In her perspective, you know, even in the first movie you feel this, "Oh I did this to Arendelle, I have to stop this." You know, it's all on herself, that fits right into the mythic sort of character as well.
CS: I love how all the elements that we explored today from the effects to the backgrounds and how they all tie together for this story. We even saw the environment brought to life with a new characterization. Can you talk a bit about what inspired you to bring the enchanted forest to life and how Gale interacts with that element of the story?
Lemay: Well, as far as setting in the forest and the leaves and the North, there was always this ensemble cause you're dealing with archetypes. I remember when I first jumped in the movie there was always this idea of this symbolism of the forest as a place of transformation, a place of change and when we meet those character now, who are three years older in their early 20's, is this idea of a pivotal change, this big moment in most people's life's where big decisions are to be made and everything seems to be at stake. And that's where we wanted to have these characters so having the forest as this setting of change felt right.
Smith: And on top of that, you know, in the first movie had Elsa as sort of this sole magic-user and she's the core of that, It felt like a good opportunity, in this film, to expand on that. And nature plays a part in this movie, partly because what else could challenge Elsa, you know. And that photography of her on the beach is visually communicating that. It makes her smaller in the presence of those bigger forces.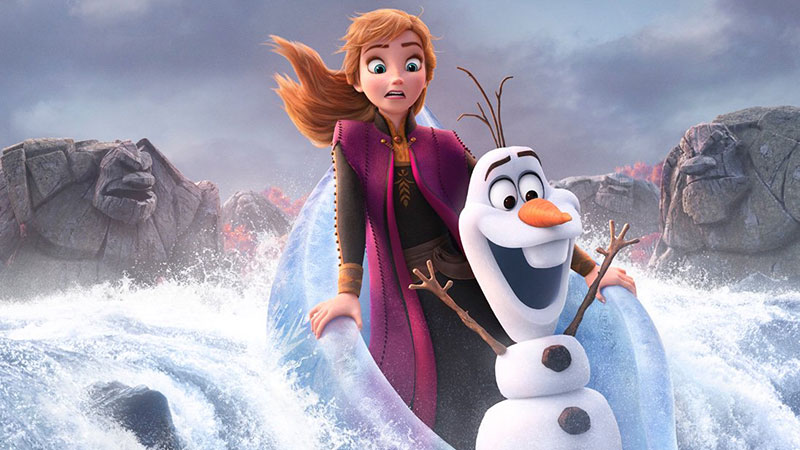 CS: I like seeing how these challenges manifest as physical obstacles for Elsa's powers and they start to push her to her limit. Would you say that we will see the other characters, Kristoff, Anna and Olaf pushed in new ways as well? 
Smith: I think, more than Elsa's powers being pushed, if her emotions weren't pushed in some way it wouldn't be all that interesting. And I think we did that with all the characters as well. We really worked on challenging them emotionally and putting them into places that were uncomfortable and hard because watching them deal with that is part of the fun. 
CS: Yeah, what were you excited to bring into this film as far as your perspectives and storytelling?
Lemay: Scale, like how the first movie dealt with it in a great way with Elsa creating this eternal winter and showcasing this landscape of ice. I think, for this one bringing all the characters together was a big challenge. It was fun too; it was exciting to have as much as we can and having the group travel and experience this adventure together in a world that is completely unknown to them, even a nature man like Christophe. Taking all the characters out of their elements including Elsa, that was satisfying.
Smith: As far as myself, it's so hard not to talk about some things that are in the film, unfortunately, but again it all goes back to Anna and Elsa and the challenges that they have overcome. I'm really proud of how far we took them in this. You could have endless conversations about it but not until you start to feel it can it come alive. It's almost impossible to keep going through all the hours of how long these things take to storyboard and develop through rebirth after rebirth. You have to find some personal way into it. That's a challenge on every scene, but that's also what makes it sort of meaningful and worthwhile. If you can get something that you feel into the sequence than that's what can be added onto by the animators and the layout team and when you finally look at the screen, you'll see a hodgepodge of feelings. 
Lemay: I can talk about "Into the Unknown" because you've seen it. When you want to put yourself into a sequence like that in particular, it was this idea of like, did I have a moment in my life where something kept me up at night. Whether it were questions, feelings or a desire I couldn't even talk to my family about or what's the thing that I could have? I had to go back and think about those years of my life when I was 21 to 24. I think at that point I was finishing art school and I wasn't sure if that was the way for me or if I was going to be successful at it and that's where I went. Sweaty nights where you're just so unsure if you're going to make it; it's that stress and that sort of anxiety of what am I getting into and I hope this goes somewhere and I just have to believe and it's going to be great. You never want to watch a visualization from the outside, like it's this superficial thing with characters that are just moving around. If you can't pour yourself into it, no one will feel anything. That's how these films connect.
Frozen 2 hits theaters on November 22. 
Frozen 2
Frozen 2 Special Sing-Along

Frozen 2 Blu Ray

Frozen 2

Frozen 2

Frozen 2

Frozen 2

Frozen 2

Frozen 2

In Walt Disney Animation Studios' "Frozen 2, Elsa, Anna, Kristoff, Olaf and Sven journey far beyond the gates of Arendelle in search of answers. Featuring the voices of Idina Menzel, Kristen Bell, Jonathan Groff and Josh Gad, "Frozen 2" opens in U.S. theaters November 22. ©2019 Disney. All Rights Reserved.

Frozen 2

In Walt Disney Animation Studios' "Frozen 2, Elsa encounters a Nokk—a mythical water spirit that takes the form of a horse—who uses the power of the ocean to guard the secrets of the forest. Featuring the voice of Idina Menzel as Elsa, "Frozen 2" opens in U.S. theaters November 22. ©2019 Disney. All Rights Reserved.

Frozen 2

In Walt Disney Animation Studios' "Frozen 2, Anna (voice of Kristen Bell) and Olaf (voice of Josh Gad) venture far from Arendelle in a dangerous but remarkable journey to help Elsa find answers about the past. From the Academy Award®-winning team—directors Jennifer Lee and Chris Buck, producer Peter Del Vecho and songwriters Kristen Anderson-Lopez and Robert Lopez, Walt Disney Animation Studios' "Frozen 2" opens in U.S. theaters on Nov. 22, 2019. ©2019 Disney. All Rights Reserved.

Frozen 2

Frozen 2

From the Academy Award®-winning team—directors Jennifer Lee and Chris Buck, and producer Peter Del Vecho—and featuring the voices of Idina Menzel, Kristen Bell, Jonathan Groff and Josh Gad, and the music of Oscar®-winning songwriters Kristen Anderson-Lopez and Robert Lopez, Walt Disney Animation Studios' "Frozen 2" opens in U.S. theaters on Nov. 22, 2019. ©2019 Disney. All Rights Reserved.

Frozen 2

From the Academy Award®-winning team—directors Jennifer Lee and Chris Buck, and producer Peter Del Vecho—and featuring the voices of Idina Menzel, Kristen Bell, Jonathan Groff and Josh Gad, and the music of Oscar®-winning songwriters Kristen Anderson-Lopez and Robert Lopez, Walt Disney Animation Studios' "Frozen 2" opens in U.S. theaters on Nov. 22, 2019. ©2019 Disney. All Rights Reserved.

Frozen 2

Frozen 2