Comingsoon.net recently sat down with producer Seldon Young and director/co-writer Richard Rich to discuss the 25th Anniversary of the beloved animated family film, The Swan Princess, chatting about the film's history and the timelessness of the generational tale. 
RELATED: Into the Spider-Verse Sequel Might Include Japanese Spider-Man
Originally released in 1994, The Swan Princess is getting a high definition Blu-ray release in time for its 25th anniversary. The story follows Princess Odette, voiced by Michelle Nicastro, who transforms into a swan and is forced to embark on a dangerous quest to break the curse. The Golden Globe animated feature is one of the longest-running franchises, having touched the hearts of over 119 countries and millions of fans worldwide.
RELATED: New Bad Boys for Life Trailer Introduces Mike's New Team
ComingSoon: How did you come to be involved with The Swan Princess 25 years ago?
Seldon Young: Originally, we were doing some other films, Rich decided to venture out on his own and we were doing some films together. He was working on this script trying to crack it and I'll let him talk about that story.
Richard Rich: I wanted to do a fairy tale in very much the classic form of Cinderella, Sleeping Beauty and those that Disney did. I felt that fairy tales have longevity — they don't seem to grow old. They just get better as time goes on. I wanted to do something that had that kind of appeal. We got to Swan Princess and we started getting really excited. There are some really neat elements that are exactly from the Fairy Tale in the movie, Odette is the name of the princess, Rothbart is the name of the villain, the prince's name was Siegfried, and I didn't think I could quite go with that, so I went with Derek, a little more of a contemporary name for him. We plotted the elements of the story, then we had to create a lot of new elements to the story to make it all work in animation. We worked really hard on that and it took us a good chunk of time to crack all the elements of the story and it finally came together in the movie. 
CS: Is there a favorite moment from the fairy tale that you were excited to adapt?
Rich: The classic moment from the fairy tale was showing the princess being turned into the swan. We felt that showing this transformation was an obligation and also a delight to be able to do. As it turns out the transformation has become rather iconic in the world of animation as well as Odette changing from the swan back into the princess. So that was the one element that we knew we had to hold onto. 
Young: I am fortunate enough to be out and about with the fans, especially with going to San Diego Comic-Con, so my particular love for certain scenes comes from the fan's love for it. You know, the iconic piece of animation where they are growing up and the song, "This is My Idea," has become a dramatic fan's favorite because everyone identifies with this and then when Derek decides to finally get married there's the ballroom scene, what this does to our fans that grew up in the film, they say this created confidence in them and helped them go forward as a woman. 
CS: What was the casting process like for finding the right voices and what made Michelle Nicastro the perfect Princess Odette?
Young: Well, I'm glad you said the perfect Princess Odette because that's exactly what she is. We had come to New York while working with casting directors here on Broadway and we tested many, many actresses here and they were all excellent, excellent talent. But I was looking for that talent that had a princess sounding voice, that was just naturally a princess voice that had confidence and had beauty and had charm. We went back to Los Angeles and continued voice casting there; they brought in Michelle Nicastro, who was in the cast of Les Miserables at the time, and when she walked in and started to talk to us just in her normal voice I knew that she was the princess. She sounded like a princess, she acted like a princess, she had all the qualities of a princess in her own personal life and that all came out in her characterization of Princess Odette.
Let's talk about Lord Rothbart for a little, because that was a difficult part to cast as well. We originally wrote Rothbart as a very dark villain, an evil person. Pretty much a one-note villain and then we saw City Slickers and Jack Palance was having a really great run and he did that one-armed push up at the Academy Awards and we thought, wow he has such a unique cadence as well as sound it'd be great if we could get him to play Lord Rothbart and he agreed and that changed it all. It changed the character from a dark singular tone villain to a comically, dark villain. Because he could say something really dark in kind of a clever way that lightened up the mood but retained the darkness that we needed. We had even written a song called "Rothbart's Revenge," which was a really dark, dark song, about getting back at Derek and Odette and we had recorded it and everything including storyboarding it. And then when Jack Palance came on the scene that song changed to "No More Mister Nice Guy" and it was changed completely. 
Rich: By the way, we have posted on our Youtube page, "Rothbart's Revenge" with its original storyboarding and Jack Palance singing it.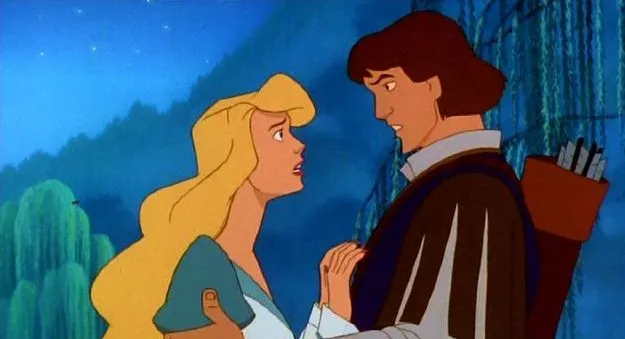 CS: That's amazing. Looking back on the past 25 years on this film and the generation of fans it has inspired, what are you most excited to share as the stories continue, with this year's film as well?
Rich: This franchise has several designations to its enormously historical legacy. This is the world's most successful independently animated film franchise. We have hundreds of millions of fans across the world that watch this film and the second part to that is that we have 9 sequels. When we get to Swan Princess 10 which will come out next year it'll be nearly impossible to name another franchise that has 10 films in its franchise. 
CS: And it's so generational!
Young: That's right, the generational side is really important. Many of those millennials that watched their film are looking to raise their children on it. And the children are changing their likes from 2D to 3D so we are adapting and changing the styles to CGI. The thematic of each of the stories all carry similar themes of love and goodness and those kinds of things are important for all generations to have. 
Rich: We've been able to develop stories that have a continuity from one to the next, as the characters have grown up and relationships have become more mature and our audience has become more mature. They have grown up with these and it crosses over with the themes of love and goodness, which is the strongest power that there is and it also touches on many things that are pertinent to today's society.  
Young: Swan Princess, the first one was the last fully hand-drawn, hand-painted cel animation, to be released in theaters in the US. That, I think is a big distinction from all others and that's part of our celebration. We are celebrating this film and the fact that we get to put it out again in High Def 4K.  And here's an interesting data point, the same people that started Swan Princess are the same ones that are doing Swan Princess 10. That's pretty classic, you don't get that very often. 
Rich: Back in 1994, this little independent company had a hope to take on all the major studios, who are now involved in making animated features, and our staff of 300 people were totally dedicated and it shows up in the film that is was a labor of love and not just a job.
Young: I want to finish out Rick's earlier points. What has made this film able to carry this presence and it's cast and crew to love this process and love the film and do everything they can to do the best. The second thing is that we had a wonderful distributor with Sony Pictures who are still our distributor on these films and lastly, the fans. Our fans are everything. They push us and give us ideas and they love this film and that inspires us. 
Swan Princess celebrates 25 years this month! And is now available for the first time ever on Blu-ray and Digital 4K HDR!