Haunted houses have been a staple of horror since the early days of gothic literature. The premise is so ingrained in our collective consciousness that if someone hears a strange sound in their home at three in the morning, thoughts almost immediately turn to the supernatural. The imagination quickly goes through familiar steps: You grab a baseball bat from the closet and slowly open your bedroom door. The house seems quiet now. To shout "is anybody there?" would be to give away your location, so you decide to quietly step down the stairs. They creak anyway and you curse the foundation. That's what you get for moving into an old Victorian House.  That was built by a known serial killer. And is resting on a Native American Burial Ground. No use thinking about that now, you have work to do. As you quickly and quietly navigate your way down the spiral staircase, you feel something jump out at you and you scream. So much for not making any noise. Turns out, it was just the cat. You don't remember ever getting a cat, but no matter. You continue down the stairs and enter the foyer. And you pronounce it 'Foy-yay' because you're pretentious. You hear a tapping on the wall. Or is it actually coming from in the wall? You go to flip on a light, but the power has gone out. Naturally.
You can't help but feel like you've seen this all before. Perhaps you have, in another life. Or, more realistically, you've seen all of the movies on this list, which is our Top 10 Haunted House Films!
10)  The Amityville Horror (1979)
For a time, The Amityville Horror was the haunted house film. Telling the story of the Lutz family, who moved into the famed Long Island home, not too long after a series of grisly murders involving the DeFeo family. The Lutz' are initially unaware of the murders but, once they find out, they push forward with the purchase of the home because, as George Lutz said, "houses don't have memories." Except they do. And secrets, too. James Brolin led an amazing cast, joined by Margot Kidder, Rod Steiger, and more. In the '70s, this was the pivotal haunted house film.
9) Rose Red (2002)
From the genius mind of Stephen King, Rose Red was almost like a retelling of Shirley Jackson's The Haunting (more on that soon), but with some King-esque twists and turns. This film featured an ensemble cast, including Nancy Travis, Kimberly J. Brown (of Halloweentown fame!), Matt Ross and David Dukes, in his last film role. The story focuses on a college professor who recruits a team of psychics to discover what lies beneath the foundation of Rose Red. The acting is what you would expect from a TV Mini-Series of its time, but it isn't terrible. A lot of the dialogue is very 'King-y,' but your enjoyment of that depends on how much you like Stephen King's writing. There are some legit scares as well and Rose Red more than earned its place on this list with the atmosphere.
8) The Shining (1980)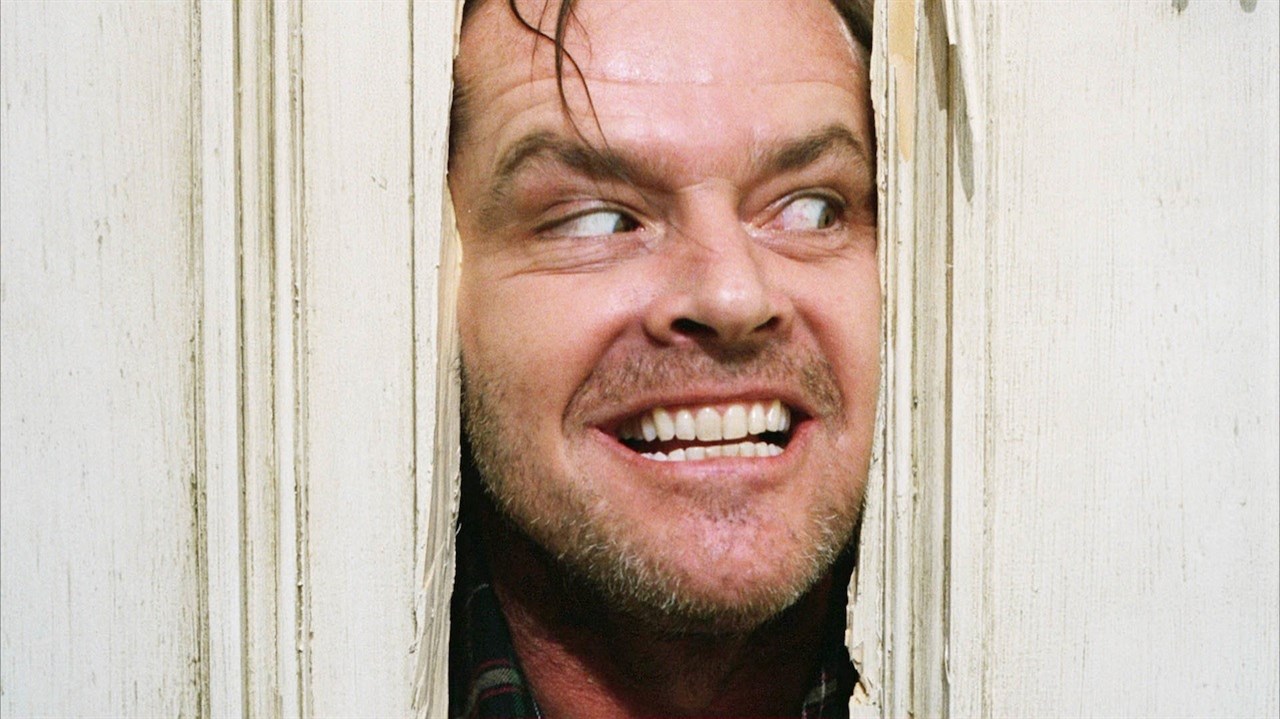 Technically, The Shining is a Haunted Hotel movie, but we're including it on this list because it's just so damn good. We actually like the made-for-TV adaptation as well, but when one thinks of The Shining, it's usually Stanley Kubrick's version. And rightfully so. The film version of The Shining tells the story of Jack, Wendy and Danny Torrance as they move into the Overlook Hotel so Jack can act as the caretaker for the winter. Already dealing with marital problems and alcoholism, it doesn't take long before Jack is completely enveloped by the horrors of this hotel. Jack Nicholson gives, arguably, his best performance as Jack Torrance and he proves that sometimes it's not ghosts and ghouls that haunt us; sometimes, it's ourselves.
7) House on Haunted Hill (1959)
Coming off the heels of 'The Tingler,' William Castle's experiment in terror, House on Haunted Hill came out in 1959 and it absolutely shocked audiences. It was dark and scary, manipulative and mean-spirited. It was Vincent Price in perhaps his best role and it is definitely one of the best haunted house films ever made. I mean, it's even in the title! What made House on Haunted Hill even scarier for audiences was that, like The Tingler, some theaters utilized cutting-edge technology (at the time) to enhance certain experiences and scenes. When a skeleton would come out from the dark to scare a character in the film, a skeleton would also glide across theaters. There were a number of other tricks too, all designed to solidify House on Haunted Hill as one of the greatest ever.
6) Insidious (2010)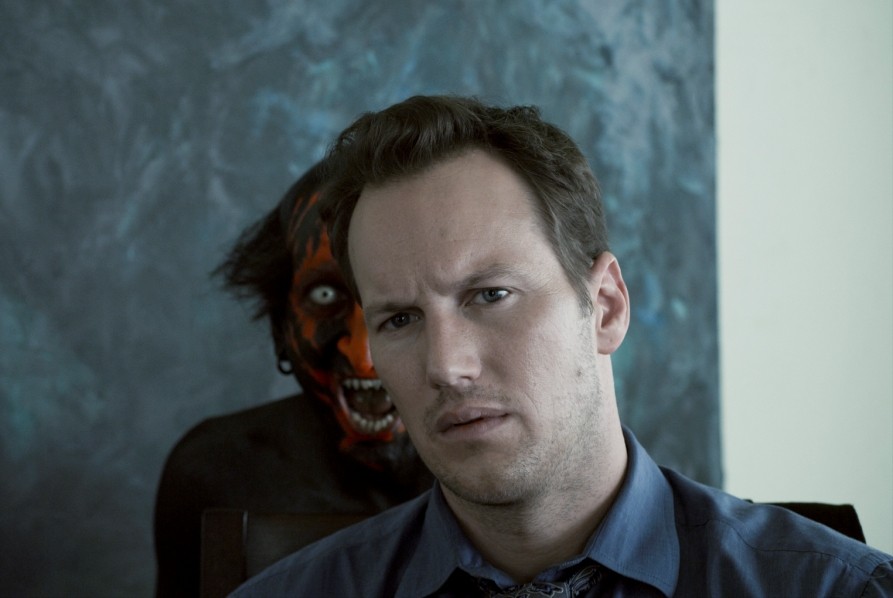 The best part of Insidious is, and always will be the performance of Lin Shaye. She took what could have been a bit part and turned it into a career-defining role. Shaye's performance aside, Insidious is one hell of a good haunted house flick. While Insidious, and its sequels, went to great length to show that "it's not the house that is haunted," it still counts as a haunted house film because most of the scares do, indeed, take place in the home of the Lambert family. When young Dalton falls into a coma after a mysterious accident in the home's attic, the Lambert family must come together to fight the horrors that Dalton has discovered. Patrick Wilson plays the family patriarch, and he must go into the depths of The Further to save his son and end the Insidious evil that has come upon them.
5) The Haunting (1963)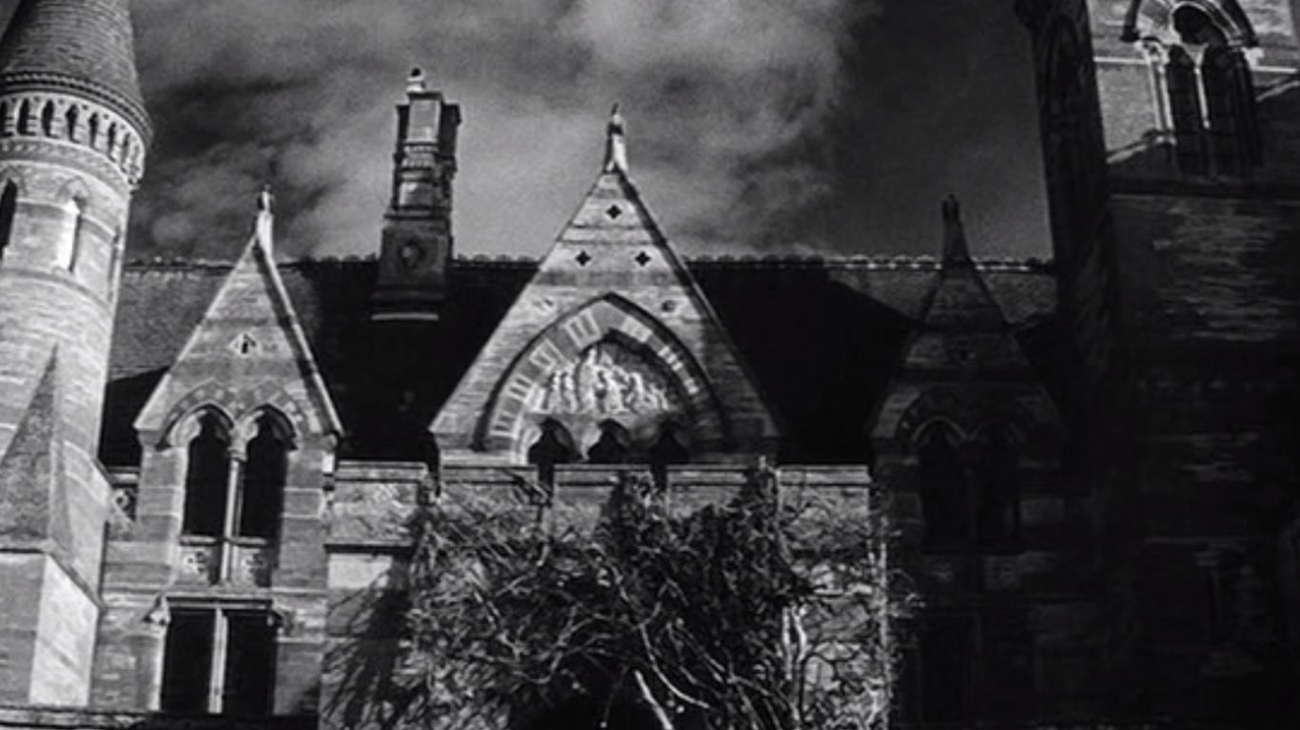 "Some houses are just born bad." That is what Shirley Jackson, author of The Haunting of Hill House, said about the haunted mansion in 1963's The Haunting. Based on Jackson's book, The Haunting tells the story of Dr. John Markway, an anthropologist who brings a lonely woman named Eleanor and a psychic with him to investigate Hill House, a reportedly haunted house with a dark past. All three characters will soon discover just what that past entails as they uncover truths about Hill House and about themselves. Like House on Haunted Hill (seriously, people need to stop buying houses on hills), it is moody and atmospheric and it's actually pretty ahead of its time. The Haunting provided plenty of chills and thrills, but it would pale in comparison to its retelling (more on that later).
4) Paranormal Activity (2007)
While some may scoff at the ranking of this film, based on its sequels, they need to go back and realize what a phenomenon the original film really was. Produced on a meager $15,000 budget, Paranormal Activity raked in over $193 million worldwide. It wasn't the first 'found footage' film, but it did jumpstart the trend. The film was beautiful in its simplicity and terrifying in its execution. Katie and Micah believe their house is haunted, so they set up cameras to record the, well, paranormal activity. Again, it was an extremely simple premise, but its execution was truly amazing. So, too, were the performances of actors Katie Featherston and Michah Sloat.
3) The Conjuring (2013)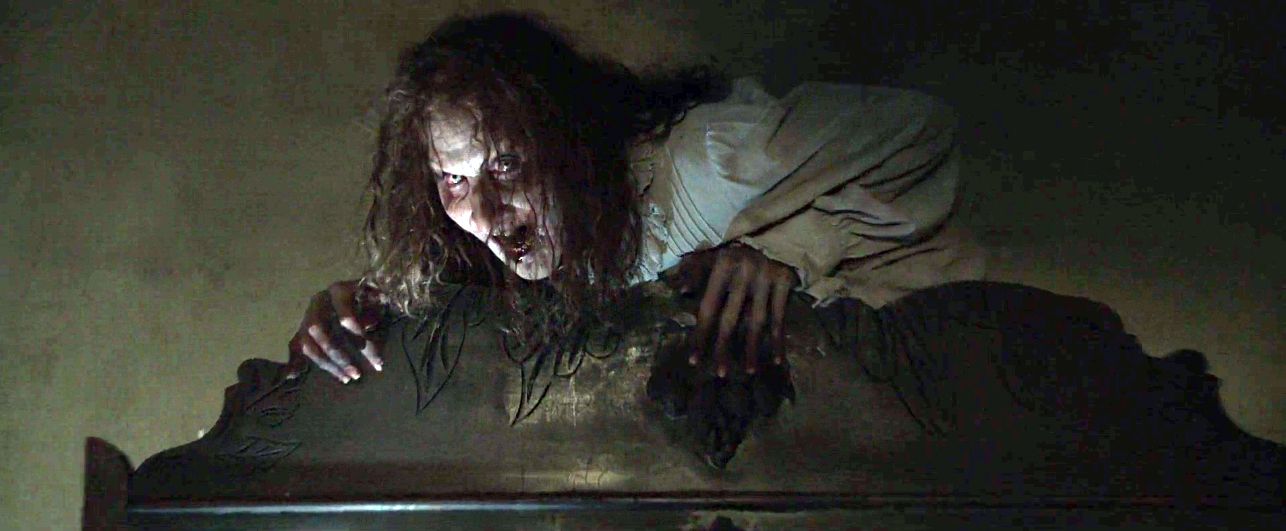 It seems like whatever James Wan touches, turns to gold. Wan had a hand in the Saw series, the Insidious series, AND the Conjuring series. That's not to mention his non-horror vehicles like the Fast and the Furious franchise and the Aquaman film. James Wan knows how to tell stories and he knows how to create characters that audiences care about. For proof of this, look no further than The Conjuring, yet another haunted house film that showcases a family we care about being driven apart by forces beyond their control. The imagery in The Conjuring is startling. The performances are top-notch. The story is compelling. Everything about the story makes for a perfect haunted house Movie. It also started off a cinematic universe.
2) Poltergeist (1982)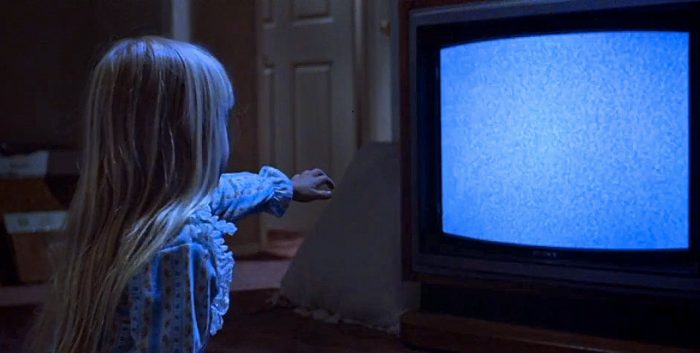 What happens when you let Stephen Spielberg team with Tobe Hooper in order to create a haunted house movie? Magic, that's what. Regardless of who actually directed Poltergeist, one cannot argue that the final product is the stuff nightmares are made of. The Freelings didn't know that their house was built on an ancient American Indian burial ground. They didn't know that their daughter, Carol Anne, was a conduit for the "other side." They didn't know that the evil clown doll they unwittingly gave their son was also a possessed demon monster. In this case, what the Freelings didn't know, most certainly hurt them. Poltergeist, for years, has been the standard bearer for haunted house flicks. It had characters we loved and cared about and a premise that was cliché but executed in new ways,
1) The Haunting of Hill House (2018)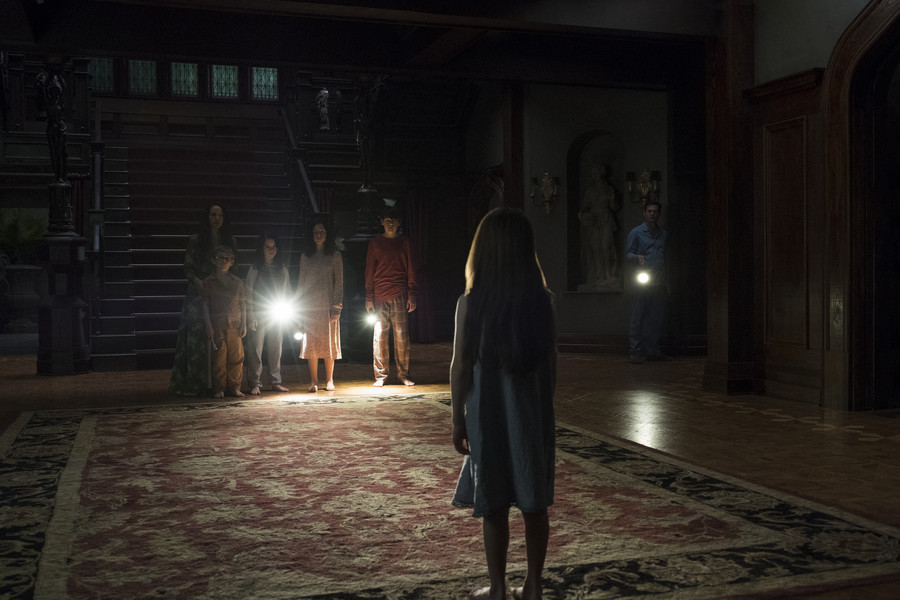 We debated putting this on the list because, technically, it's not a film. It's a Netflix original series that spans ten episodes and multiple decades. The reason we included it was because there is simply not a better haunted house story that has ever been told. Haunted house movies are supposed to scare audiences; not make them feel feelings. That's exactly what Hill House did, though. It took us on a roughly 10-hour long journey and it left us shaken. Truly. Adapted from the aforementioned Shirley Jackson novel, in a much more unique way than the original film or its remake, The Haunting of Hill House gave us just as many heartbreaking moments as it did scares. Director Mike Flanagan gave the audience compelling characters that we truly cared about and could relate to. It tackled issues like family turmoil, addiction, depression and more. The scares were chilling and the ghosts shocking, but it was the horror of a family split apart, through no fault of their own, that was what truly made this show a success.
We are a participant in the Amazon Services LLC Associates Program, an affiliate advertising program designed to provide a means to earn fees by linking to Amazon.com and affiliated sites.