Remedy Entertainment said it wasn't done with the Control universe, and now the developer has spoken a little more openly about the "full-blown" sequel it is creating. Remedy confirmed that Control 2, which was formerly known as Codename Heron, exists and is coming to PlayStation 5, Xbox Series X|S, and PC. No release window was given.
As stated on its website, Remedy is co-publishing Control 2 with 505 Games, the publisher of the original game. Remedy is publishing on PC while 505 is publishing the title on consoles. However, Remedy is retaining the rights to the Control franchise.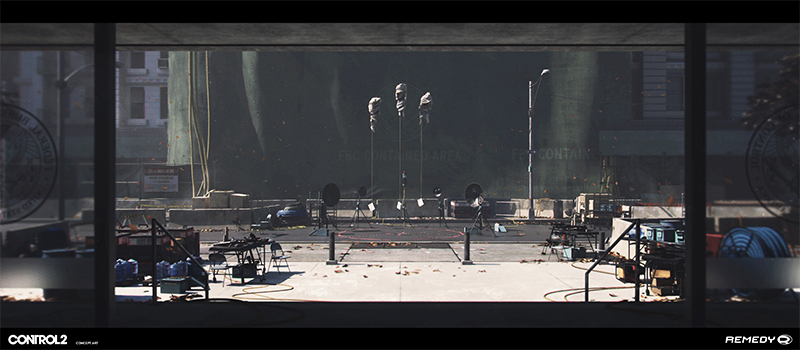 Control 2 will be on Remedy's Northlight Engine, which also powered Quantum Break and the first Control and will be used for Alan Wake 2, Condor, and the Max Payne remakes. It's also just in the concept stage, meaning it is very early on. The above picture is a piece of concept art for the game with a description that says the view is "through a pane of glass and [shows] a control point on the street."
RELATED: Alan Wake Television Show Finds its Network
This also isn't the first mention of another bigger Control game. Remedy noted in June 2021 that it was going to "further expand the Control franchise with a bigger-budget Control-game" and that its world was "a place for multitudes of stories."
Control 2 is just one of the many games Remedy is developing. The team announced it was making a cooperative Control spin-off (codenamed Condor), a separate free-to-play multiplayer title (codenamed Vanguard), Alan Wake 2, and remakes of the first two Max Payne games. Remedy is working with a few other companies for all of these games, as Tencent is helping fund Vanguard, Epic Games is publishing Alan Wake 2, Rockstar Games is financing the Max Payne remakes, and, once again, 505 Games is co-publishing Condor.
RELATED: Sam Lake: Fan Support Has Been 'Really, Really Important' For Alan Wake 2, Explains M Rating & Pivot to Survival Horror