Call of Duty: Modern Warfare II is just about a month away from release and Infinity Ward has finally given players a better look at the game's online multiplayer. The trailer that premiered at Call of Duty Next also contained a look at Warzone 2.0, the battle royale coming just after Modern Warfare II's launch, and its release date: November 16, 2022. The studio also spilled more details about each after the trailer's debut.
Water will play a bigger role in the game, as combatants can swim around and use it as an escape. Firefights can even happen underwater, but the ballistics are a bit different. There's also a new ledge hanging mechanic that lets users peek above ledges instead of fully mantling over them. Players were shown hanging off a rooftop and firing on those standing on said rooftop, with those hanging being more concealed. Diving also has some lift to it this time around, meaning that it's possible to dive out of windows in a pinch. However, it can only be used after a tactical sprint. There's are a ton of new gadgets or old ones that have been improved or balanced, such as the heartbeat sensor which now has a battery so it can't be used indefinitely.
Gunsmith has also been stepped up, as detailed in the incredibly long post on the game's site. As shown in its recent trailer, players can now unlock attachment across multiple guns, which should lessen the grind.
Invasion is one of the new multiplayer modes. It takes place on a big map and the only objective is to eliminate other players and the A.I. that roams around like some sort of massive deathmatch. It's 20-on-20, but each team also has 20 A.I. teammates.
RELATED: Call of Duty: Modern Warfare II Early Access Beta Code Giveaway
Prisoner Rescue and Knockout are also two new modes. The former has players locating hostages, defending them, and exfiltrating with them. There are no respawns, but fallen players can be revived. It's also a round-based mode with attackers and defenders. Knockout tasks players with eliminating their opponents or holding a package in the middle of the map. Wiping the other team or holding the package for 60 seconds are the winning conditions. There are no respawns, only revives, and is a mix of two-on-two Gunfight and and Warzone.
Third-person mode is also coming back to Call of Duty. Third-person playlists will initially be separate, but player feedback could change this down the line. Aiming down sight still toggles to first-person mode, though.
Special Ops is returning, as well, which is a two-player co-op mode and it will focus on asymmetrical gameplay this time around. This means that one player could be on the ground while another is in a helicopter.
There will also be raids after launch, which will be three-player co-op missions that require teamwork. However, the developer didn't spill every detail about this new mode.
PlayStation players, in addition to being able to play the beta early, will get an Oni character in multiplayer and Warzone 2.0. However, much like the PlayStation-exclusive Hogwarts Legacy content, there is a label at the end of the trailer noting that it will only be exclusive for one full year. This Japanese character fit with samurai swords and armor be playable on day one for those that pre-order on the PlayStation Store.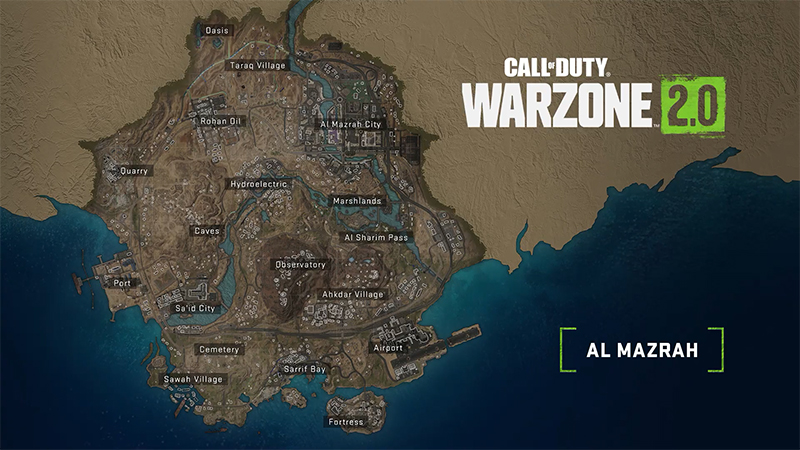 Infinity Ward then moved into discussing Warzone 2.0 and made it clear that the battle royale was being built in conjunction with Modern Warfare II, meaning they'll have the same tech. This is likely a reference to the last Warzone and how it was being put alongside other entries that were not from the same tech base.
The team then showed the new map called Al Mazrah, which is the biggest Infinity Ward has ever made. It's got a mix of industrial and desert settings, as shown in a lengthy post on the game's website.
Infinity Ward then dove into more specific changes. Vehicles will have new physics attached to them, meaning blasting at a vehicle's tires will alter the handling and they will react different to explosives depending on their weight. Players can lean out of windows and mantle onto their rooftops, which offer those inside a "variety of tactical advancements." Vehicles can also be fixed and topped up at gas stations.
RELATED: Call of Duty: Modern Warfare II's Campaign Will Unlock Early for Pre-Orders
Proximity chat now allows users to hear others around them. Looting should be a little more reliable since some crates will be in the same places so players can memorize where they are, but there will still be loose loot on the ground. The circle prevalent in almost every battle royale has also been changed. It can now split into multiple circles, meaning there won't always be just one circle closing in.
The Gulag has seen a bit of a twist this time around, as players will be teamed up with someone else and have to take down another duo. Alternatively, an A.I. opponent called The Jailer can also be tracked down in the Gulag and killed. They not only have the key to escape, but also extra gear. A.I. strongholds will also be peppered around the map and give players a way to grab strong gear if they're willing to fight for it.
A.I. will also play a prominent role in DMZ, the oft-rumored and now confirmed mode. This new mode will see players making their own goals and setting when to extract. It's a balance of risk and reward as it is quite deadly to keep venturing, but surviving longer and exploring more might result in a bigger payout. Previous leaks compared it to Escape From Tarkov. Infinity Ward was still keeping this mode under wraps, though, and will be sharing more later on.