With the premiere of Thor: Love and Thunder and the finale of Ms. Marvel, the MCU's most prominent summer blockbusters have come and gone. However, players can still pick up gear from their favorite shows and films on the cheap within Marvel's Avengers. Players can log in from now until July 21 and get half off every MCU costume in the marketplace outside of the newest one, Thor's new duds from his latest film.
RELATED: Marvel's Avengers' Next Unannounced Hero Accidentally Revealed During Xbox Stream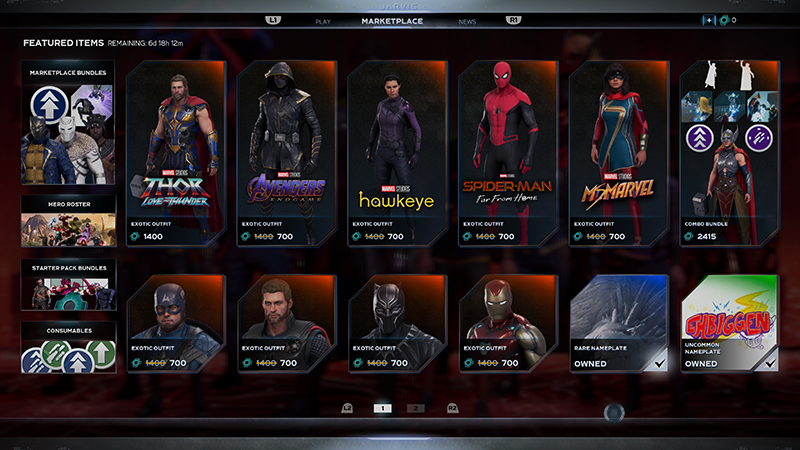 Not every MCU skin has been discounted, as Crystal Dynamics has only put eight in the store. The MCU skins on sale for 700 Credits are:
Hawkeye (Avengers: Endgame)
Kate Bishop (Hawkeye)
Spider-Man (Spider-Man: Far From Home)
Ms. Marvel (Ms. Marvel)
Captain America (Captain America: The First Avenger)
Thor (Avengers: Endgame)
Black Panther (Captain America: Civil War)
Iron Man (Avengers: Endgame)
Marvel's Avengers has kept things up to date with the MCU as of late, welcoming in Mighty Thor as a playable hero just before Thor: Love and Thunder introduced a godly Jane Foster to the films. However, the game was ahead of the curve when it came to Ms. Marvel, integrating the popular comics character well before the character's Disney+ show.
MORE: MultiVersus Trailer Previews Iron Giant Gameplay Before Open Beta Rollout
Crystal Dynamics and Square Enix look like they are continuing the game's trend of matching with the MCU, as a prominent Avengers leaker reported that She-Hulk is coming to the action RPG. She was supposedly originally going to come out earlier but was reportedly delayed in order to line up with the Disney+ show. Actor and streamer Techniq accidentally talked about the character during an Xbox stream, too, further lending credence to the aforementioned report. It's not definite confirmation, but the annoyed tone from Lead Designer Brian Waggoner does suggest that Techniq spilled the beans. That same prominent Avengers leaker also stated that Bucky Barnes is the next hero, so it's unclear how it will all roll out.