After multiple positive reviews, Ratchet & Clank: Rift Apart is finally out on PS5. The series has always been associated with Sony platforms and even has a few teases to Sony characters in one of its weapons. But it also contains more than a couple direct references to Sunset Overdrive, the Insomniac-developed open-world game that Microsoft published on Xbox One and PC. Insomniac had previously hinted at some sort of collaboration, but it's more than just a cheeky nod or two.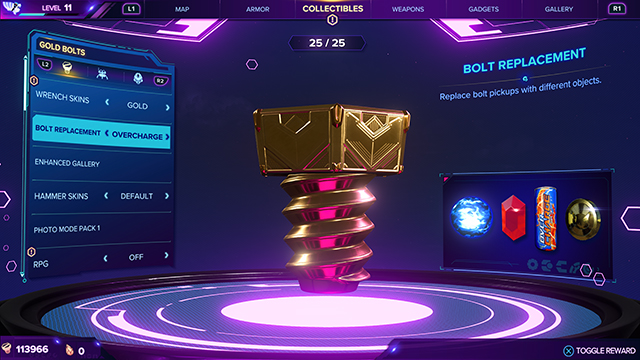 The easiest reference is in the cheats menus. Players can change the bolts currency to Overdrive cans, the twisted soft drink from the series. Other alternatives are orbs, gems that look like rupees from Zelda, or coins that could be inspired by a number of different games like Mario.
The cans can also be a little easier to read since they stick out more than the bolts.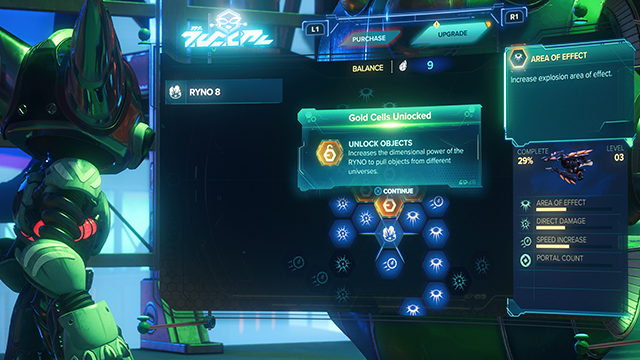 The other references are found after upgrading the RYNO 8 to pull in interdimensional objects, as shown in the above picture.
Once upgraded, the RYNO 8 will rain in multiple objects — from Horizon Zero Dawn's Scrapper to Uncharted 2's Phurba dagger — and characters themselves like Jak, Daxter, Sly Cooper, and Sly's partner in crime, Bentley. They are incredibly rare, but there are a couple of Sunset Overdrive props, too. Fizzie, the game's mascot, will pop in sometimes, as shown in the picture at the top of the article. A barrel of Overdrive will also drop down. The Photo Mode is useful for catching a glimpse at all of the teases. The gallery of RYNO 8 drops is at the bottom of the page.
RELATED: Sunset Overdrive Resurfaces on Twitter, Teases Fizzie in Ratchet & Clank
Given all of these teases, the Twitter account waking up after not tweeting since November 2018, Sony registering a related trademark, and Sony's Shuhei Yoshida confirming that it owns the IP rights, it does seem like something is on the way in the Sunset Overdrive series. A certain leak also claims that a remastered version for the first game called Sunset Overdrive: Refreshed Edition is coming to PS4 and PS5 later this year while a sequel called Sunset Apocalypse is hitting the PS5 somewhere down the line.
Ratchet & Clank: Rift Apart RYNO 8 Drops
Ratchet _ Clank_ Rift Apart_20210605132855

Ratchet _ Clank_ Rift Apart_20210605133040

Ratchet _ Clank_ Rift Apart_20210605133746

Ratchet _ Clank_ Rift Apart_20210605134057

Ratchet _ Clank_ Rift Apart_20210605134158

Ratchet _ Clank_ Rift Apart_20210605134402

Ratchet _ Clank_ Rift Apart_20210605134637

Ratchet _ Clank_ Rift Apart_20210605135235