Somehow The Simpsons is still going. While not as strong as it once was, even viewers who stopped being regulars long ago still love the family from Springfield and have fond memories of their shenanigans. I've always tried to at least catch the new Halloween specials when I can, even if I don't watch a single other episode from that season. The eerie Treehouse of Horror events always felt comforting in some odd nostalgic way, and typically provided a few laughs that always felt like they belonged to a unique brand of comedy.
The first Treehouse of Horror episode began as a part of the show's second season in 1990. Five years later, the horror-themed segments were such a hit that they received their own comics from Bongo. These new stories followed the tone and ideas from the special episodes but gave fans some fun new stories and a different medium to enjoy their favorite characters in. Today we're looking at those funny books in a snazzy new collection, the first of three volumes that will make up the full Simpsons Treehouse of Horror anthology, complete with a long mouthful of a title.
Created by Matt Groening, All of the fan-favorite Simpsons characters are here in this anthology of adventures, now with a nice new introduction by Bart himself. It sets the mood for thrills, chills, and a lot of laughs, with the squid-like alien duo of Kang and Kodos acting as hosts throughout the pages, popping up in-between issues. These interludes also sometimes include extra artwork, short bits, and unpublished materials that may be quite intriguing to longtime fans of the show. There's a lot of material included in this volume and it comes in a sleek and colorful slip-case. The aforementioned jar-headed aliens are large and in charge on the front cover, which is wild, eye-catching, and glows in the dark. This one will look great on coffee tables or fit nicely on shelves, but how does it read?
This omnibus collects a ton of talented writers and even a few celebrity scribes to make Springfield just a bit spookier. Comedians like Patton Oswalt and Thomas Lennon join comic greats such as Paul Dini and Gail Simone with bigger names rounding out the pack, such as Mark Hamill and Alice "The Creature" Cooper. That's just to name a few of the participants, as the full collection of talent is impressive.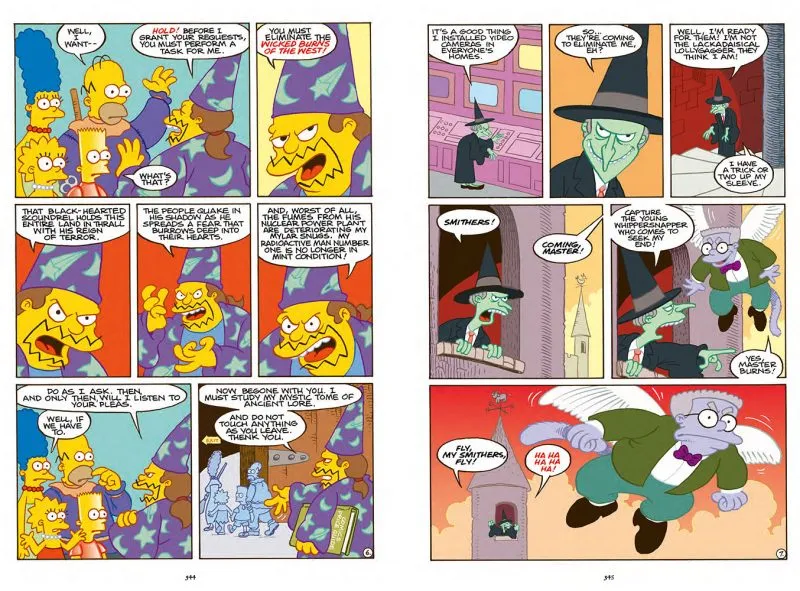 The spooky stories often feature a traditional horror or sci-fi take, with most putting a unique spin on a classic or riffing on a popular work when they aren't just doing straight-up parodies. It's hard not to laugh when Mr. Burns is referencing Evil Dead with, "Be smart, shop S-Mart." Nothing here ever feels like it is copying though. None of the ideas are lazy, even if they rely heavily on character reactions at times instead of an evolving plot.
Many of these terrible tales are well-written in a more traditional comic style of formatting and move at a brisk pace. These characters that fans have been getting to know for many years are handled excellently, feeling like the same individuals from the show with dialogue that only comes across as odd or out of place in a few brief spots. Some of that may be the lack of familiar voices or the change in medium, but a couple of the lines simply aren't as snappy as I recall the show being.
The artwork featured here is excellent and captures the feeling of the series while managing to pop off the page. None of the colors are fighting with each other or are too overpowering, making everything easy to see and identify in the panels. Some of the angles used in the larger images even seem inspired by the show's art direction and give the comics a classic feel that has aged extremely well. There are several wonderful full-page pieces, along with some gorgeous two-page spreads that hold a ton of beckoning details and act like a Where's Waldo-style meal for the eyes.
Though the characters and many of the show's famous locales are shown in their iconic appearances throughout the omnibus, it is impressive to see the different art styles shine as the stories go on. These various approaches to the visuals might seem a bit jarring for a moment, but it isn't hard to see how each artist has kept the characters easily noticeable while trying something different and more horror adjacent in many cases. Even when it's something as drastic as the family going into the Lord of the Rings fantasy world, the artwork is pleasant.
This collection of the Treehouse of Horror comics is a welcomed sight and one that will be worth revisiting often for fans, or at least serve as some different entertainment for casual readers. It was a refreshing revisit to a franchise I loved, an injection of classic Simpsons, even if the comic book format made it feel just a bit different. This one seems worth it — just pop a few old episodes on and enjoy the gruesome offerings.