After the mind-blowing universes of Doctor Strange in the Multiverse of Madness and before the hammer-wielding rock and roll of Thor: Love and Thunder, the Marvel Cinematic Universe continues to expand with a new Disney+ miniseries. Ms. Marvel follows Kamala Khan (Iman Vellani), a 16-year-old Pakistani-American who adores the Avengers, particularly Captain Marvel. She navigates a hectic life with school and her family while developing superpowers of her own in a series that is off to a strong start. The first two episodes have been a lighthearted, refreshing turn for the MCU that features delightful Pakistani representation in a franchise that deserved it.
MORE: Jurassic World Dominion Review: A Confused Final Entry
We've seen superheroes created through gamma radiation exposure and a super-soldier serum, but this series shows us that the newest superhero origin could be right around the corner. Set in Jersey City, Ms. Marvel establishes a protagonist that is very easy for fans to relate to. Much like the audience members watching the show, Kamala loves the Avengers. She loves cosplaying as Captain Marvel and she wants nothing more than to attend AvengerCon, the biggest event for everyone who loves Earth's mightiest heroes. Similar to Spider-Man: Homecoming, it's always nice to have a story set in the MCU with low stakes and a great sense of fun.
The premiere was written by Bisha K. Ali, who was born to Pakistani parents. She writes the episode with a level of personal authenticity that cannot be understated. Whether it's praying in Urdu or a cultural divide between American-born children and their immigrant parents, Ali does an excellent job of capturing that culture and representing it in ways that feel accessible to the audience. It's a side of the world that doesn't get represented often in Hollywood, but we are finally seeing it happen with halal carts, mosques, and an Eid party.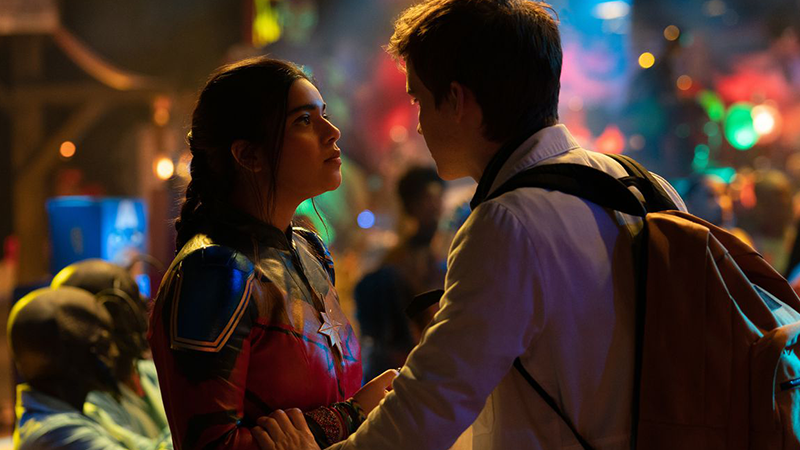 These first two episodes do an excellent job of establishing the characters and their relationships. Kamala is not only relatable in her Avenger fandom, but she is an entertaining, likeable protagonist that is easy to latch onto. She has a unique relationship with each one of her family members ,and the screenplay knows how to use them all in Kamala's journey to get into AvengerCon. The show also establishes the relationship between Kamala and her best friend, Bruno Carrelli (Matt Lintz) very well, with a believable friendship and a great scene where he tells her that if she wants to save the world, she'll save the world.
Much like every Marvel miniseries, this show has a very distinct visual style. The premiere is directed by Adil & Bilall, who previously directed the R-rated action-comedy Bad Boys for Life. Their versatility as directors shows in the premiere, as we have a lot of fun animated drawings and words that match the type of doodles that a teenage girl would make. It adds to the whimsical coming-of-age vibe of the show. Following a show about a man with dissociative identity disorder battling an Egyptian deity, a show about a teenager simply wanting to do something fun and discovering herself in the process is the blissful entertainment that the MCU needed.
MORE: Obi-Wan Kenobi: Episode 3 Review: An Excellent Episode
The first two episodes of Ms. Marvel feature a fun, vibrant story that feels accessible due to how the protagonist loves superheroes as much as all of us. So far, the show has not focused on thrilling action sequences, highlighting a teenager's life instead. Some of the high school scenes can slip into Disney Channel territory, and the CGI doesn't always look believable, but there is still so much charm all over this show. The second episode ,written by Kate Gritmon and directed by Meera Menon, does a superb job of expanding the Khan family backstory, and ensuring every character can strike a chord with people. Whether Kamala is saving people with her superpowers or harboring a secret crush on a cute boy, she is delighting the world.
SCORE: 8/10
As ComingSoon's review policy explains, a score of 8 equates to "Great." While there are a few minor issues, this score means that the art succeeds at its goal and leaves a memorable impact.
---
Disclosure: The critic received a press screener link for ComingSoon's Ms. Marvel season one episodes 1 and 2 review.