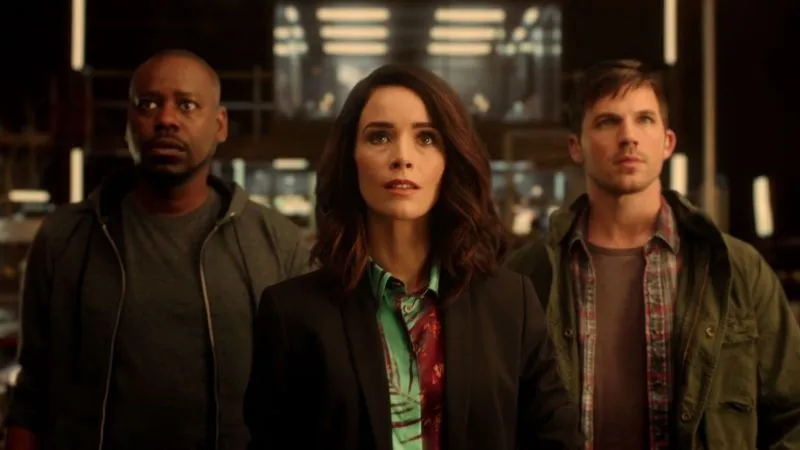 After being cancelled by NBC back in June for the second time, it was announced the following month that Timeless would return for a two-part finale to wrap up the series. Now the writers for the series have taken to Twitter to reveal that the finale will be shot in October and released in December.
The finale will act as a two-part movie, with the first hour being written by Lauren Greer, who co-wrote the second season episode "The Day Reagan Was Shot," and the second hour will be written by Arika Lisanne, who wrote four episodes of the show including the season one episodes "Stranded" and "The Red Scare" and the season two episodes "The War to End All Wars" and "The Day Reagan Was Shot." The entire film will be directed by TV veteran John Showalter, who has also directed four past episodes of the series.
RELATED: Timeless Series Finale: Cancelled NBC Series Returning for Two-Part Conclusion
From Eric Kripke (Revolution, Supernatural) and Shawn Ryan (The Shield), season two of this thrilling action-adventure series picks up right where we left off with our heroes. We continue to race throughout history with our beloved team: Rufus (Malcolm Barrett), a scientist; Wyatt (Matt Lanter), a soldier; and Lucy (Abigail Spencer), a history professor, in an attempt to prevent the destruction of our world as we all know it. This season they'll find an unlikely ally in their quest to ruin Rittenhouse, a deadly organization with plans to change history and reshape reality – even though Lucy's family has been a part of Rittenhouse for centuries. Still making every effort not to affect the past themselves, they will visit 1692, 1917, 1941, 1981 and more.
The sophomore series was canceled after it's first season due to lackluster viewer ratings but was resurrected three days later by NBC due to the passionate fan base flooding NBC with support for the show. NBC ended up giving the series a 10 episode second season that premiered on March 1st.
Ryan and Kripke also commented on the two-part series finale, saying: "While we wish we could've made another dozen seasons of Timeless, this is the next best thing. We're thrilled to take the Lifeboat out for one last spin and bring closure to our story. The studio, network, cast, and crew are all doing this for one reason only: the fans. Because they deserve it. Because the fans made this happen and we thank them for their passion, support, and helicopters. So? You guys want to get Rufus back or what?"
The cast of Timeless includes Abigail Spencer, Matt Lanter, Malcolm Barrett, Goran Višnjić, Paterson Joseph, Sakina Jaffrey and Claudia Doumit. Shawn Ryan and Eric Kripke are the creators, writers and executive producers. Tom Smuts and Arika Lisanne Mittman are co-showrunners and executive producers. Don Kurt, Greg Beeman, John Davis, John Fox and Marney Hochman also executive produce. Timeless is a production of Sony Pictures Television, Davis Entertainment, MiddKid Productions and Kripke Enterprises.