It's up to one handsome spy and his team of LGBTQ operatives to save the day! Q-Force follows a team of spies looking to prove themselves to their superiors — and the world. Will they be able to stop the evil threats? If you're wondering how to watch Q-Force on Netflix, here are some methods to do so.
Where to Watch Q-Force
Good news! You and your family can enjoy not only Q-Force but everything Netflix has to offer. With Netflix, there are no extra costs and no contracts. Watch from your smartphone, tablet, smart TV, laptop, or streaming device. Plans range from $6.99 to $19.99 a month, making it easy to pick an option that gives you access to hit TV shows, movies, documentaries, and more. 
RELATED: Aqua Teen Hunger Force Season 12 Announced Ahead of Plantasm HBO Max Release
How Many Episodes Are in Q-Force?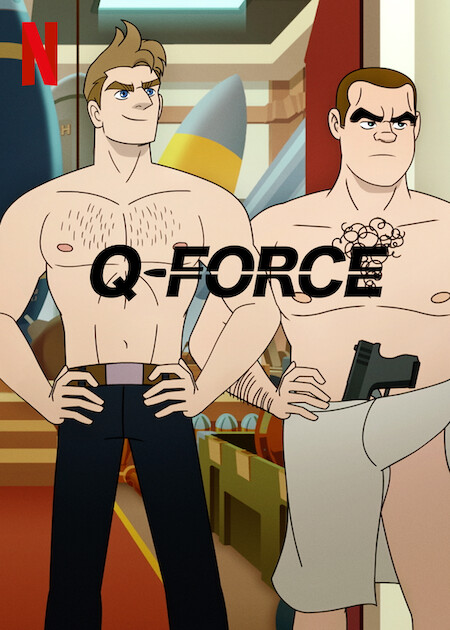 There are 10 episodes in Q-Force. Each episode lasts 30 minutes on average. You can check the complete list of Q-Force episodes and their scheduled date release here below.
"Rogue": September 2, 2021
"Deb's BBQ": September 2, 2021
"Backache Mountain": September 2, 2021
"EuropeVision": September 2, 2021
"WeHo Confidential": September 2, 2021
"The Secretaries' Ball": September 2, 2021
"Tarzana": September 2, 2021
"Greyscale": September 2, 2021
"The Coeur de la Mer": September 2, 2021
"The Hole": September 2, 2021
What Are the Critics Saying About Q-Force?
Q-Force received a 33% from critics and a 76% from audience viewers. While critics and audiences are split about the series, many viewers loved it — especially its inclusive portrayal of LGBTQ characters and subversion of common tropes. Other audiences found the series to be a good combination of funny and heartwarming, making for an overall fun watch.
"Netflix's Q-Force was met with a lot of online hate when the first preview for the show came out, but those who actually watched it quickly found it was one of the funniest, and best queer shows in years." – Mey Rude, Out Magazine
"This LGBTQ+ spy cartoon absolutely has its heart in the right place and has little that could offend any adults in the queer community. Unfortunately, it's also not very funny." – Reuben Baron, CBR
RELATED: YOLO: Silver Destiny Interview: Michael Cusack, Todor Manojlovic, & Sarah Bishop
Is Q-Force Suitable for Kids?
Q-Force is rated TV-MA, which is suitable for viewers ages 17+. The series contains severe depictions of sex, nudity, and profanity. It also contains mild depictions of violence, gore, alcohol, and drugs.