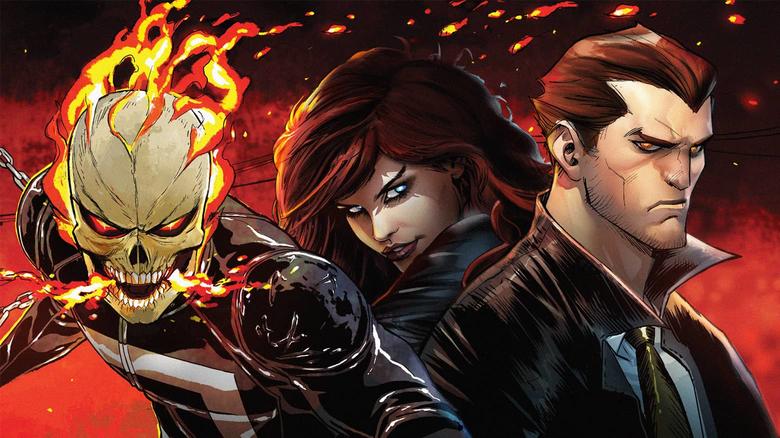 Even with Disney+ set to launch later this year, Marvel isn't limiting its TV offerings to just one streaming service. This morning, Hulu announced two new Marvel series, Ghost Rider and Helstrom. The streaming service also announced that a third season of The Runaways is happening, which was formally announced back in March.
"We're thrilled Hulu will be moving into a new—admittedly chilling—corner of the Marvel Universe with GHOST RIDER and HELSTROM. Paul and Ingrid are crafting gripping adventures into fear that live in our SPIRITS OF VENGEANCE cornerstone," said Marvel Television's Joseph Loeb.
Marvel's Ghost Rider centers on Robbie Reyes, the quintessential antihero, who lives on the Texas/Mexico border, consumed by hellfire and supernaturally bound to a demon. When he unleashes the Rider, Robbie brings vengeance for the innocents he encounters, but struggles controlling the power he wields. The series is executive produced by Ingrid Escajeda, who will serve as showrunner, Paul Zbyszewski and Marvel Television's Jeph Loeb.
"I couldn't be more excited and honored to be handed the reins to a Marvel character as beloved as GHOST RIDER. This story hits every note for me—my love for grounded yet conflicted characters and my desire to scare the $&!# out of people! It's important to me to find a take that thrills existing fans as well as wider audiences and I believe we've done just that," said Executive Producer and Showrunner, Ingrid Escajeda.
The character Ghost Rider first appeared in the pages of Marvel Comics back in 1972, and has remained one of their most popular anti-heroes. A former motorcycle stuntman, he sells his soul to who he believes to be the Devil (later revealed to be the demon Mephisto), he's consumed with avenging the blood of the innocent. The character was portrayed by Nicolas Cage in the non-MCU films Ghost Rider and Ghost Rider: Spirit of Vengeance.
Hellstrom refers to Daimon and Stana Hellstrom, who both made their debut back in 1973, thanks in part to the popularity of Ghost Rider. Daimon and Ana Helstrom are the son and daughter of a mysterious and powerful serial killer in Marvel's Helstrom. The siblings have a complicated dynamic as they track down the worst of humanity—each with their attitude and skills. The series is executive produced by Paul Zbyszewski, who will serve as showrunner and Marvel Television's Jeph Loeb.
No details are available just yet on when we'll get to see Ghost Rider or Hellstrom premiere on Hulu. While Disney+ is aiming to be a more family-friendly service, Disney, which owns the majority of Hulu, it using it as the home for its more mature, demonic-themed series. The Runaways second season just dropped back in December, so it's safe to assume it'll be a while before any of these titles are streamable.
The Runaways
The_Runaways_1.jpg

The_Runaways_2.jpg