This new season of The Venture Bros. is breaking a few of the series' traditional rules. Last week's season 7 premiere left things on a bit of a cliffhanger with the reveal of Jonas Venture Sr.'s true fate and the immanent destruction of VenTech Tower and everyone in it. More pressingly, the Monarch had somehow been captured by Wide Wale and exposed as the Blue Morpho. Now, it's time to find out how it happened.
Blue Morpho's Luck Runs Out
Former Henchman 21, Gary Fischer, is apparently having a midlife crisis. At least that's our theory after witnessing Gary's nightmare, which forces him to wonder if he is "good." Gary's bad dream caused him to miss his latest mission, as the Monarch approached Wide Wale as the Blue Morpho and issued an ultimatum to leave town. Without Gary's timely arrival, the Monarch was quickly subdued and unmasked by Wide Wale and his associate. Wide Wale also revealed that his grudge against the Monarch stemmed from an episode in season 3, when he murdered Dr. Dugong. The good doctor was Wide Wale's brother, and he's been itching for some payback ever since.
The Guild is Revolting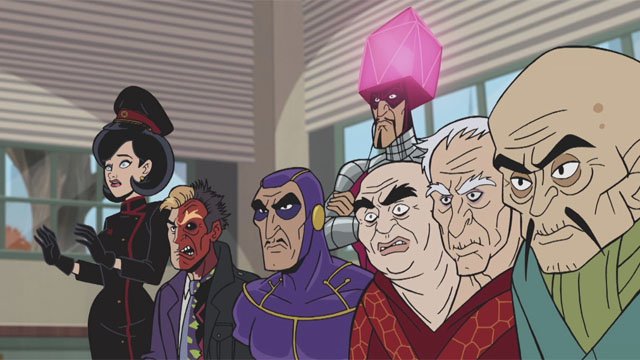 The Guild of Calamitous Intent was still scared s***less by the Monarch/Blue Morpho's reputation, as the new leadership attempted to bribe their members into eliminating their mutual problem with themed merchandise. The great Clancy Brown reprised his role as Red Death and demanded a seat on the council in return for the Blue Morpho's head. This was a bit of cheating on his part, because Red Death already knew who the Blue Morpho was from his previous appearance on this show. Gary finally arrived and took Doctor Mrs. Monarch aside before telling her that the Monarch has been the Blue Morpho all along.
Sick Playlists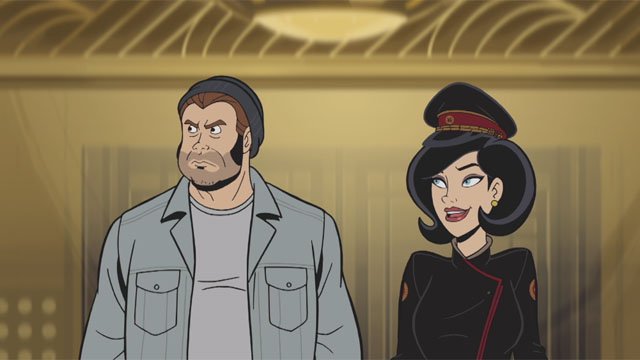 At the mansion, Gary was disturbed when the Morpho cave was seemingly nowhere to be found. Annoyed, Dr. Mrs. The Monarch recruited Red Death's help to infiltrate an O.S.I. dummy corporation and steal a file. While Red Death gleefully dished out some fatal moves, Gary and Dr. Mrs. The Monarch's relationship was strained. However, they got on the same page when they stumbled upon Hank Venture's ridiculous quest to join Wide Wale's gang as  "Enrico Matassa."
Out of the Doghouse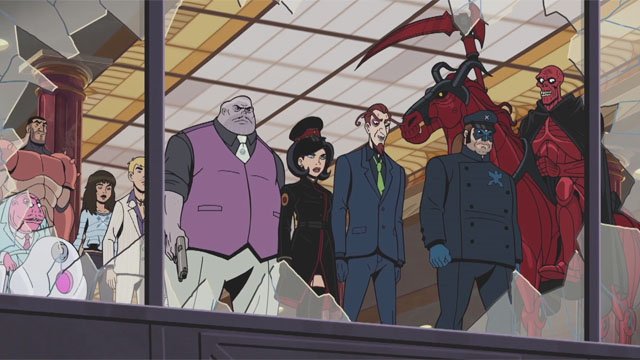 Picking up where last week's episode left off, Wide Wale encouraged "Enrico" to kill the Monarch and become a member of his family. In the spirit of their shared friendship, Gary encouraged Hank to stand down and remember who he really is. Before Wide Wale could murder the Monarch himself, Red Death arrived with Dr. Dugong, who wasn't as dead as he previously appeared to be. Despite Dugong's apparent disgust for his brother's criminal actions, Wide Wale lost the urge to kill the Monarch and Hank was reunited with Wide Wale's daughter, Sirena. Seconds later, the near destruction of VenTech Tower allowed everyone in Wide Wale's office to witness the arrival of…another Blue Morpho?!
The Monarch took that as a sign that he's out of the dog house, but there's clearly more to this mystery. Hopefully, we'll get some answers next week!
What did you think about the second episode of The Venture Bros. season 7? Let us know in the comment section below!