Spotlight is ComingSoon's interview series with below-the-line and/or up-and-coming talent in the world of television and film. Our aim is to shine a spotlight on the varied positions that make the entertainment you love possible rather than focusing purely on actors and directors.
ComingSoon's Jeff Ames recently spoke with cinematographer Jaime Reynoso about his work on Netflix's popular series The Kominsky Method. The Emmy Award-winning series follows an aging actor, played by Michael Douglas, who is making his living as an acting coach in his later years. Its third and final season dropped on Netflix last year.
Jaime, who recently earned an ASC Award nomination, came onto the series in the third season and was able to bring a new perspective to the cinematography of the show. He really wanted to drive the characters' stories in the final season and worked to create very authentic and naturalistic camera work and lighting. Reynoso also built some custom rigs throughout the season, such as one used for a fast-paced car scene. For that scene, Jaime wanted to make sure that it visually wasn't too perfect and looked like a real car was going through city streets despite the scene being shot in a studio. Reynoso's other work includes TNT's Snowpiercer and Amazon's El Candidato.
RELATED: Candy Trailer: Jessica Biel Becomes an Axe Murderer in Hulu Miniseries
Jeff Ames: What led you to become a Cinematographer?
Jaime Reynoso: In my early stages of education, my teacher looked beyond my difficulty in reading by noticing my ease in expressing myself through drawing. Instead of forcing me to keep up with the herd, she would ask me to draw what the rest of the kids were writing about. I drew intensively throughout my childhood until, as a teen, I discovered the B&W photo lab. Upon graduation, formally studying still photography and officially a film buff, a classmate asked me, "you like cinema don't you?" Her boyfriend was on the camera team of, Like Water for Chocolate, and they were on the hunt for a young fellow to help with the director's monitor. Before my first day was over I knew I belonged in the film circus. There was a young cameraman on that film, he was already a bit of a legend, and his work was utterly inspiring.
Were there specific individuals in the field who influenced your style?
Like many Mexican Cinematographers, Gabriel Figueroa was my first inspiration. Later, particularly in lighting Chris Doyle's early Hong Kong movies had a strong influence. However, Dr. Atl, Diego Rivera, José Clemente Orozco, David Alfaro Siqueiros, and Saturnino Herrán, with their brushes, along with Edgar Poe, Juan Rulfo, and Carlos Fuentes with their pens, have provided more influence than all the cinematographers together.
How has your technique/style evolved over the years?
It is constantly evolving. Every project brings new elements into our brush strokes and others are left behind. Every project is different thus engaging with a different version of myself.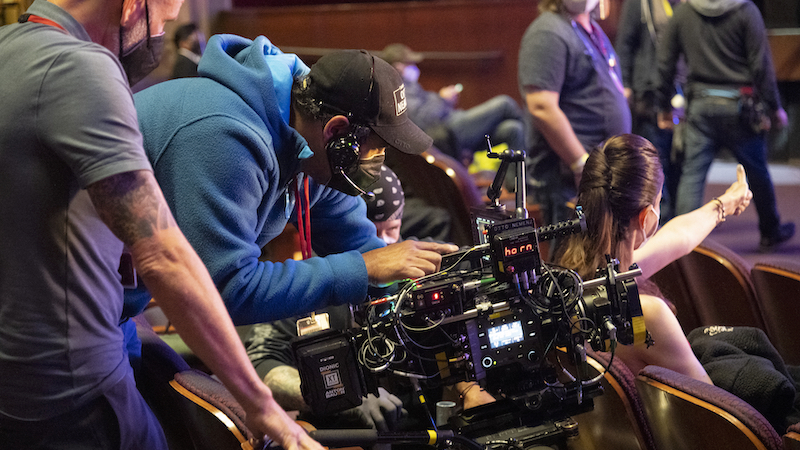 What was it about The Kominsky Method that made you want to work on it?
I watched the show and liked it very much. I thought it was brilliantly written. When the opportunity to be a part of it came up, there was no hesitation. It opened the possibility to do something different from what I normally do. I always have considered that invaluable. In addition, following a fellow cinematographer, in this case, Anette, is a challenge that helps shed a layer of comfort zone off our skin.
You came in during the third season, did you have to adapt to the pre-existing style, or were you able to apply your own vision to the series?
I would say a combination of both. I ended up doing things a bit, in my version of what the show used to be or… Is it the other way around and was I the Kominsky Method's version of myself?… You tell me…
What was the most challenging aspect of The Kominsky Method and how did you overcome it?
Probably navigating COVID-19 and its protocols. In the early stages, when we got back to work, we all had to be vigilant, we all had to contribute to the perfection of the protocols. In addition, a good portion of our cast was from high-risk groups. This meant shooting three cameras whenever we could to take the most advantage of every unmasked moment.
Do you have any fun, behind-the-scenes stories about the making of The Kominsky Method that you can share?
The most meaningful moment on the series was when Sandy finally sees his film on a billboard on Sunset Blvd. That moment tells the story of us all. Filmmakers, we're aspiring artists, aren't we? And there I was shooting Michael Douglas playing Sandy Kominsky, looking at his own billboard. The filming of that scene was very moving…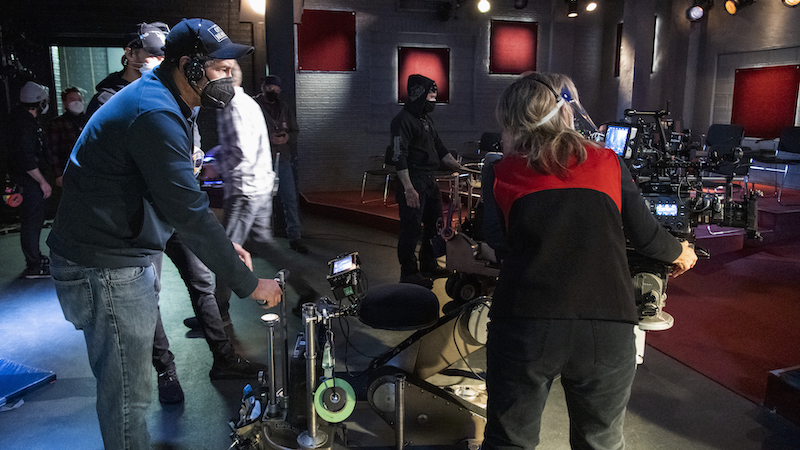 What was your collaboration with creator Chuck Lorre like? How challenging was his vision?
Chuck is a very smart and experienced writer/producer who as a director is very clear in what he's looking for. He is also very kind and collaborative. Again the show was one of the firsts after production resumed after lockdown, I think we'd all been in the house for so long that everyone was extremely eager to get to work and see people. The Kominsky Method is a very intelligent series. It's not just its genre, it's not just the plot; it is the journey of its characters. The photography is responsible for luring the audience into the emotional journey that the characters are going through. As long as I kept the characters' journey insight, my decisions would be true to it.
RELATED: Heartstopper Trailer Previews Netflix's Queer Coming-of-Age Series
Were there things you learned from working on The Kominsky Method that you're excited to apply to future projects?
It was more of a reminder of something I already knew but perhaps was losing sight of. Cinema is an art form and its photography should never be regarded as an instrument of flash. The point is precisely the opposite, to be as expressive as possible with the cinematography but not to ever protrude. Never should it stand in the way of the performances which are the main dish. Cinematography, along with other components of the image, provides the atmosphere the characters inhabit. If it was a tattoo, it would say "stay invisible".
What is it like to receive an ASC nomination for your work?
For a long time, I would hear, "they thought your stuff was too dark… too dramatic." Initially, it bummed me out, but I came to understand that it meant I wasn't right for those projects. They most likely expected photography, which to my eye, would be bland and overlit. However, it is undeniably satisfying to be nominated by your peers, by the specialists that can pick up on the smallest of details. The ASC includes some of the best sets of eyes in the world. Being taken into consideration by them is invaluable.
Do you have any other projects coming up that you can share with us?
I am currently in Europe prepping a period project. It's about the Nazi occupation of Paris and its sort of renaissance after the liberation. I'm really excited about it.