The past three episodes of Chucky have been strong outings, and by the end of episode four, it was clear that the series had firmly found its footing. This week, the show continues this positive momentum, but it follows some different steps to do so. Whereas Chucky had been cultivating a strong character-based story, the latest chapter leans on the franchise's past to deliver a fun episode without deviating from the main story.
RELATED: Chucky Season 1 Episode 4 Recap & Analysis: Just Let Go
Last week, everyone's favorite homicidal doll benefitted from a change of scenery; when he found up in a hospital, Chucky found a number of new ways to brutalize people. This utilization of a fresh setting called back to Child's Play 3, as the doll wreaks havoc at Kent Military Academy throughout the film. Successfully tying in the franchise's past can only help Chucky, as it rewards hardcore fans and offers new viewers a glimpse of the comprehensive universe the show is set in. Likewise, "Little Little Lies" firmly incorporates previous chapters of the franchise; in doing so, it capitalizes on the ground that past films have established to bolster the current story.
This time around, the show brings in Nica Pierce, who starred in both Curse of Chucky and Cult of Chucky. In a nutshell, the not-so Good Guy doll killed Nica's family and framed her for it, so she was subsequently institutionalized when she blamed Chucky for the murders. Charles Lee Ray continued to torment Nica, and he even transferred his soul into her body at the end of the latter film. This episode picks up right where the latter film left off, as it shows Nica, possessed by Charles, making out with the bride of Chucky herself, Tiffany. The twisted couple has some psychopathic fun by doing what they do best — killing people — before they inevitably argue.
The arrivals of Tiffany and Nica open up plenty of new possibilities, from further exploration of Chucky's romance with his partner and crime to an elaboration of the new rules Cult of Chucky established. Just how many bodies can Charles take over at once? This episode shows that he's somewhat in control of Nica, who briefly resurfaces before Chucky takes over again, and fully operates another Good Guy doll. Moving forward, this series can advance the stories told within the franchise's previous outings, which is an exciting prospect for long-time fans. Plus, it's fair to wonder how else the show will harness the mythos that's available to it. Will we see Chucky's nemesis, Andy Barclay? Maybe the doll's son, Glen will show up at some point. At this point, it feels like anything is possible.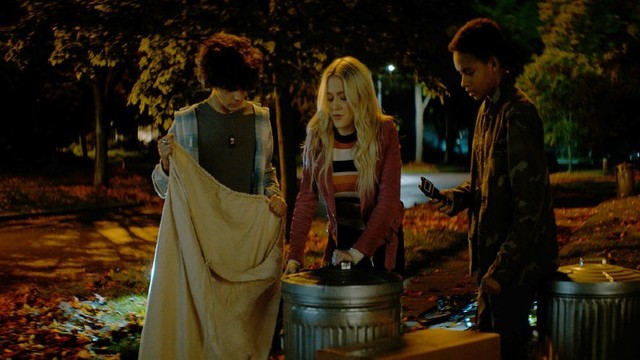 "Little Little Lies" makes it clear that the path forward is an open one, both for the characters and for Chucky. At one point, Jake, who had been rightfully freaked out over the string of murders connected to him, gets a new lease on life when he and his newfound allies, Devon and Lexy seemingly destroy the doll. The slow burn of a romance between Jake and Devon rapidly heats up, and they even kiss each other in one of the episode's most significant moments. But their honeymoon phase comes crashing to a halt when it turns out that Chucky is still alive and well.
As previously mentioned, Charles can now take over multiple bodies at once, so he cheats death once again by transferring part of his soul to another Good Guy doll. In a way, this move levels the playing field after Jake, Devon, and Lexy briefly gain the upper hand. Of course, Charles will be hell-bent on getting revenge, and it remains to be seen whether he'll be able to do so and how Nica, Tiffany, and other aspects of his past come into play.
Though it somewhat takes its foot off the gas compared to the previous two episodes, "Little Little Lies" continues Chucky's hot streak by diving into Charles' past and bringing it to the forefront of the series. The main story remains the focus, but taking the time to incorporate the franchise's extensive history sets up what promises to be a compelling clash of the past and the present throughout the rest of the season.
Thankfully, horror fans won't have to wait too long to see what's next. New episodes of the Syfy and USA Network series will be released weekly, so catch Chucky, along with our review, every Tuesday.