Before she became the Emmy-winning love of modern audiences' lives on the acclaimed comedy Schitt's Creek, Catherine O'Hara was dazzling audiences in everything from her breakout Emmy-winning work on SCTV to the too-forgetful Kate McAllister in Home Alone, overly-provocative Cookie Fleck in Best in Show and so much more. With the 66-year-old Canadian talent having her career revisited by fans on social media, ComingSoon.net is looking back at her various characters over the years and iconic facial expressions she's delivered time and again.
RELATED: The 10 Best Michael Keaton Batman Moments
Second City Television — Brooke Shields

Click here to purchase all four volumes of SCTV from Shout! Factory!
In its six-season run, the Canadian sketch series Second City Television saw O'Hara deliver a number of hilarious celebrity impersonations of everyone from Lucille Ball to Gilda Radner, but one of her most popular, and certainly on point, was her take on Golden Globe nominee Brooke Shields. The Blue Lagoon star has been parodied and impersonated in various shows and movies over the years, but O'Hara's brilliantly captured the kind-yet-very-odd nature of Shields and this behind-the-scenes image of O'Hara doing a wardrobe test for the sketch is the epitome of a Shields impersonation.
Beetlejuice — Delia Deetz

Click here to purchase the Tim Burton classic!
Before establishing herself in the hearts of '90s kids as the kind-hearted mom from Home Alone, O'Hara was killing it as the cold-blooded and narcissistic sculptor Delia in Tim Burton's Beetlejuice. One of the most iconic sequences in the film also gave way to one of her best facial expressions as her and her uptight dinner guests are possessed by the ghosts of the house and lip-sync and dance to the tune of Harry Belafonte's "Day-O (The Banana Boat Song)." She clearly gives herself over completely to the performance and the sudden exclamation of the lyrics from the song and this shot is one of the funniest moments of her career.
Home Alone — Kate McAllister
Click here to purchase the holiday classic!
The John Hughes-penned and Chris Columbus-helmed Home Alone franchise offered viewers a different side of O'Hara as the overwhelmed but caring Kate McAllister and though there are a number of amazing moments from her throughout the film, this moment in which she makes an emotional plea for help in getting back home to her left-alone child might be one of her most powerful of her entire career. In this shot, we see the fear, the concern, the heartbreak and the love of a mother clearly looking to right a big wrong for her child and certainly stands out as one of her best.
Home Alone 2: Lost in New York — Kate McAllister
Click here to purchase the Christmastime sequel!
After being able to breathe a sigh of relief for two years and almost avoiding the same mistake as before, O'Hara's Kate McAllister once again found herself missing her youngest son on what's supposed to be a family vacation in Home Alone: Lost in New York and it's in this moment of realization that made for one of her best facial expressions. The first film saw her in mid-flight to Paris coming to the shocking revelation that they left her son at home, but the 1992 sequel saw her get all the way to her destination before realizing she had no idea where her son was and is so mortified by this though that she completely faints in the middle of an active airport. It's a moment of pure physical comedy and O'Hara masters it entirely.
RELATED: POLL RESULTS: What 2020 TV Show Are You Most Thankful For?
Waiting for Guffman — Sheila Albertson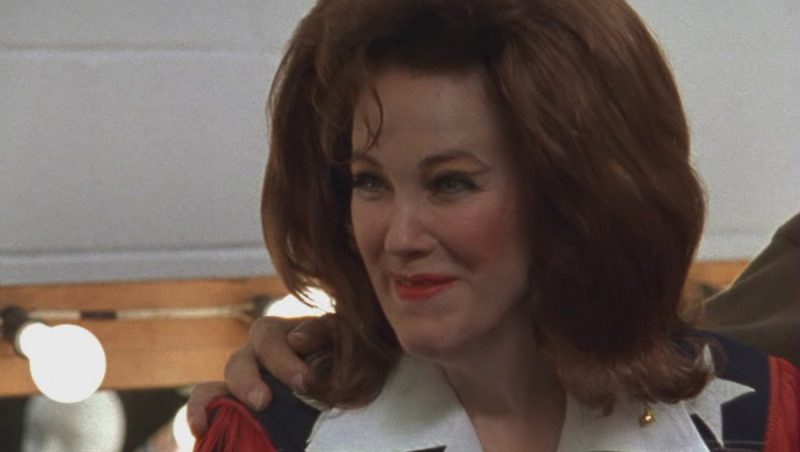 Click here to purchase O'Hara's first feature collaboration with director Christopher Guest!
O'Hara and co-writer/director Christopher Guest partnered for four outrageous feature efforts and in their first, 1996's Waiting for Guffman, she delivered one of her most delightfully odd and offbeat characters in travel agent Sheila Albertson, and this shot just feels like the ultimate embodiment of the character and her personality. The archetype of women salespeople of the mid-to-late '90s with the large hair and bright smile hiding pent-up frustrations with her life, this moment not only gives audiences an idea of what antics they can expect from the character, but the level of authenticity O'Hara goes in portraying her.
Best in Show — Cookie Fleck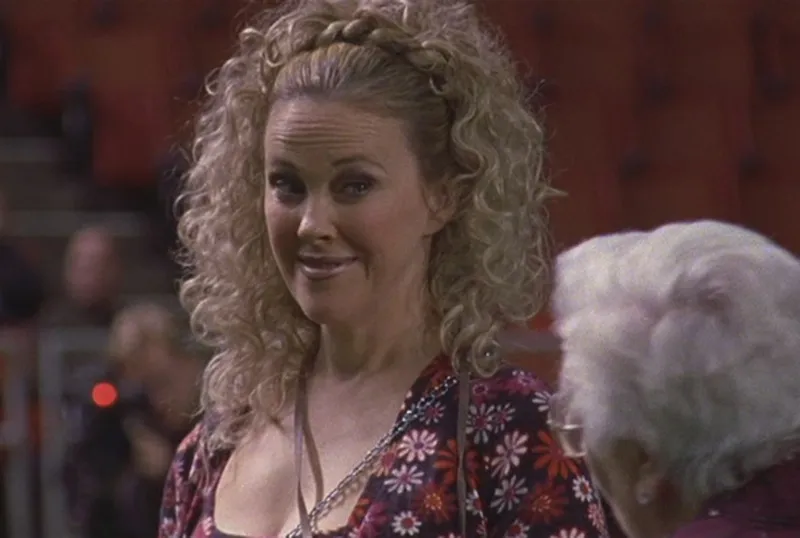 Click here to purchase the second collaboration between O'Hara and Guest!
Don't let this bubbly-bright smile and perfectly-curled hair fool you, O'Hara's Cookie Fleck is no Southern angel in 2000's Best in Show, her second film with co-writer/director Guest and co-writer/co-star Eugene Levy. One of a middle-class couple from Florida, Cookie may appear like a sweet-natured dog show enthusiast, but she's got a little more to her as we frequently see in the film her reunite with a number of former lovers looking to reconnect with her and this shot is one of the most indicative of her responses to it. She clearly doesn't have as much love for her husband as he does and while not fully ready to abandon her marriage, she's willing to flirt with all prospective lovers for some wonderfully comedic moments.
Tales From the Crypt — Geraldine Ferrett

Picture this: You're a fast-talking, successful ambulance-chasing lawyer who is hit with a seemingly-minuscule charge in a small-town and you learn that not only are the judges of the courthouse harsh, but that you're being represented by an eye-sore of a public defender. If you're not making the same face as O'Hara's Geraldine Ferrett here from the season six episode of Tales From the Crypt, you're clearly not in the same headspace as she brilliantly taps into in this feeling and depicts it with ease in this shot.
Lemony Snicket's A Series of Unfortunate Events — Justice Strauss

Click here to purchase the Jim Carrey-led film adaptation of the iconic gothic black comedy novel series!
Interestingly enough, of its varied talented ensemble, Netflix's series adaptation of Lemony Snicket's A Series of Unfortunate Events actually saw O'Hara be the one performer to return from its film adaptation, albeit in a different character role, changing from Justice Strauss in the film to Dr. Georgina Orwell in the series. But, here, in the shot above, O'Hara perfectly captures the range of thoughts and emotions going through Strauss' head as she presides over the faux play/wedding. Thinking she may be making her big break on stage thanks to the help of her neighbor Count Olaf (Jim Carrey), there's a slight tinge of both excitement and fret on her face as she prepares to play the important part of the judge to wed Olaf and 14-year-old Violet Baudelaire (Emily Browning) that also taps into the naiveté of her character.
RELATED: The 10 Best Thanksgiving Episodes of Television
For Your Consideration — Marilyn Hack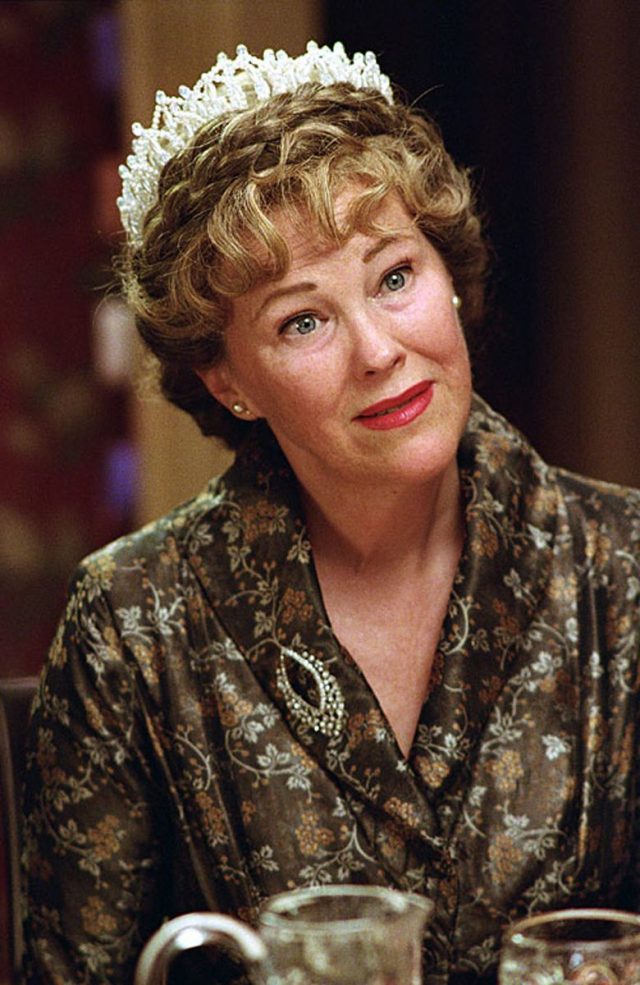 Click here to purchase O'Hara and Guest's fourth collaboration!
This is a moment about as layered as an onion when it comes to the facial workings of our piece-centered star as her and Guest's fourth collaboration, For Your Consideration, centered on a group of actors of a prestige drama who learn their performances are garnering Oscar buzz. In the moment pictured above, audiences watch as O'Hara's Marilyn Hack portrays the dying matriarch of the movie-within-a-movie as she reminisces on the good times and how important Purim means to her and this shot just feels like the epitome of how hard Hack is trying to be an awards-worthy performer in the project, albeit maybe a little too hard.
Schitt's Creek — Moira Rose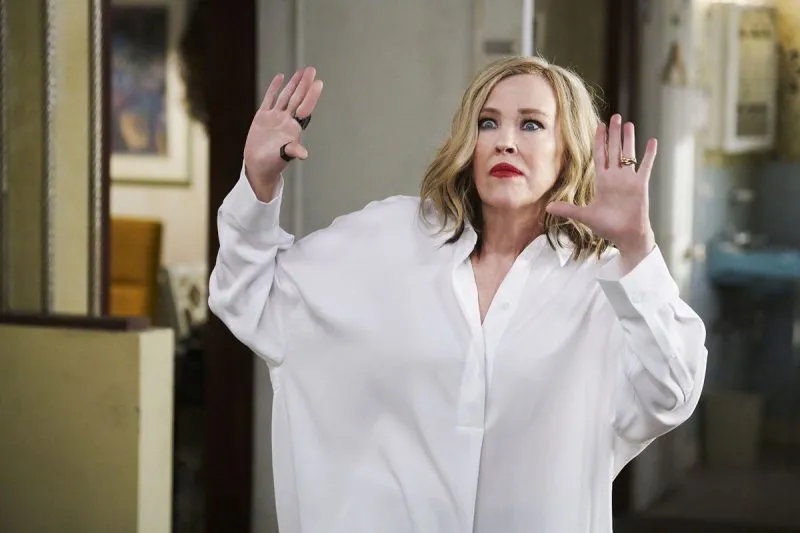 Click here to purchase the complete series of Schitt's Creek!
I mean how does someone pick just one iconic shot of the number of amazing faces O'Hara's made across Schitt's Creek's six-season run, but it's this moment right here that captures so much about her character and tells audiences a lot of what they need to know about her. She's unwilling to adjust to their new lives as a not-so-wealthy family, the eccentricities of the world of soap operas she used to be a part of has either bled into her personality or was always there and made her a star, and this moment is one of the ultimate depictions of this persona that would earn O'Hara two Emmy nominations and one win for her performance.
What's your favorite facial expression and character of O'Hara's? Let us know in the comments below!