ComingSoon.net had the chance to speak with The Boys newcomer Aya Cash and Homelander's Antony Starr about the second season, which premiered today on Amazon Prime Video. You can check out the interview below!
RELATED: CS Interview: The Boys Creator Eric Kripke Talks Music, Adapting the Comics & More
In Season 2, The Boys are on the run from the law, hunted by the Supes, and desperately trying to regroup and fight back against Vought. In hiding, Hughie (Jack Quaid), Mother's Milk (Laz Alonso), Frenchie (Tomer Capon), and Kimiko (Karen Fukuhara) try to adjust to a new normal, with Butcher (Karl Urban) nowhere to be found. Meanwhile, Starlight (Erin Moriarty) must navigate her place in The Seven as Homelander (Antony Starr) sets his sights on taking complete control. His power is threatened with the addition of Stormfront (Aya Cash), a social-media-savvy new Supe, who has an agenda of her own. On top of that, the Supervillain threat takes center stage and makes waves as Vought seeks to capitalize on the nation's paranoia.
The Boys is an irreverent take on what happens when superheroes, who are as popular as celebrities, as influential as politicians and as revered as gods, abuse their superpowers rather than use them for good. It's the powerless against the super powerful as The Boys embark on a heroic quest to expose the truth about the supergroup known as "The Seven." The show retains most of the comics (available for purchase here) boundary-pushing violence and sexuality while exploring the dark side of superhero celebrity and fame.
RELATED: The Boys Season 2 Trailer Features New Footage
The series was created by Evan Goldberg and Seth Rogen, who are responsible for another subversive comic book-inspired series, AMC's Preacher, and Supernatural creator Eric Kripke.
Season 1 is available for streaming on Amazon Prime Video.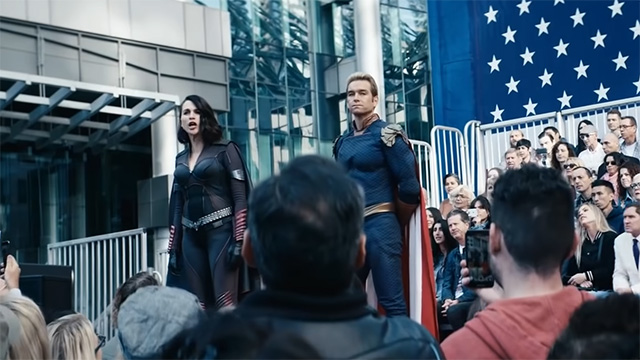 ComingSoon.net: What is Stormfront's dynamic and role this season?
Aya Cash: Stormfront comes in kind of guns blazing after Homelander. I think Stormfront is kind of used to being the person in charge and the person who's ready to lead and she comes in and really changes him. She's also really social media savvy, which is something that is really valuable to The Seven and part of the reason she's been brought in is she's sort of connected to that younger audience, which is like me looking at all these YouTubers and sometimes you're like walking down the street in New York and people are screaming after someone and you're like, 'Who is that 14-year-old they're screaming for?'
She represents that new generation, in some ways, of people who are able to use different platforms in order to both gain an audience and also use that audience. We saw that in the Kpop fans on Twitter, I'm not even on Twitter [laughs] and I know about them taking over hashtags, those groups have lots of power and she knows how to utilize them.
CS: Are there any redeemable possibilities to the characters or challenges to playing heroes that are secretly villains?
Antony Starr: There's no such thing as 100 percent light or 100 percent dark and if there is, you very quickly enter into the mustache-twirling arch world of old-school TV/film comic book villains, the quintessential bad guy that does nothing else. I think what makes the character more interesting and I think we've really tried to dig into with Eric Kripke, our showrunner and head writer, is the reason why, you know, why do people do what they do. In season one we see that Homelander is not doing what he's doing because, 'Mwahahaha, it's good to be bad,' it's because he's deeply, deeply traumatized because he was raised like a lab rat and just doesn't understand how to relate to people or to other superheroes or anyone in a way that is functional or what we would deem is normal.
I think looking at the reason why is crucial for us to get away from those pitfalls of one-dimensional or two-dimensional characters that have a really short shelf life. If you have a character that is just one-note, then there is only so much you can do with it before it runs out of juice. I know that Homelander can go pretty much anywhere and I would say the same with Aya's character where she comes in and they cast a lovely person and ask her to be bad, which is the right way to go because if they cast a bitch and asked her to be nice, then it doesn't have the same effect. Aya came in and her character is a force and it was so much fun to be on the tennis court with her.
Cash: Stormfront's interesting because I'm used to playing sort of bad girl characters, meaning deeply traumatized or self-destructive women who we haven't necessarily seen as the girl next door, but still the heart of gold kind of thing and this is sort of the opposite. She's almost the ballsy girls next door with a heart of acid, so that's a really interesting dynamic, it's really fun to play a character you really agree with sometimes, but her intentions are not good.
CS: What was it like stepping into the dark as Stormfront?
Cash: I think that's part of the reason I was really excited to take it because it is very complicated for anyone to take on a role like this in terms of there's history, we're not removed from the world we live in, but especially someone like me, which you can interpret once you see the season. I am not who you would typically cast in this kind of role for many reasons and I think that's what makes it interesting in this context. The comic books have their own world and I feel like The Boys the series is using it like a jumping-off point. It was also written more than 10 years ago, so there's certain updates that need to happen.
Let's be real, there are people who are going to come after just the fact that Stormfront is being played by a woman, people will be like, 'Oh another gender swap, they're doing that because we need more women on the show,' and what I appreciate about the show is that they're doing it with intentionality. It is not about, 'Oh we need another woman,' it is about how do we update that character for this moment and clothe that character in the cute palatable nature that we are now seeing that kind of darkness cloaked in. It's complicated, it's not like it's easy [laughs], but I do think that the writers have done a really wonderful job of updating the comics for our current moment.
Starr: If you just went straight from the comics, if you filmed the comics, you wouldn't be able to see it, you wouldn't be able to screen it anywhere. It's pretty out there and, like Aya said, it's a credit to the writing team that one, they carve out the pieces and keep the elements that are necessary to create the show and keep the integrity of the comic, but also remove some of the stuff that would make this show unable to be aired.
Cash: There's a great quote, I'm gonna misidentify who said, I think it's Werner Herzog: 'Documentary is not fact, it's the spirit of truth,' something like that. I think The Boys, the comic book, is essentially the starting material and The Boys, the show, is the spirit of the comic book.
The Boys Season 2
The Boys Season 2

The Boys Season 2

The Boys Season 2

The Boys Season 2

The Boys Season 2

The Boys Season 2

The Boys Season 2

The Boys Season 2

The Boys Season 2

The Boys Season 2

The Boys Season 2

The Boys Season 2

The Boys Season 2

The Boys Season 2

The Boys Season 2

The Boys Season 2