Welcome to ComingSoon.net's CS Scene of the Week column where we dive into the best scenes and performances television has to offer. For the week of December 2 to December 8, Lyra (Dafne Keen) completed the first part of her mission by saving Roger (Lewin Lloyd) and freeing the other kidnapped children with the help of Lee (Lin-Manuel Miranda), Iorek (Joe Tandberg), the Gyptians, and even the witch Serafina (Ruta Gedmintas) in the bittersweet sixth episode of HBO's His Dark Materials.
MVP of the Week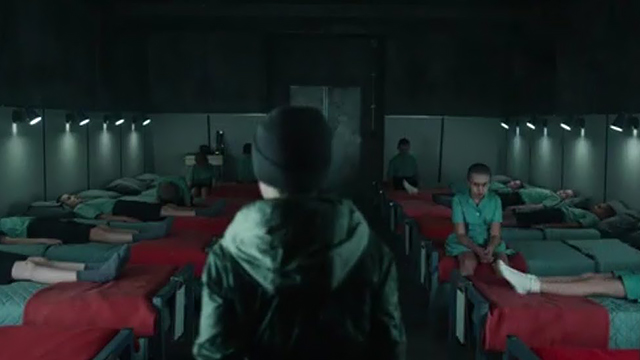 Episode 5 of His Dark Materials ended on a dark note with a heart-wrenching funeral, complete with a hauntingly beautiful dirge, for Billy Costa (Tyler Howitt), who was stolen along with the other Gyptian children and served as a major catalyst for the story. The young boy ended up having his daemon cruelly severed from him before dying in front of his mother and brother after escaping from the research facility Bolvangar and being found by Lyra.
After the dark conclusion to Billy's story and Lyra's own sudden kidnapping at the end of the fifth episode, Episode 6, titled "The Daemon-Cages," sees Lyra in the belly of the beast at Bolvangar where the missing children are being kept and experimented on. Essentially, on behalf of Lyra's mother, Mrs. Coulter (Ruth Wilson), they are attempting to successfully remove daemons from humans in order to "free" them from "sin," and, naturally, children serve as more viable test subjects. However, Mrs. Coulter stops the process from happening to Lyra when Pan (Kit Connor) is nearly severed from her. Lyra sees right through her mother who attempts to emotionally connect with Lyra, while also arguably taking more of an interest in Lyra's possession of an alethiometer than reuniting with her own daughter who nearly experienced a traumatizing procedure.
After fully rejecting her mother and her absurd plans to rid people of "sin" by separating the essential connections to their daemons and basically turning them into nearly emotionless zombies (akin to the removal of their very souls), Lyra leads the charge in freeing the children as she sets her plan into motion, and kicking off our scene of the week. The Gyptians, Lee, Iorek, and Serafina arrive to fight the Tartars guarding Bolvangar as well as the scientists, while Lyra and Pan destroy the machine that has been used to carry out Mrs. Coulter's heinous experiments, culminating in an exciting and thrilling sequence that gives our heroes their first big win against their many enemies. Lyra and Pan can now focus on the next part of her mission, saving her father, Lord Asriel (James McAvoy), from captivity with the help of Lee, Roger, Serafina, and Iorek, while the Gyptians return the saved children — some with uncertain future without their daemons — home.
Runner-Up of the Week
Prodigal Son is one of the best new shows on TV, led by The Walking Dead alum Tom Payne who stars as tormented criminal psychologist Malcolm Bright, who happens to be the son of infamous serial killer Dr. Martin Whitly (Michael Sheen), aka "The Surgeon." In the midseason finale of the FOX series, titled "Silent Night," Malcolm finds himself in a house of horrors as he and Detective Owen Shannon (guest star Sean Pertwee) close in on an old friend and serial-killing protege of Martin, Paul Lazar (Terriers star Michael-Raymond Jones) who believes his killings are part of a "God-given mission to clean up the streets."
Paul also plays a key part in Malcolm's childhood as the criminal psychologist has been painstakingly trying to piece together repressed memories and flashbacks of a camping trip he went on with his father and Paul when he was younger and how that (and a seemingly horrific event he can't remember) is connected to the mystery of the girl in the box Malcolm saw as a kid. After discovering Paul's true identity, John Watkins, and inviting themselves over to the Watkins' residence where Paul's mother still lives, the ending of the episode escalates as Malcolm realizes the killer is still in the house, has slit Det. Shannon's throat, and is now hunting for Malcolm while being cheered on by his just as disturbing mother who isn't as sweet as she first appeared.
The episode ends on a serious cliffhanger, our runner-up scene of the week, with a terrified Malcolm being knocked out by Paul and experiencing another flashback featuring the man telling a young Malcolm a mysterious secret and all about the importance of having a good knife close by because "you never know when it'll come in handy." Paul ends up dragging Malcolm's unconscious body away, and viewers are left with the knowledge that our complex and lovable antagonist has now been taken by a vicious serial killer from Malcolm's past who will undoubtedly physically and psychologically torture poor Malcolm in a secluded area — and possibly finally give us some answers about the infamous camping trip — where Paul promises no one will ever find them when the series returns on January 20, 2020.
What did you think of our CS Scene of the Week choices? Are there other television scenes from last week you feel deserve a shout-out? Sound off in the comments below!