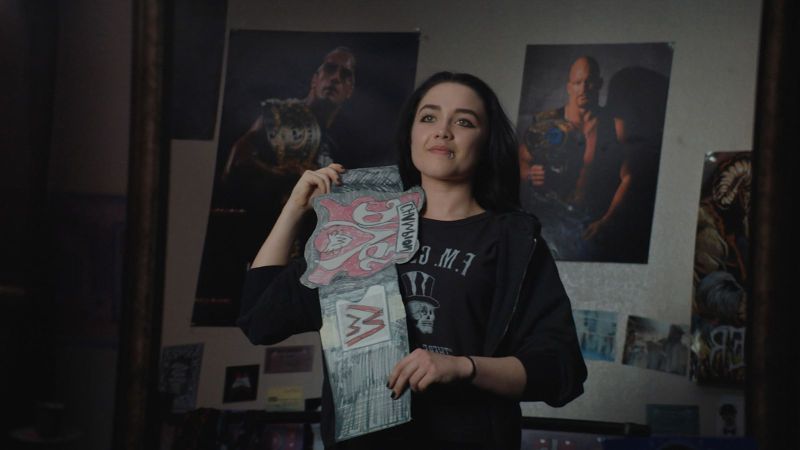 MGM has released a new clip from the upcoming Fighting with My Family, asFlorence Pugh's Paige and Jack Lowden's Zak meeting The Rock/Dwayne Johnson for the first time, featuring the wrestler as himself!. Check out the video below! (via IGN)
Based on a true story, Fighting with My Family follows reformed gangster Ricky (Frost), wife Julia (Lena Headey), daughter Paige (Pugh) and son Zak (Jack Lowden) as they make a living wrestling together in tiny venues. When Paige and Zak get the opportunity to try out for WWE, the family grabs a once-in-a-lifetime chance to turn their wildest dreams into a dazzling future. However, brother and sister quickly discover that to become superstars, both their talent and their relationship will be put to the test.
RELATED: Fighting with My Family Trailer Brings the True Story to Life
Fighting with My Family is a heartwarming and smart comedy that proves everything is worth fighting for when it comes to family. The film is inspired by the Channel 4 British documentary The Wrestlers: Fighting with My Family.
Stephen Merchant (The Office, Hello Ladies) wrote, directs and executive produces Fighting With My Family. Seven Bucks Productions' Dwayne Johnson, Dany Garcia, and Hiram Garcia serve as executive producers alongside Andy Berman, Daniel Battsek, Tracey Josephs, David Kosse, and Rhodri Thomas. Kevin Misher of Misher Films produces alongside WWE Studios President Michael Luisi. WWE Studios are co-financing the film with Film4, who have developed the project from its inception.
The film opens in theaters on February 14.
Fighting With My Family
Fighting With My Family

Jack Lowden (left) stars as Zak Knight and Florence Pugh (right) stars as Paige in FIGHTING WITH MY FAMILY, directed by Stephen Merchant, a Metro Goldwyn Mayer Pictures film.Credit: Robert Viglasky / Metro Goldwyn Mayer Pictures© 2018 Metro-Goldwyn-Mayer Pictures Inc.  All Rights Reserved.

Fighting With My Family

Florence Pugh stars as Paige in FIGHTING WITH MY FAMILY, directed by Stephen Merchant, a Metro Goldwyn Mayer Pictures film.Credit: Metro Goldwyn Mayer Pictures© 2018 Metro-Goldwyn-Mayer Pictures Inc.  All Rights Reserved.

Fighting With My Family