Five assassins, one briefcase, and a high-speed train. This is the setup of the newest summer blockbuster, Bullet Train — an action comedy directed by David Leitch. This film stars Brad Pitt as Ladybug, a down-on-his-luck assassin assigned to collect a briefcase off of a bullet train going from Tokyo to Kyoto. Those familiar with Leitch's work on Deadpool 2 and Fast & Furious Presents: Hobbs & Shaw know his style, and this movie does not disappoint. A high-octane roller coaster of a film, this is the must-see blockbuster of the summer, as it's a funny, kick-ass train ride.
Bullet Train had me at hello. The concept of an action movie set on a train going 200 miles per hour sounded like the type of popcorn entertainment I would like. Add the fact that Leitch is known for his over-the-top, stylized action, and you have a recipe for blockbuster success on your hands with a film that never pulls any punches. Leitch once again collaborates with cinematographer Jonathan Sela to create a vibrant, colorful action movie with hues that pop in all the ways The Gray Man wanted to. As a result, this film looks polished and phenomenal from start to finish, even during its ludicrous final act.
This is Pitt's fourth decade as a leading man. A household name who has delivered fantastic performances for years, Pitt gets a chance to show off his comedy chops in this hilarious role as Ladybug. He nails this part of an assassin cursed with bad luck. The movie's tone is consistently outrageous, and Pitt does everything he can to match that tone with one of his first roles since his Oscar win. He's having fun with the part and not holding back, performing many of his own stunts as an action hero pushing 60.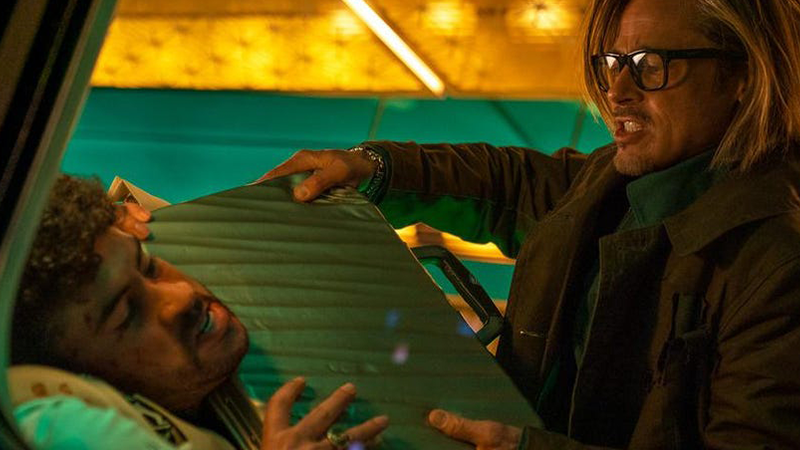 While Pitt is the star of the show, this is a movie defined by its ensemble cast. Aaron Taylor-Johnson is excellent in every movie he's in, and Brian Tyree Henry continues to impress with a series of high-profile roles that he excels in. These two portray Tangerine and Lemon, whose chemistry with each other isn't what you would expect, but it works so well. Joey King is also outstanding playing against type as an assassin who gets a lot of scenes to shine. Beyond all this, we have a stellar supporting cast with some unexpected appearances. Everyone is at the top of their game and giving this movie everything they've got.
The screenplay from Zak Olkewicz does an exceptional job of putting the characters in humorous but dangerous situations. You get the sense that this movie would have worked well as a dark, gritty action thriller throughout much of the film. However, Leitch commits to the comedy, never taking this story seriously and making a fun, entertaining blast. For some, the unrelenting over-the-top nature can be tiresome. For me, this is a hilariously stupid movie that knows exactly what it is trying to be and does a great job of it, committing to its bloody, hard-R rating.
Bullet Train tells a surprisingly unpredictable story. While Leitch's previous film, Hobbs & Shaw, had a story surrounding a bioweapon, the narrative was more of an excuse to have as many fun action sequences as possible. This movie has a multilayered narrative with many characters that can sometimes get in the way of the action. However, despite an overachieving story, the film never gets boring. Leitch helms his action with clarity and impact, creating a beautifully nonsensical thrill ride that could have been a trainwreck, but entertains to the end of the line.
SCORE: 8/10
As ComingSoon's review policy explains, a score of 8 equates to "Great." While there are a few minor issues, this score means that the art succeeds at its goal and leaves a memorable impact.
---
Disclosure: The critic attended a press screening for ComingSoon's Bullet Train review.