The Caped Crusader's standalone cinematic return to the big screen has arrived in the form of Matt Reeves' long-anticipated DC superhero film The Batman. The Warner Bros. film sees Robert Pattinson step into the Batsuit in a story set two years after Bruce Wayne first becomes the masked vigilante of Gotham City. Batman uncovers corruption in the city while teaming with Lieutenant James Gordon (Jeffrey Wright) to take down a serial killer named The Riddler (Paul Dano).
Ever since Christopher Nolan crafted the universally adored The Dark Knight trilogy, the odds of a Batman film reaching those heights has appeared minuscule. However, Reeves' vision might prove to be a worthy adversary as the Cloverfield filmmaker has outdone himself, creating a masterful superhero film that takes every expectation we had and goes above and beyond. Every director who has helmed a Batman movie has put their unique style into the world of Gotham. We've had Joel Schumacher's over-the-top campiness, Nolan's grounded realism, and Zack Snyder's political thriller climate. Reeves' crime-riddled Gotham feels like an actual city, enhanced by its rain-soaked landscape beginning on Halloween and continuing through the first week of November.
In The Batman, we hear the vigilante's journal entry in an early scene and learn crime has gone up since his arrival. He has become a symbol of fear and darkness, and this is depicted in a scene where Batman fights a gang and whispers, "I'm vengeance." The places Batman goes throughout his journey in this phenomenal script from Reeves and Peter Craig are incredible. He encounters friends and foes in a story that perfectly matches Reeves's distinctive take on the beloved comic character: a noir crime thriller.
The best compliment I can give to The Batman is how it superbly pays homage to other films in the genre. The film offers a Fincher-esque take on the superhero genre, with a premise that feels inspired by Se7en and Zodiac. It's a style that matches the character of Batman perfectly, as we see him do a lot of detective work in this film, working alongside Lieutenant Gordon to decode the Riddler's puzzles. Batman's relationship with Gordon is written excellently — with Wright's unwavering performance as Gordon complementing Pattinson's — as he is the only police officer on Batman's side while most of Gotham's police view Batman as a violent outlaw.
A riveting crime story combined with Reeves's immaculate direction and Greig Fraser's eye-catching cinematography is brought to life by our pitch-perfect cast. Pattinson offers a wonderfully memorable take on the character of Bruce Wayne. He's quiet and sullen for much of the film, filling up a lot of his performance with his subtle facial expressions. The movie doesn't have any scenes where Bruce acts like a charismatic billionaire playboy, a bold choice that makes sense, as this is an early Bruce who has not yet learned to adopt a different public persona. With films like The Batman, Tenet, and The Lighthouse, Pattinson is making a delightful return to the mainstream.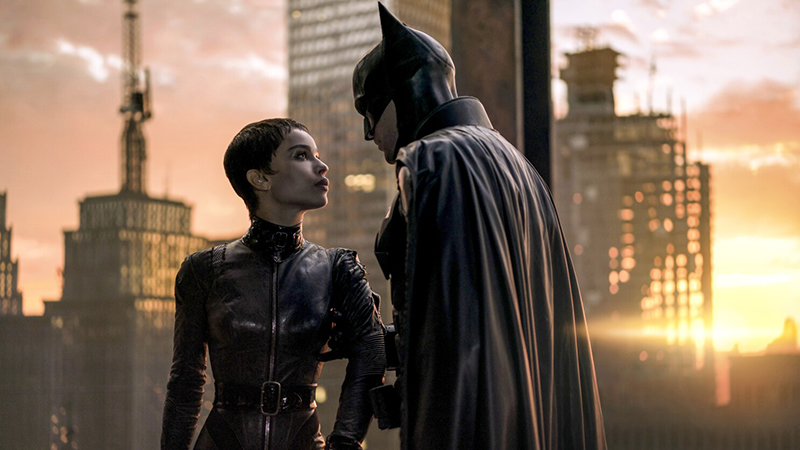 Zoë Kravitz is the perfect match for Batman as Catwoman — which is actually the second time she's played the character as she also voiced a different version of her in The LEGO Batman Movie. The two have a fascinating dynamic that, admittedly, goes a little further than necessary. Catwoman's dialogue is slightly repetitive, but her goals throughout the movie become increasingly personal, and Kravitz is nothing short of fantastic as she portrays Selina Kyle's inner turmoil. Andy Serkis is also a highlight as Alfred Pennyworth, displaying a lot of emotional depth despite his limited screentime.
But where the movie really stands out is within its villains. Dano's unsettling portrayal of The Riddler is the most outstanding depiction of a Batman villain since Heath Ledger's Joker. He is creepy and unpredictable without appearing frightening once his mask comes off. Of course, we also have Colin Farrell, who is completely unrecognizable in this mind-blowing performance as Penguin. His makeup gives him a new appearance, but his voice and accent are so vastly different from Farrell's that he completely vanishes in a villainous role filled with humor and charisma.
John Turturro offers a more subtle antagonistic performance in the movie, playing crime lord Carmine Falcone. He provides a grounded portrayal of the character in a much more significant role than you would expect, but his existence in the story only works due to his relationships with Bruce Wayne and Selina Kyle.
The action sequences are the icing on the cake for this movie. Reeves helms his fight scenes with many wide shots with practical stuntwork, and Batman displays both power and vulnerability in these scenes. In addition, there is a car chase where the Batmobile is introduced, and it's a standout sequence as Reeves perfectly showcases the chaos of driving through the pouring rain. Michael Giacchino's musical score enhances every scene, and his theme song wills you to grin every time it arrives, especially in the film's final act that ups the stakes.
The Batman is everything a superhero movie should be. The film juggles many characters at once, though the three-hour multi-layered crime narrative may not be for everyone. However, this is a mature, unconventional superhero movie filled with everything you would arguably want from a film. Every shot is masterfully crafted, and the efficient pacing makes the long runtime feel shorter. This movie is a must-see cinematic event filled with emotional subtext and some of the most superb filmmaking we've seen from a superhero genre we can't get enough of.
SCORE: 9/10
As ComingSoon's review policy explains, a score of 9 equates to "Excellent." Entertainment that reaches this level is at the top of its type. The gold standard that every creator aims to reach.