In a year marked by stay-at-home orders and mass cancellations, it's nice to experience an air of normalcy in the form of a shelter-in-place edition of Fantastic Fest. Many film festivals have resorted to virtual scenarios this year, making it easy for fans to sit safely at home on their couch and watch some of the best new releases from exciting indie filmmakers and promising new voices. The folks behind Fantastic Fest worked tirelessly to bring viewers a slice of Austin, Texas, straight into their living rooms, and they did it all without charging moviegoers a dime. It's a testament to the power of cinema, and the true love and admiration that everyone involved with the Alamo Drafthouse feels for filmmaking.
Although this year's edition of Fantastic Fest isn't quite the same without the in-person karaoke jams or the Highball beers or the gushing over movies in the lobby between screenings, the air crackling with the electricity of the moment, it's still thrilling to witness what the world famous curators have cooked up for us this time around. What it lacks in physicality, it more than makes up for in quality, as some of the best genre movies of the year made the ranks of 2020's very special festival.
Here are a few of our favorites from the fest:
The Stylist
A hairstylist with a hankering for donning human flesh, Claire (Najarra Townsend) has a habit of working late on her clients, long after the rest of the staff has exited the premises, in the night, in the dark, where no one can spot the difference between spilled hair toner and pockets of blood pooling onto crusted cutting capes. Heavily influenced by William Lustig's slasher Maniac which hit theaters in 1980, The Stylist sees its leading lady snatching scalps and wearing them like wigs, smiling at her reflection in the mirror as she tries on the personalities of the people she's killed.
A twist on gender dynamics, Jill Gevargizian's directorial debut pulls from its predecessor while simultaneously crafting its own individual identity, digging even deeper into the metaphor at hand than the source material intended. Townsend's Claire is just as lonely just as Joe Spinnell's Frank Zito, but her quarrel is not with any external matricide, even if that's the origin of the trauma. Claire's traitor is the one beneath her breast, the thoughts that plague her, the ones that whisper that she's not good enough, that someone else's life is more valid, more worth living, while hers is not. Thought-provoking, visually stunning, and fiercely directed, The Stylist puts Gevargizian on the map as one of the most exciting up-and-coming directors working today.
Rating: 8/10
How to Deter a Robber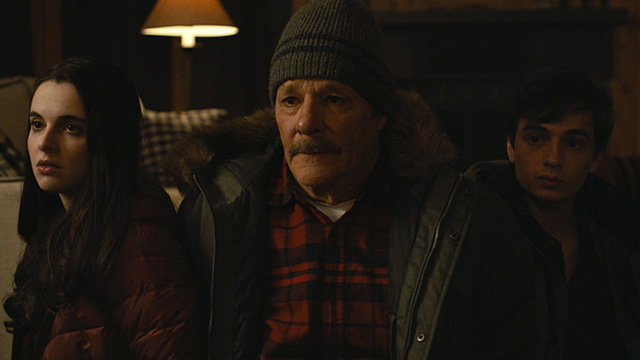 Early in Maria Bissell's uproarious Home Alone-esque comedy, How to Deter a Robber, Vanessa Marano's stubborn high school graduate Madison Williams awakens alongside her drifter boyfriend, Benjamin Papac's Jimmy Culpepper, to find that the house they've been sleeping in has been ransacked. "I think they were robbed!" Madison shouts through green face paint before wrestling over the phone with Jimmy, who stops musing on Hodag's revenge just lost enough to argue that they should definitely not call the cops because they'll get in trouble for breaking into to their neighbor's house to hold a séance with their official mascot, a tiny statue of a mythical gremlin with spikes on his back and claws on his hooves. In the wrong hands, a moment like this could veer dangerously into schlocky B-movie territory, but in Bissell's hands, it feels charming and centered.
Using her own diary entry as inspiration, director Bissell recounts a personal experience of fighting with her mother over her college application essay as a starting point, then launches into a tall tale of a young woman and her naïve boyfriend facing off against a pair of amateur burglars. What follows is a hilarious and fascinating subversion of authority roles through the vehicle of comedy. A local cop that so desperately wants a friend, he'll lower himself to trade quips with a suspect. A masked criminal pausing long enough while tying up her hostages to make sure they each have a glass of water with a straw, setting up stools next to bound bodies for easier access to the hydration. A teenage girl playing at heroism, hunting down her predator and trying on intimidation for size. The way this movie presents emotionally moving moments, only to undercut them with self-deprecating jests is a talent that separates this first feature from the many, and lays the groundwork for a highly anticipated sophomore feature.
Rating: 8/10
Possessor
Brandon Cronenberg's twisted commentary on the malleability of identity burns itself into the brain by way of bold storytelling and surreal aesthetics. Played by stone-cold chameleon Andrea Riseborough, Tasya Vos struggles to stay sane as a virtual assassin, infiltrating strangers' psyches to take out targets while simultaneously losing her own mind as a result.
The son of legendary body horror guru David Cronenberg, Brandon first came onto the scene in 2012 with Antiviral, a queasy, sterile cautionary tale about the dangers of becoming so engrossed with celebrity culture that people wind up paying doctors to inject them with the same illnesses as the vapid stars they idolize. An intriguing premise with lackluster execution, baby Cronenberg's debut feature showed potential, and his sophomore step up at a bat more than illustrates his growth. Possessor questions the way technology affects empathy, suggests a degree of masquerading in the lives of everyday people, and even hints at the struggle of being involved with the arts; the price an actor pays to wear someone else's skin, and the strength required to leave costumes behind when the cameras stop rolling. It's undoubtedly junior Cronenberg's best film to date, and easily one of the most effective horror movies of the year.
Rating: 9.5/10
Bloodthirsty
Golden eyes peering out over soft white flakes, hunting for sport. Recording studios turned into cages. Razor-sharp claws on the music stand. Bloody cheeks mutilated by green fairies. Red speckled snow. A literal blood bath. A howl at the moon. This is Amelia Moses' Bloodthirsty, and it's a film you won't soon forget.
World premiering at Fantastic Fest during the year that marks the twentieth anniversary of Ginger Snaps, a long-overdue female werewolf movie sets the new standard for body horror in the snow. The film follows Grey (Lauren Beatty) as she travels out to a remote cabin in the woods to work with infamous producer Vaughn (Greg Bryk) on her second album. Once there, Grey's hallucinations about turning into an animal amplify, her acceptance of her primal nature aided by Vaughn's influence, stoking the fires of her artistic inspiration. It's a fascinating descent into madness, one that contemplates the price of honest, unabashed art and the sacrifices that must be made in order to achieve true stardom.
Rating: 9/10