The Ten Best Baseball Movies
Aside from being America's pastime, baseball has been a subject of some of the best films of all time. The inherent drama and romanticism of the game have been captured on film many times. Whether it is dramas, romance or even comedy, baseball lends itself nicely to many genres of filmmaking. Baseball films have been made since movies have been around. From the 1940's all the way to now, movies about baseball have spanned generations and offered nostalgic looks at life in nearly every generation of America. These films have covered original stories and legends of the game to boot. Here's a look at ten of the very best baseball movies.
Field of Dreams

Some have called it the quintessential baseball movie. Phil Alden Robinson's drama about a man who hears voices has become iconic. "If you build, he will come" has been seared into movie quote legend. However, the film is much deeper than that. Kevin Costner delivers a relatable and solid performance as Ray Kinsella and Iowa farmer who's inspired to build a baseball field to attract Shoeless Joe Jackson and the 1919 White Sox. Field of Dreams is a true testament to the spirit of the game and its history.
Purchase now on Amazon for $9.99.
The Natural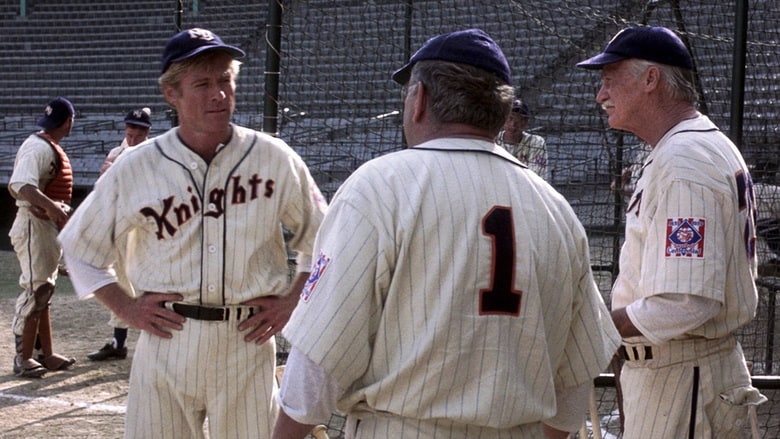 Robert Redford's character of Roy Hobbs and the final imagery of his lights shattering home run is another iconic image for not only movie fans, but baseball fans in general. Redford turns in a terrific turn as Hobbs, the once baseball prodigy brought down by a twist of fate. He returns years later to the fictional New York Knights to lead them to the top of their league. Barry Levinson directs with a sentimental eye, but it never becomes mawkish. Some may find it to be corny and melodramatic, but Redford's nuanced work and Levinson's direction help to dull that notion.
Purchase now on Amazon for $12.99.
Bull Durham

At the height of his charm, Kevin Costner lights up the screen in Ron Shelton's Bull Durham. An enduring classic of the baseball genre, the film is a look into the life of a lifetime minor leaguer and his quest to make it to the big leagues. Bull Durham is a feel-good film with excellent performances from Costner, Susan Sarandon, and Tim Robbins. The film's testament to the ballplayer's life is one that really still hasn't been duplicated in films. Aside from that, it's a great romantic comedy. Bull Durham wears many hats and they are deftly balanced by Shelton who's script is also magnificent.
Purchase now on Amazon for $8.62.
Moneyball

Bennett Miller's tribute to the new age of baseball is nothing short of spellbinding. Brad Pitt, playing Oakland A's general manager Billy Beane, gives a mature and layered performance. His desire to win and competitive nature give Moneyball a layer of humanity within all the number crunching and heavy baseball terminology. Despite it's quite literally inside baseball nature, the film finds a way to connect audiences who may not know a thing about the game, to the hardcore fans who have embraced the analytical nature that is now commonplace in baseball. Moneyball works tremendously in part due to that ability to connect to different audiences. It's a romantic and stunning look inside the game.
Purchase now on Amazon for $17.99.
The Sandlot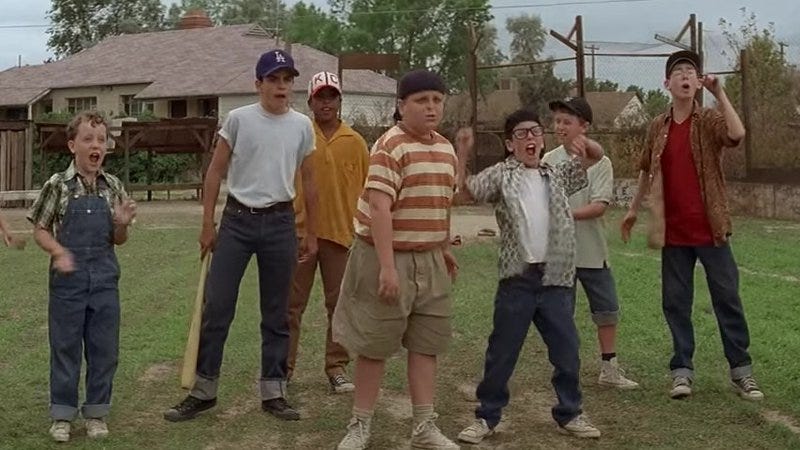 Capturing a slice of Americana in ways few films have done, The Sandlot brings together all the nostalgia of its time period, while invoking the spirit of childhood. Even taking place in 1962, the movie never ceases to be relatable to each generation of moviegoer. It is sweet, funny and altogether a film with a universal appeal. Despite some of its heavy reliance on nostalgia and a fairly formulaic story, The Sandlot's child actors exude so much charm, it is impossible to hate this film.
Purchase now on Amazon for $4.99.
Major League

A hysterical comedy, Major League is a standard story of a ragtag group of baseball players who defy the odds. However, because of just how funny this film is, it is endlessly re-watchable. The movie demands that you do nothing but have a great time watching this one. With great work from Charlie Sheen, Tom Berenger, Corbin Bernsen, Wesley Snipes, and James Gammon, Major League has become a reference point for baseball fans. Milwaukee Brewers' announcer Bob Uecker is also memorable in the film. It's a traditional underdog story that rises above the cliches of the traditional sports comedy.
Purchase now on Amazon for $7.89.
The Pride of the Yankees

Gary Cooper took on the legendary Lou Gehrig, not only an iconic Yankee, but an icon in the game of baseball. It is an earnest and emotional performance from Cooper who was nominated for an Oscar for his performance in the film. It is a heartwarming story of the tragic real-life story of Gehrig who's now infamous "luckiest man on the face of the earth" speech is immortalized in baseball. It also features a great love story within the film. The Pride of the Yankees is a classic film with a timeless message of heroism.
Purchase now on Amazon for $9.79.
The Bad News Bears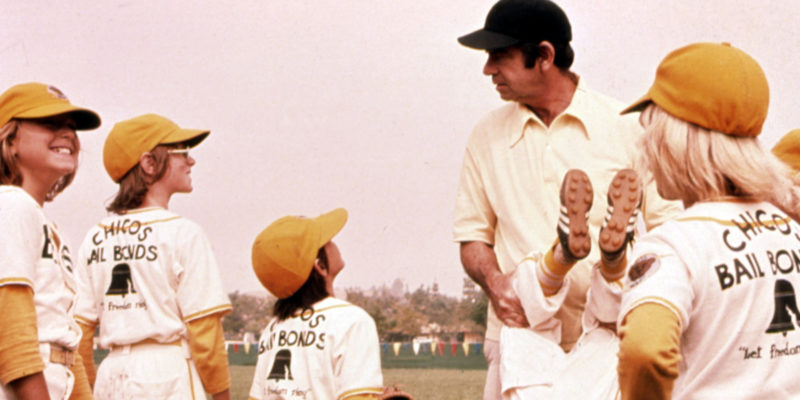 The Billy Bob Thornton starring remake aside, the original is the iconic one. Walter Matthau's work in this anti-politically correct but hysterically funny film. Matthau's turn as Morris Buttermaker an alcoholic for leaguer and pool cleaner tasked who's tasked with coaching a little league team. His foul-mouthed demeanor doesn't help the fact that the team is full of talentless kids. Buttermaker, of course, brings in two ringers and the team is able to change its ways. They are played by a young Jackie Earle Haley and Tatum O'Neal. Through all the laughs there is a lot of heart to the film, to boot.
Purchase now on Amazon for $9.99.
A League of Their Own

Featuring a great cast, A League of Their Own's light-hearted approach to its real-life basis. Penny Marshall pulls terrific performances out of its tremendous cast. Tom Hanks, Geena Davis, Lori Petty, Madonna, and Rosie O'Donnell. It's sentimental to a fault, however, it features some wonderful female characters, in a truly inspirational story for everyone to enjoy. Hanks's dynamic with the team is fantastic in particular his work with Davis. The two of them deliver some of the more emotional scenes of the movies most emotional moments.
Purchase now on Amazon for $12.99.
Eight Men Out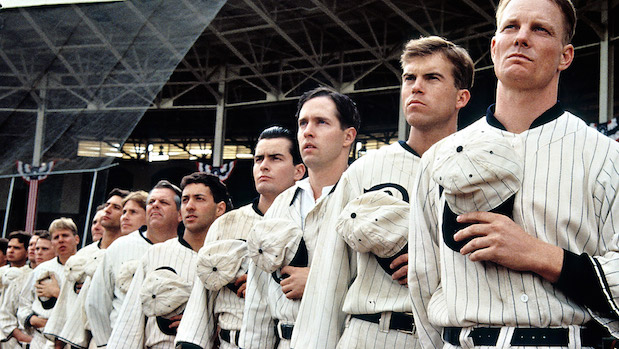 In this forgotten baseball drama, strong acting bolsters this true story which hardcore baseball fans are very familiar with. For the uninitiated, Eight Men Out follows the true story of the 1919 White Sox, later deemed the Black Sox. The team accepted bribes to intentionally lose the 1919 World Series after they had feelings of being underpaid. John Cusack, D.B. Sweeney and Charlie Sheen star in the film that is directed by John Sayles who also plays Ring Lardner in the film. Often forgotten among the more flashy baseball films, Eight Men Out is a fantastic one that every fan should see.
Purchase now on Amazon for $14.99.
We are a participant in the Amazon Services LLC Associates Program, an affiliate advertising program designed to provide a means to earn fees by linking to Amazon.com and affiliated sites.