The fall holiday events are well underway at Universal Studios Orlando. ComingSoon got to visit during Halloween Horror Nights 30 for a killer good time, and we have more details about upcoming Christmas attractions at the Florida resort.
Halloween Horror Nights 30
Recently we were invited over to Universal Studios' HHN when the event of the season was in full swing. As a frequent visitor to haunts, I always like to go at least twice if I can (both during opening and about a few weeks into the Halloween season). The latter tend to be more interesting as the performers really find their groove inhabiting their roles and many things have been refined like food and drinks
Gotta start out by giving the street performers their massive due. They set the tone and it shows when you walk past the Universal gates. No one else is doing it like the monsters at HHN Orlando. Each themed scare zone envelops you in immersion with detailed environments, stages for frightful moments, and on-the-ground interactions. My favorites were definitely the playful yet devious performers hamming it up in Lights, Camera, Haction: Eddie's Revenge with plenty of chainsaws for your fix and the ethereal beauty of Gorewood Forrest with surprising scares among atmospheric sights and sounds. They're the social media MVPs as a glimpse of the artistry, horror, and showmanship to expect when you make the trip out. 
One of the aspects that makes Orlando's HHN more of a destination to do multiple nights of is the extensive festive food offerings scattered throughout the event filled with themed snacks and drinks.  I preface the mazes with this because truly when you get there you hit the ground running and grab whatever treat you can in between mazes. My faves were the Bride of Frankenstein swirl cone at Monsters cafe that juxtaposed vanilla with black sesame for a unique and earthy but sweet taste, and the Pumpkin Guts which was a medley of pumpkin insides sauteed in brown butter. Perfect to eat before going into the Wicked Growth maze where pumpkins try to exact their revenge. There are so many options that are themed and perfect for eating at a spot around the lagoon where you can watch Marathon of Mayhem: the awesome Horror sizzle projected on the water and surrounding buildings that celebrate Universal's monsters as well as HHN Icons.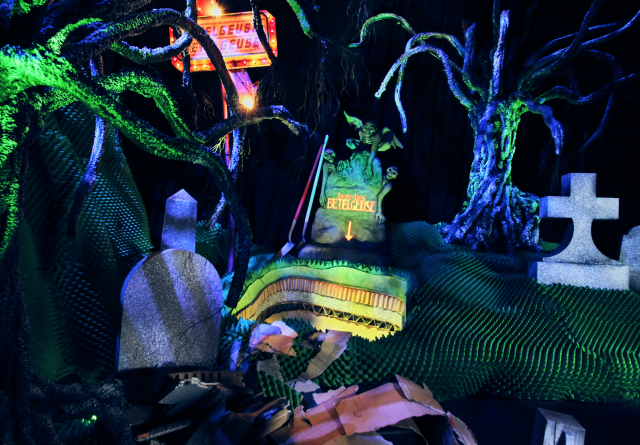 Usually, my recaps for HHN focus on horror movie IP taking shape in houses at the annual events–whether it feels like you're on the set of Haunting of Hill House or where to find the Creature of the Black Lagoon in the Bride of Frankenstein LIVES! And to sum it up, there's a good amount of that in this year's HHN. The standout being the Beetlejuice maze that features a laugh-out-loud while you're screaming experience recreating gags from the film in surprising ways. The way I jumped in the waiting room when Miss Argentina popped out from behind her window and in the Day-O dining room will be memorable to my party and me for years to come. The magic in that maze is how you get distracted by the detail as a movie nerd. I loved the Maitland's attic scene with the drop lights and miniature town and then screamed when transported to Dante's. We need this maze on the West Coast and the throwback nights hosted by Beetlejuice back.
Cannot forget to mention the killer Haunting of Hill House facade that literally took my breath away and the best use of dark hallway scares in a long time. Horror from above that will haunt my nightmares. I have to hand it to Orlando for having the superior Hill House maze. So many more bold choices taken there. Don't really want to compare as we're just fortunate to be able to have events for Halloween overall and we truly don't know what went down in the planning for these events which had a real likelihood of not happening. 
As a first-time east coast haunt correspondent who previously visited as a guest, it's the first year I'm introduced to all of the HHN Icons all at once. Since they're celebrating 30 years of fears, belatedly–of course, the icons truly take center stage. I  have definitely grown a soft spot for the original IP at Universal Orlando and this year truly felt like an indoctrination. Sure I've watched videos and clips of past years that feature Jack, The Storyteller, and Caretaker but I love them! In the HHN Icons: Captured maze, each one gets their own section that pays homage to their origins and place among the legacy of HHN. At the end, each gets a rotating final scare atop a throne. I did this maze TWICE because I just wanted to get to know them more. I have clear faves: obviously, Eddie and Chance who I cannot wait to see return. Additionally, Case Files: Unearthed and Welcome to Scary served as cliff-notes of original mythology accumulated over the past 30 years. So much fun! All of the house performers were in peak performance mode on this visit and hitting their marks inhabiting the terrors we love to face.
Cannot wait for next year! 
Holiday Preview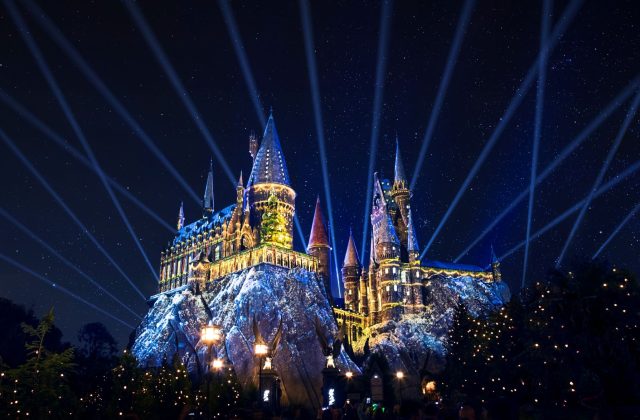 Cannot help but choose chaos here by letting Christmas sneak behind Halloween like this but the best time to visit Universal Orlando in my personal opinion is for any of their major holiday events. I still hope to visit during Mardi Gras for their concert and festival experience but have been able to take part in both Halloween this year and Christmas events in 2019. So I'm excited to report that both Universal Studios Orlando and Islands of Adventure will be hosting their annual events like Grinchmas at Universal's Islands of Adventure as well as Universal's Holiday Parade featuring Macy's at Universal Studios Florida. It's a pint-size version of the iconic Thanksgiving parade with appearances by the Minions from Illumination's Despicable Me and Santa Claus. 
The most immersive is definitely Christmastime in the Wizarding World which transports you into exactly what you'd imagine a Harry Potter holiday would be like in Hogsmeade and Diagon Alley–complete with live performers and hot butterbeer! The perfect drink to share as you enjoy "The Magic of Christmas at Hogwarts Castle" which projects the holiday spirit of the films set to John Williams iconic score. And annually, there's always fantastic merch to decorate or gift for the holidays for movie lovers in your life. Not just in the realm of Harry Potter but also for the Jurassic franchise fan in your life or the Universal classics cinephile. The best merch is always in the Tribute Store open year-round and with dope HHN monster gear currently. For the Amblin fan, the ET Ride gift shop has a little statue recreation of ET hiding among the toys and Back to the Future pieces. So rad!  And there's a photo-op with ET!! Also, The ET ride is the best ride and should be open during HHN. Just sayin' give us more ET Ride smell!! I miss it so much already. 
To book your trip and stay to catch the remainder of Halloween Horror Nights or plan your winter vacation head to Universal Orlando's website.