Halloween Horror Nights at Universal Studios Hollywood is back for 2021! The iconic nighttime event unleashes terror from its classic films, slasher titans, modern thriller hits, and streaming spectres. While slightly different in cinematic scope as many speculated properties fell through, (on this coast at least seeing as Beetlejuice made it out to HHN East), this year plays it safe with tried and true horror IPs returning to the event.
STROBE WARNING FOR VIDEO BELOW:
What makes this Horror Nights all worthwhile is its confidence in the Universal Monsters to remind fans that: HEY! They invented the stuff.  In recent years, sleeper hits of the event have been uniquely reimagined mazes inspired by their own Universal Monster lore that has built up to this year's Bride of Frankenstein LIVES! It's truly a bold move to essentially make a sequel to The Bride of Frankenstein but encapsulate it in a story guests walk through.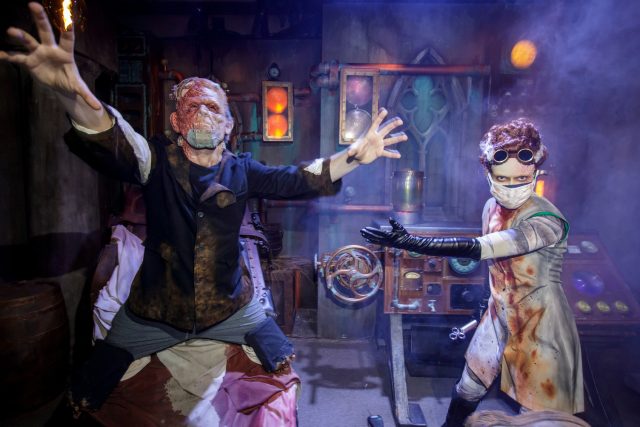 Before it's called sacrilegious, let me remind you it only exists in a theme park, but honestly, it's the fanfiction we needed. We didn't get much of the Bride in the film and here we get her as a capable monster who decides to take fate into her own hands and revive the creature by hunting down Dracula's brides for their blood. It's gothic camp soundtracked epically by Guns and Roses' Slash, and the maze spills out into a scare zone that includes deep cut female characters of the Universal Monster canon with Silver Scream Queenz. Projector reels, fog, and neon lights host Dracula's daughter, the She-Wolf, and more. The remix we deserve!
Now, The Haunting of Hill House is the most anticipated maze of the year to make a debut. Yes, it's open in Orlando but we were able to visit the Hollywood event first. When Universal Studios began collaborating with Netflix on mazes with their Stranger Things houses, speculation immediately began for what other streaming horror faves would find their way into the event.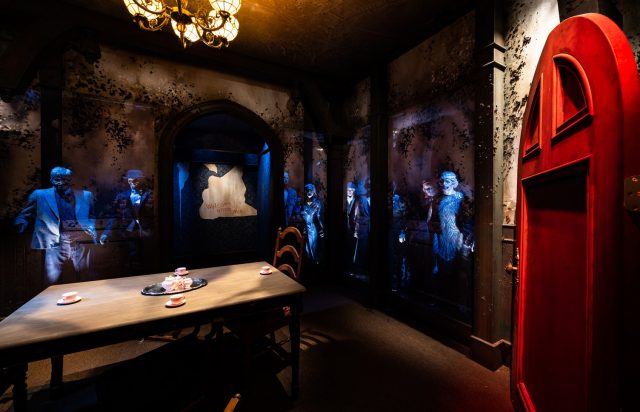 Mike Flannagan's The Haunting of Hill House definitely skyrocketed to the top of maze wishlists when it became the most binge-able series to lose sleep over. It was well worth the wait; the maze evokes the atmosphere of Hill House with chilling ghostly apparitions behind the walls. The use of barriers is hardly noticeable as they've become a part of the canvas to create illusions that are astounding visual experiences. A wall might be a wall one moment but it may reveal the figure watching you in the blink of an eye. It's not as jump-scary as some moments of the series that take place outside the house on the show, but its absolutely gorgeous settings and textured details give it a true haunted house feel.
Rounding out the event is the return of the Terror Tram which takes the conceit of the beloved studio tour to take you into the movies and leans in on all of its horror potentials. It's such a special treat to be able to be dropped off in the real backlot where monsters were made and be chased by them. This year's theme goes all-in on Blumhouse's The Purge and you find yourself in disaster zones on Purge night to witness the riotous atrocities of the film.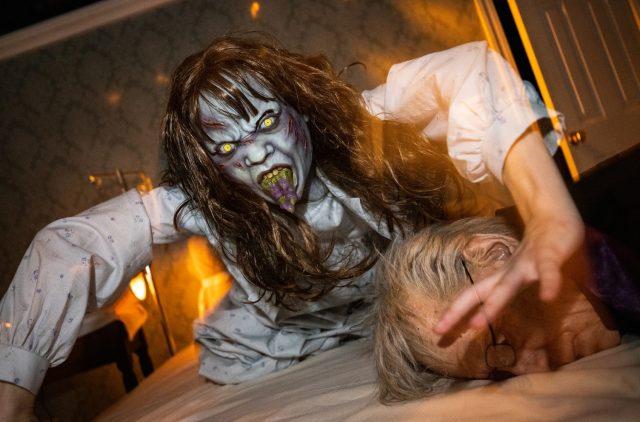 There's really something for everyone despite there not being many new properties added to the event, this year at least. The Exorcist, The Texas Chainsaw Massacre, Halloween 4, and The Walking Dead bring back familiar faces that could appeal to die-hards for those icons and also serve as gateways to introduce younger guests to them as well. Again, just happy we're getting an event and that it's doing what it can to give us a good respite from the past year while doing its best to keep everyone safe.
Overall, the event is a celebration of horror hits. The inclusion of The Haunting of Hill House maze gives me hope to see more modern horror alongside the classics. We're keeping our fingers crossed for a Netflix Fear Street Maze in the future as soon as Horror Nights can resume operations as usual.
Universal Studios Hollywood Halloween Horror Nights runs on select nights through Sunday, October 31. Event dates are September 9-12, 16-19, 23-26, 30 and October 1-3, 7-10, 14-17, 21-24, 28-31; tickets including the Frequent and Ultimate Fear season passes are available for purchase at Hollywood.HalloweenHorrorNights.com.