Ready to hit the streets and play some dodgeball? The latest sneak peak for the Knockout City roadmap gives some details for the upcoming second season. As detailed in the latest blog post from EA, Season 2 of Knockout City will begin on July 27, 2021. In fact, each season will last a total of nine weeks, so that should give a good idea of when Season 3 and 4 will land within their respective fall and winter 2021 release window.
ALSO: Halo Infinite's Permanent Battle Passes Are Made To Be 'Player-First'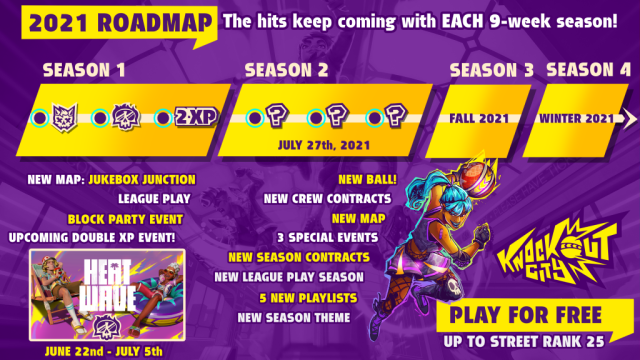 Knockout City Season 2 will also introduce several new bits of content and rewards for you to check out. Here is the content you can expect from the upcoming season as listed from the game's roadmap:
New ball
New crew contracts
New map
3 special events
New season contracts
New league play season
5 new playlists
New season theme
As it just released in May, Knockout City is about a bit more than halfway done with its very first season. This included the map Jukebox Junction, league play, the Block Party event, an upcoming double XP event, and the currently ongoing Heat Wave event.
From now until July 5, the Heat Wave event will allow you to grab some exclusive rewards and gear to garnish your character with. All you have to do is collect some Ice Pops hidden within the games' maps, or complete contracts.
ALSO: Live-Action Dynasty Warriors Film Coming to Netflix This July
Knockout City is available right now for PlayStation 4, Xbox One, Nintendo Switch, and PC. You can also play on PlayStation 5, and Xbox Series X|S via backwards compatibility. It is free to play up to Street Rank 25. From then, you'll have to pay $19.99, which will include the recent season's content.