It is with tremendous sadness that ComingSoon.net must report (via The San Diego Tribune) that Black Panther star Chadwick Boseman has died tragically at the age of 43. According to his family, the actor was diagnosed with colon cancer four years ago, though never spoke about his fight publicly.
"A true fighter, Chadwick persevered through it all, and brought you many of the films you have come to love so much," his family said in the statement. "From 'Marshall' to 'Da 5 Bloods,' August Wilson's 'Ma' Rainey's 'Black Bottom' and several more- all were filmed during and between countless surgeries and chemotherapy. It was the honor of his career to bring King T'Challa to life in 'Black Panther.'"
— Chadwick Boseman (@chadwickboseman) August 29, 2020
Originally intending to work behind the camera, Boseman graduated from Howard University in 2000 with a Bachelor of Fine Arts in directing. His first television role was on an episode of Third Watch in 2003. His first feature film work was in the 2008 sports drama The Express: The Ernie Davis Story. He received accolades for his first starring role in 2013's Jackie Robinson baseball biopic 42, and followed that historic portrayal with two more: As singer James Brown in 2014's Get on Up, and then as Supreme Court Justice Thurgood Marshall in 2017's Marshall.
Boseman launched to superstardom in the Marvel Cinematic Universe as T'Challa/Black Panther, first in a supporting role in 2016's Captain America: Civil War, and then as the lead in 2018's Black Panther. The latter Ryan Coogler-helmed film was a milestone for representation in pop culture, grossing $1.347 billion worldwide and making the fictional nation of Wakanda and its hopeful slogan "Wakanda Forever" a household word. It would also become the first Marvel film nominated for Best Picture at the Academy Awards. Boseman reprised the role of King T'Challa that same year in Avengers: Infinity War and then in 2019's Avengers: Endgame, the latter becoming the highest-grossing movie of all-time. A Black Panther 2 with Coogler returning to helm is currently in development at Marvel Studios, although the death of Boseman throws its status into uncertainty.
Other film roles for Boseman included the Kevin Costner vehicle Draft Day, Alex Proyas' fantasy Gods of Egypt, the cop drama 21 Bridges, and Spike Lee's Da 5 Bloods. His final performance opposite Viola Davis in Ma Rainey's Black Bottom is currently in post-production for Netflix.
Although he has yet to release a statement, Marvel Studios president Kevin Feige has seemingly changed the logo of his Twitter account in tribute to the late actor…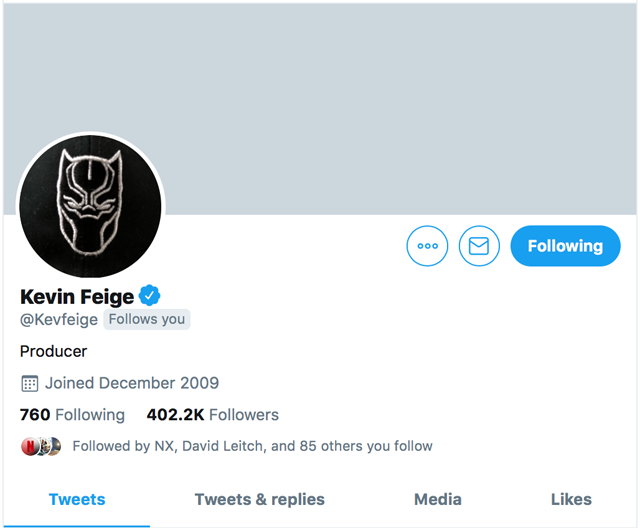 Boseman himself posted his final Tweet on August 11 in support of Vice Presidential nominee Kamala Harris, encouraging people to vote in the 2020 election…
YES @KamalaHarris! #WhenWeAllVote #Vote2020 pic.twitter.com/iOU3duBAcA

— Chadwick Boseman (@chadwickboseman) August 11, 2020
(Photo Credit: Getty Images)