The Criterion Channel, a streaming service from the niche home video distributor for film aficionados, has unveiled its lineup of programming for the month of September, which will include Richard Linklater's groundbreaking drama Boyhood, along with a large roster of contemporary and classic films and double features!
RELATED: New to Stream: Arrow Video Channel's September 2020 Lineup
Tuesday, September 1
Sátántangó
One of the towering achievements of modern cinema, Béla Tarr's newly restored magnum opus, based on the novel by László Krasznahorkai, follows members of a small, defunct agricultural collective who set out to leave their village on the heels of a financial windfall. As a few of the townspeople secretly conspire to abscond with all of the earnings themselves, a mysterious character, long thought dead, returns to the village, altering the course of everyone's lives. Shot in exquisite monochrome and composed in arresting long takes, Sátántangó unfolds in twelve distinct movements, alternating forward and backward in time, echoing the structure of a tango dance. Tarr's monumental vision, aided by longtime partner and collaborator Ágnes Hranitzky, is enthralling, and his immersive evocation of rural Hungary as a postapocalyptic world of boozy dance parties, treachery, and near-perpetual rainfall is both transfixing and uncompromising.
Tuesday, September 1
Short + Feature: Super Bowles
You Are Not I and The Sheltering Sky
The writings of modernist literary legend Paul Bowles, an American expatriate who spent the majority of his life in Tangier, inspire two psychologically charged adaptations by singular film artists. Based on a Bowles short story, Sara Driver's long-lost No Wave touchstone You Are Not I evokes a woman's fractured mental state through a trancelike procession of haunting, uncanny images. Then, we're whisked away to the sunbaked landscapes of the Sahara Desert for Bernardo Bertolucci's sensuous take on Bowles's celebrated novel The Sheltering Sky, starring Debra Winger and John Malkovich as an American couple whose sojourn to North Africa turns into a soul-shaking existential exploration.
Wednesday, September 2
Two by Dorothy Arzner
Featuring a documentary on Arzner by Katja Raganelli
The only woman to work as a director within the studio system of 1930s Hollywood, Dorothy Arzner was a trailblazer whose fascinating, often subversive films were the product of a sophisticated, queer, protofeminist sensibility that managed to assert itself in spite of the limitations of commercial moviemaking. Both made during the early 1930s at Paramount, where Arzner worked first as an editor before establishing herself as a director during the silent era, these pre-Code gems are two of her finest and most neglected films: Working Girls, a witty and complex tale of female ambition set in a women's boarding house, and Merrily We Go to Hell, an alcohol-soaked portrait of an open marriage on a downward spiral.
Working Girls, 1931
Merrily We Go to Hell, 1932
Thursday, September 3
The Heiress: Criterion Collection Edition #974
Directed with a keen sense of ambiguity by William Wyler, this film based on a hit stage adaptation of Henry James's Washington Square pivots on a question of motive. When shy, emotionally fragile Catherine Sloper (Olivia de Havilland, in a heartbreaking, Oscar-winning turn), the daughter of a wealthy New York doctor, begins to receive calls from the handsome spendthrift Morris Townsend (Montgomery Clift), she becomes possessed by the promise of romance. Are his smoldering professions of love sincere, as she believes they are? Or is Catherine's calculating father (Ralph Richardson) correct in judging Morris a venal fortune seeker? A graceful drawing-room drama boasting Academy Award–winning costume design by Edith Head, The Heiress is also a piercing character study riven by emotional uncertainty and lacerating cruelty, in a triumph of classic Hollywood filmmaking at its most psychologically nuanced. SUPPLEMENTAL FEATURES: An appearance by de Havilland on a 1986 episode of The Paul Ryan Show; a conversation between screenwriter Jay Cocks and film critic Farran Smith Nehme; a program about the film's costumes featuring costume collector and historian Larry McQueen; The Costume Designer, a restored 1950 short film featuring costume designer Edith Head; and more.
Friday, September 4
Double Feature: Spaghetti alla Samurai
Yojimbo and A Fistful of Dollars
A Japanese chanbara classic inspires a landmark Spaghetti western—and, in turn, a transnational lawsuit—in this one-two punch of visually spectacular action mayhem. Akira Kurosawa's darkly comic Yojimbo stars the incomparable Toshiro Mifune as a wily masterless samurai who turns a range war between two evil clans to his own advantage. Mifune's character served as a template for the Man with No Name played by Clint Eastwood in Sergio Leone's pulp-operatic A Fistful of Dollars, an international sensation that launched Eastwood to superstardom and prompted Kurosawa and his studio to sue successfully for copyright infringement.
Saturday, September 5
Saturday Matinee: Duck Soup
The marvelous Marx Brothers are at their anarchic best in this wildly hilarious tour de force of comic invention. When Groucho's Rufus T. Firefly, president of the bankrupt nation of Freedonia, picks a fight with the ambassador of a neighboring country, absurdist militaristic mayhem ensues in what may the finest and funniest of the brothers' films, directed by irreverent Hollywood craftsman Leo McCarey. Along the way there are outlandish musical numbers, some of Groucho's most priceless one-liners, and the pure genius of the classic mirror scene, a wordless, three-minute slice of slapstick perfection.
Sunday, September 6
Pre-Code Joan Blondell
Featuring a new introduction by critic Imogen Sara Smith
Classic Hollywood's consummate scene-stealing sidekick, Joan Blondell enjoyed a successful screen career for nearly five decades, but it was during the anything-goes pre-Code era of the early 1930s—when dames, gold diggers, and good-time girls were cinematic staples—that she reached her zenith. Her vivacious energy and wisecracking persona were perfectly suited to the punchy, fast-paced style of her home studio, Warner Bros., where she was often paired with the similarly brash, dynamic James Cagney in popular hits like the mob film He Was Her Man, the delightfully risqué romantic comedy Blonde Crazy, and the kaleidoscopic Busby Berkeley musical extravaganza Footlight Parade. Whether lending snappy comedic support to a dramatic heavy hitter like Barbara Stanwyck in Night Nurse or showing her range playing a mob boss in the all-too-rare starring vehicle Blondie Johnson, Blondell exuded an irresistible, naughty-but-nice irreverence that was pure pre-Code.
Blonde Crazy, Roy Del Ruth, 1931
Millie, John Francis Dillon, 1931
Night Nurse, William A. Wellman, 1931
The Public Enemy, William A. Wellman, 1931
Big City Blues, Mervyn LeRoy, 1932
The Crowd Roars, Howard Hawks, 1932
Lawyer Man, William Dieterle, 1932
Three on a Match, Mervyn LeRoy, 1932
Union Depot, Alfred E. Green, 1932
Blondie Johnson, Ray Enright, 1933
Footlight Parade, Lloyd Bacon, 1933
Gold Diggers of 1933, Mervyn LeRoy, 1933
Dames, Ray Enright and Busby Berkeley, 1934
He Was Her Man, Lloyd Bacon, 1934
RELATED: Sundance Now Unveils September TV & Movie Slate
Monday, September 7
Three by Robert Greene
The line between performance and reality is scrambled to provocative effect in the adventurous nonfiction psychodramas of Robert Greene. While the bravura hybrid works Actress and Kate Plays Christine are slippery, multilayered investigations of the craft of acting, Greene's latest film, Bisbee '17, uses historical reenactment to connect a shameful chapter of American history to the country's present. Opening up complex questions about the very meaning of "truth" in documentary, Greene's fascinating films are alchemical collaborations between director and subject in which artifice is a means to reach authentic human insight.
Actress, 2014
Kate Plays Christine, 2016
Bisbee '17, 2018
Tuesday, September 8
Short + Feature: Through Her Eyes
Nettles and It Felt Like Love
Featuring a new interview with Nettles director Raven Jackson
Two powerfully intimate films explore the incidents, large and small, that shape women's lives. With hushed immediacy, Raven Jackson's award-winning short Nettles poetically evokes a series of "stinging moments" in the lives of young women, many centered around moments of sexual vulnerability. Eliza Hittman mines similar territory in her revelatory debut feature It Felt Like Love, a bracing portrait of a Brooklyn teenager whose rush to grow up leads her down a potentially dangerous path.
Wednesday, September 9
Four Films by Janicza Bravo
A conversation between Bravo and Sam Fragoso, host of the podcast Talk Easy
The director of the audacious festival hit Lemon and the highly anticipated Zola, Janicza Bravo cultivates the unsettling, the absurd, and the hilariously warped. This selection of four of her brilliantly outré shorts—including the award-winning dark comedy Gregory Go Boom, starring Michael Cera—showcases the singular, gonzo sensibility that has made her one of American independent cinema's most exciting voices. Centered around terminally awkward misfits so cringe-inducing that you can't look away, Bravo's surreal, stylistically brash films are by turns bleak and bitingly funny commentaries on loneliness, privilege, and the search for human connection.
Gregory Go Boom, 2013
Pauline Alone, 2014
Woman in Deep, 2016
Man Rots from the Head, 2016
Thursday, September 10
Christo and Jeanne-Claude
Environmental-art superstar Christo, who passed away in May this year, and his longtime collaborator, Jeanne-Claude, transformed the world's landscapes into epic canvases for their awe-inspiring site-specific installations. Though their staggering achievements—including an enormous curtain hung between two Colorado mountains and a floating fabric walkway built on an Italian lake—were designed to be ephemeral, they frequently inspired filmmakers, particularly documentary masters Albert and David Maysles, to preserve their creations on celluloid. Films like Running Fence, which depicts the artists' struggle to build a twenty-four-mile fence out of white nylon fabric, and The Gates, about their decades-in-the-making dream to construct a "golden river" of portals in New York's Central Park, capture the monumental vision, superhuman determination, and unique relationship that drove an extraordinary artistic partnership.
Features
Running Fence, Albert Maysles, David Maysles, and Charlotte Zwerin, 1977
Islands, Albert Maysles, David Maysles, and Charlotte Zwerin, 1987
Christo in Paris, Albert Maysles, David Maysles, Deborah Dickson, and Susan Froemke, 1990
Umbrellas, Albert Maysles, Henry Corra, and Grahame Weinbren, 1994
The Gates, Albert Maysles, David Maysles, Antonio Ferrera, and Matthew Prinzing, 2008
Walking on Water, Andrey Paounov, 2019
Shorts
Christo's Valley Curtain, Albert Maysles, David Maysles, Ellen Giffard, 1974
Friday, September 11
Double Feature: Tears of a Clown
Lenny and Jo Jo Dancer, Your Life is Calling
It's no laughing matter: these two unflinching films delve into the self-destructive dark sides of a pair of comedy legends. In Lenny, director Bob Fosse and star Dustin Hoffman bring a live-wire energy to their jagged portrait of controversial, envelope-pushing stand-up Lenny Bruce that cuts between his electrifying prime and burned-out later years. Then, Richard Pryor draws on his own personal demons in the autobiographical Jo Jo Dancer, Your Life is Calling, a lacerating rise-and-fall showbiz saga and the only narrative feature written and directed by the comedy great.
Saturday, September 12
Saturday Matinee: The Phantom Tollbooth
What could possibly be inside that gigantic, wrapped-and-ribboned box? A tollbooth, a toy car, and adventure! Ride with young Milo (Butch Patrick) through the phantom tollbooth that takes him from the streets of San Francisco into a wondrous world that combines the enchantment of Norton Juster's beloved children's book with the sheer visual joy of legendary Looney Tunes animator Chuck Jones (codirecting his sole feature film). Bookended by live-action sequences and featuring a stellar voice cast led by the great Mel Blanc, The Phantom Tollbooth brings to life a magical, musical tale of warring kingdoms (one favors words, the other numbers), demons, princesses, and fabulously fantastical creatures—including a tick-tick-ticking "watch" dog!
Sunday, September 13
Directed by Albert Brooks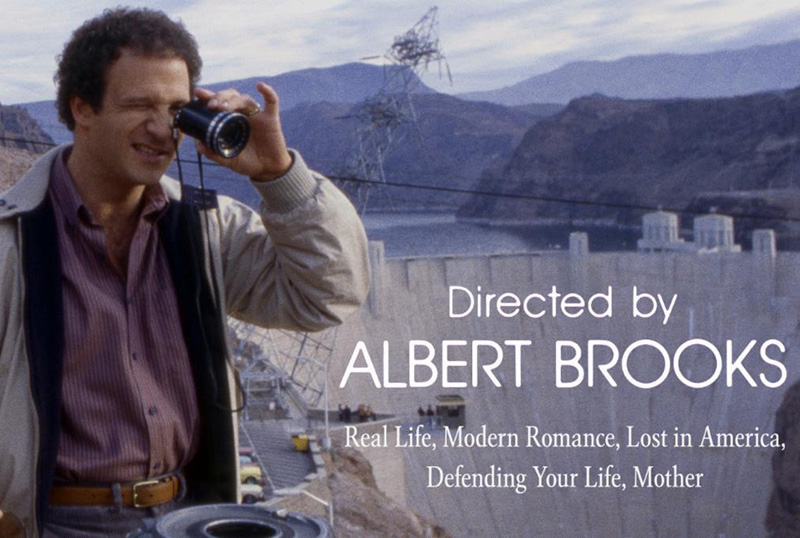 It's apt that director, writer, and actor Albert Brooks should have been born Albert Einstein, since his cutting, cerebral, and brutally honest comedies are works of self-deprecating genius. Unafraid of playing unlikable, self-absorbed characters and of putting his own neuroses and obsessions under the microscope, Brooks has directed only a handful of films since the late 1970s, but each is a brilliant, unsparingly funny dissection of the frustrations of the contemporary everyman. Whether satirizing the complexities of dating in Modern Romance, Reagan-era yuppie excess in Lost in America, or the pitfalls of family ties in Mother, Brooks probes the foibles and fallibility of the human condition with a sharp observational eye and sardonic wit that's as painful as it is hilarious.
Real Life, 1979
Modern Romance, 1981
Lost in America, 1985
Defending Your Life, 1991
Mother, 1996
Monday, September 14
Art and Craft
Mark Landis has been called one of the most prolific art forgers in U.S. history. His impressive body of work spans thirty years and a wide range of styles, from fifteenth-century masters to Picasso to Walt Disney. And while the copies could fetch impressive sums on the open market, Landis isn't in it for the money. Posing as a philanthropic donor, a grieving executor of a family member's will, and even a Jesuit priest, Landis has given away hundreds of works over the years to a staggering array of institutions. But when a tenacious investigator threatens to expose his ruse, Landis must confront his controversial legacy and a growing chorus of art-world professionals calling for him to stop. What begins as a gripping cat-and-mouse art caper, rooted in questions of authorship and authenticity, gradually develops into an intimate story of obsession and the universal need for community, appreciation, and purpose.
Tuesday, September 15
Short + Feature: The Dakar Connection
A Thousand Suns and Touki Bouki
Life imitates art as a rising auteur pays homage to a landmark work by her uncle in this snapshot of Senegalese cinema past and present. In 1973, Djibril Diop Mambéty made a splash with Touki bouki, a brash, stylistically freewheeling tale of two young lovers attempting to scheme their way from Dakar to France. Forty years later, Mambéty's niece Mati Diop revisits the film's towering legacy in A Thousand Suns, in which she reconnects with Magaye Niang and Mareme Niang, the stars of Touki bouki, and finds that their fates have followed paths curiously similar to those of the fictional characters they played.
Wednesday, September 16
Three by Lucrecia Martel
You can feel the heat in the swelteringly sensorial films of Argentine iconoclast Lucrecia Martel, who, working in a cinematic vocabulary all her own, creates tantalizingly elliptical, shrewdly incisive commentaries on class, religion, and social hierarchy that have established her as one of the twenty-first century's major filmmakers. In her early critical triumphs La Ciénaga and The Headless Woman, Martel introduced a startlingly original, fully formed sensibility, marked by off-kilter compositions, a tactile sense of atmosphere, and a caustic perspective on the hypocrisies of Argentina's bourgeoisie. With her latest feature, the hallucinatory literary adaptation Zama, Martel translates her singular vision to the eighteenth century, losing none of her eccentric edge and acerbic bite.
La Ciénaga, 2001
The Headless Woman, 2008
Zama, 2017
Wednesday, September 16
Observations on Film Art #38: Visual Strategies in La Ciénaga
From the very first shot of her very first feature, La Ciénaga, Argentine auteur Lucrecia Martel laid claim to a distinctive, defiantly strange cinematic syntax unlike any other. In this edition of Observations on Film Art, Professor Kristin Thompson examines the surprising choices—uncomfortably tight framing, unusual camera positions, and soft- and out-of-focus lensing—that Martel uses to keep the identities of and relationships between her characters intriguingly opaque and to heighten the film's stinging critique of bourgeois torpor.
Thursday, September 17
Boyhood: Criterion Collection Edition #839
There has never been another movie like Boyhood, from director Richard Linklater. An event film of the utmost modesty, it was shot over the course of twelve years in the director's native Texas and charts the physical and emotional changes experienced by a child named Mason (Ellar Coltrane), his divorced parents (Patricia Arquette, who won an Oscar for her performance, and Ethan Hawke), and his older sister (Lorelei Linklater). Alighting not on milestones but on the small, in-between moments that make up lives, Linklater fashions a flawlessly acted, often funny portrait that flows effortlessly from one year to the next. Allowing us to watch people age on film with documentary realism while gripping us in a fictional narrative of exquisite everydayness, Boyhood has a power that only the art of cinema could harness. SUPPLEMENTAL FEATURES: A making-of documentary spanning the film's twelve years of production; a discussion featuring Linklater and actors Patricia Arquette and Ellar Coltrane, moderated by producer John Pierson; a video essay by critic Michael Koresky about time in Linklater's films; and more.
Friday, September 18
Double Feature: Paradises Lost
Tabu: A Story of the South Seas (1931) and Tabu (2012)
The shadow of a silent-cinema masterpiece looms large over a twenty-first-century marvel in two visually stunning sagas of doomed passion and colonial tragedy. In the early 1930s, German-expressionist giant F. W. Murnau joined forces with documentary pioneer Robert Flaherty for the landmark docufiction hybrid Tabu, a ravishing vision of flowering love amid the encroaching, destructive forces of Western civilization, strikingly filmed on location in Tahiti. Eight decades later, Portuguese auteur Miguel Gomes took the title and bifurcated narrative structure of Murnau's film as the starting point from which to spin a sumptuous, exhilaratingly eccentric tale of ill-fated romance in 1960s colonial Africa in his own acclaimed Tabu.
Saturday, September 19
Saturday Matinee: Charlotte's Web
The most popular children's book of all time made it to the screen with E. B. White's heartwarming vision fully intact courtesy of animation powerhouse Hanna-Barbera and the vocal talent of Debbie Reynolds. She plays the beloved spider whose bond with a runt pig yields timeless truths about friendship, cycles of life, and growing up. With handsome hand-drawn animation, songs by Disney mainstays the Sherman Brothers, and a vocal cast that also includes Paul Lynde and Agnes Moorehead, that's some pig, indeed!
RELATED: Shudder September 2020 Schedule Starts Off Halloween Lineup
Sunday, September 20
The Films of Agnès Varda
Featuring extensive supplemental features from Criterion's The Complete Films of Agnès Varda box set
A founder of the French New Wave who became an international art-house icon, Agnès Varda was a fiercely independent, restlessly curious visionary whose work was at once personal and passionately committed to the world around her. In an abundant career in which she never stopped expanding the notion of what a movie can be, Varda forged a unique cinematic vocabulary that frequently blurs the boundaries between narrative and documentary, and entwines loving portraits of her friends, her family, and her own inner world with a social consciousness that was closely attuned to the 1960s counterculture, the women's liberation movement, the plight of the poor and socially marginalized, and the ecology of our planet. This comprehensive collection is a testament to the radical vision, boundless imagination, and radiant spirit of a true original for whom every act of creation was a vital expression of her very being.
Shorts
Du coté de la côte, 1958
L'opera-mouffe, 1958
O saisons, o chateaux, 1958
Les fiancés du Pont Macdonald, 1962
Salut les cubains!, 1964
Elsa la rose, 1966
Uncle Yanco, 1968
Black Panthers, 1970
Réponse de femmes, 1975
Plaisir d'amour en Iran, 1977
Ulysse, 1982
Les dites cariatides, 1984
7 p., cuis., s. de b. . . . (à saisir), 1985
T'as des beaux escaliers, tu sais, 1986
bl, 2003
Ydessa, les ours, et etc. . . ., 2004
Les 3 boutons, 2015
Features
La Pointe Courte, 1955
Cléo from 5 to 7, 1962
Le bonheur, 1965
Les créatures, 1966
Lions Love (. . . and Lies), 1969
Daguerréotypes, 1975
One Sings, the Other Doesn't, 1977
Mur Murs, 1981
Documenteur, 1981
Vagabond, 1985
Jane B. par Agnès V., 1988
Kung-Fu Master!, 1988
Jacquot de Nantes, 1991
The Young Girls Turn 25, 1993
One Hundred and One Nights, 1995
The World of Jacques Demy, 1995
The Gleaners and I, 2000
The Gleaners and I: Two Years Later, 2002
The Beaches of Agnes, 2008
Agnès de ci de là Varda, 2011
Varda by Agnès, 2019
Monday, September 21
Streetwise and Tiny: The Life of Erin Blackwell
Featuring a new introduction with director Martin Bell
In 1983, filmmaker Martin Bell, photographer Mary Ellen Mark, and journalist Cheryl McCall set out to tell the stories of those society had left behind: homeless and runaway teenagers living on the margins of Seattle. The resulting film, the Academy Award–nominated documentary landmark Streetwise, follows an unforgettable group of children who, driven from their broken homes, survive by hustling, panhandling, and dumpster diving. Among the project's most haunting and enduring faces was Tiny, an iron-willed fourteen-year-old who the filmmakers would continue to track for the next thirty years. Tracing her journey from lost youth to mother of ten children of her own, the long awaited follow-up documentary Tiny: The Life of Erin Blackwell is a heartrending, deeply empathetic portrait of a woman and a family struggling to break free from a cycle of trauma.
Tuesday, September 22
Short + Feature: All by Myself
The Amateurist + Je tu il elle
Two fearless filmmakers turn the camera on themselves to explore loneliness, solitude, identity, sexuality, and the gaze within self-engineered confines of their own making. In The Amateurist, Miranda July sets up an unsettling relationship between viewer and subject via an increasingly disturbing portrait of a woman whose obsessive, solitary video surveillance of another woman (also played by July) pushes her to the brink of madness. Then, Chantal Akerman plays a woman who ventures out of self-imposed isolation in her uncompromising first feature, which features one of the most daring sex scenes in cinema history.
Wednesday, September 23
Thank You and Good Night
Featuring two short films and a new introduction by director Jan Oxenberg
A lost-and-found revelation from indie film and TV maverick Jan Oxenberg is a docu-fantasy narrative focused on the filmmaker's hilarious, messy, Jewish family as they prepare to say goodbye to someone they love. Narrated by a cardboard cutout of Oxenberg's scowling child self, Thank You and Good Night takes us on a journey through the proceedings, attempting to defeat death and never say goodbye. An early Sundance hit but virtually unseen for decades, the film reemerges as a singular, uncategorizable exploration of the meaning of life, death, and the tangled stuff that is a family. In this poignant, hilarious, and complex reflection on letting go, Oxenberg innovatively transforms personal tragedy into universally resonant art that is now claiming its rightful place as a classic of independent cinema. This key touchstone in the evolution of the autobiographical documentary has reemerged thanks to a new restoration and is presented alongside two early short works by Oxenberg that offer a wittily satirical perspective on her experiences growing up as a lesbian.
Restoration by IndieCollect.
Shorts
Home Movie, 1973
A Comedy in Six Unnatural Acts, 1975
Features
Thank You and Good Night, 1992
Thursday, September 24
Corpus Christi

Streaming premiere
Anchored by a stunning performance from newcomer Bartosz Bielenia, this moral tinderbox is an emotionally gripping, darkly humorous portrait of a man on a most curious road to redemption. Following his release from a Warsaw prison for a violent crime, twenty-year-old Daniel (Bielenia) is sent to a remote village to work as a manual laborer. The job is designed to keep the ex-con busy, but Daniel has a higher calling. When one quick lie allows him to be mistaken for the town's new priest, Daniel sets about leading his newfound flock, inspiring the congregation through his passion and charisma even as he edges toward a dark secret that the community hasn't revealed in the confessional booth.
Thursday, September 24
Directed by Volker Schlöndorff
Though he would find himself at the forefront of the radical New German Cinema movement, Volker Schlöndorff got his training in France. Apprenticed to such trailblazers as Alain Resnais, Jean-Pierre Melville, and Louis Malle, he became fascinated by the possibilities of filmmaking as a political tool early in his career. His 1966 debut, Young Törless, based on Robert Musil's acclaimed novel, was not only the first of his many ambitious literary adaptations (often of challenging, supposedly "unfilmable" works), it was also something of a New German Cinema call to arms, a political allegory about Germany's social history set in a boys' boarding school at the turn of the twentieth century. More stinging commentaries on the state of Germany-then-and-now followed in the seventies: The Lost Honor of Katharina Blum (codirected with Margarethe von Trotta, Schlöndorff's wife at the time), Coup de grâce, and his grandest success, the Oscar- and Palme d'or–winning The Tin Drum, a brilliant adaptation of Günter Grass's metaphorical novel about the horrors of World War II. Continuing to delve into the traumas of the mid-twentieth century in late-career triumphs like The Ogre and Diplomacy, Schlöndorff looks unflinchingly to the past in order to illuminate the present.
Young Törless, Volker Schlöndorff, 1966
Baal, Volker Schlöndorff, 1970
The Lost Honor of Katharina Blum, Volker Schlöndorff and Margarethe von Trotta, 1975
Coup de grâce, Volker Schlöndorff, 1976
The Tin Drum, Volker Schlöndorff, 1979
Circle of Deceit, Volker Schlöndorff, 1981
Swann in Love, Volker Schlöndorff, 1984
Death of a Salesman, Volker Schlöndorff, 1985
The Handmaid's Tale, Volker Schlöndorff, 1990
Voyager, Volker Schlöndorff, 1991
The Ogre, Volker Schlöndorff, 1996
The Legend of Rita, Volker Schlöndorff, 2000
Diplomacy, Volker Schlöndorff, 2014
Friday, September 25
Double Feature: Mall Wonders
Golden Eighties and Nocturama
Featuring a new interview with Nocturama director Bertrand Bonello, whose film Zombi Child is also now playing on the Channel
Don't look for retail therapy in this pair of super-stylized, shopping-mall-set genre-exploders that balance sleek pop pleasures with a subversive anticapitalist critique. First, Chantal Akerman filters the singing, dancing charms of the MGM dream factory through her singular feminist, formalist sensibility in her fascinatingly offbeat, disarmingly affecting New Wave musical Golden Eighties. Then, Bertrand Bonello choreographs a mesmerizing tale of teenage terrorism in his audacious thriller Nocturama, which features some of the most cunning deployments of pop music in recent cinematic memory.
Saturday, September 26
Saturday Matinee: Pygmalion
Cranky Professor Henry Higgins (Leslie Howard) takes a bet that he can turn Cockney guttersnipe Eliza Doolittle (Wendy Hiller) into a "proper lady" in a mere six months in this delightful comedy of bad manners, based on the play by George Bernard Shaw. Directed by both Anthony Asquith and star Howard and edited by future British cinema giant David Lean, Pygmalion was co-scripted by Shaw himself, who won an Academy Award for his work and whose screenplay would later be adapted into the classic Lerner and Loewe musical My Fair Lady.
Sunday, September 27
By the Book
You've read—or at least meant to read—the book. Now see the movie. Just in time for the start of school, we've collected some of the all-time great page-to-screen adaptations, encompassing English 101 classics like Great Expectations and Lord of the Flies, world-literature masterpieces like War and Peace and Pather Panchali, modern best sellers like The Virgin Suicides and The Hours, and more. While faithful transpositions abound, there are plenty of surprising spins on canonical titles, such as Akira Kurosawa's Japan-set retelling of Fyodor Dostoyevsky's The Idiot, John Huston's hallucinatory take on Malcolm Lowry's "unfilmable" Under the Volcano, and Chantal Akerman's fascinating postcolonialist reimagining of Joseph Conrad's Almayer's Folly. Each is a distinguished work of art in its own right, as worthy of appreciation as its celebrated source.
The Count of Monte Cristo, Rowland V. Lee, 1934
The 39 Steps, Alfred Hitchcock, 1935
La bête humaine, Jean Renoir, 1938
Of Mice and Men, Lewis Milestone, 1939
Great Expectations, David Lean, 1946
The Killers, Robert Siodmak, 1946
Anna Karenina, Julien Duvivier, 1948
Oliver Twist, David Lean, 1948
The Heiress, William Wyler, 1949
The Passionate Friends, David Lean, 1949
The Idiot, Akira Kurosawa, 1951
The Life of Oharu, Kenji Mizoguchi, 1952
Robinson Crusoe, Luis Buñuel, 1954
Senso, Luchino Visconti, 1954
Pather Panchali, Satyajit Ray, 1955
Aparajito, Satyajit Ray, 1956
The Burmese Harp, Kon Ichikawa, 1956
Apur Sansar, Satyajit Ray, 1959
The Cloud-Capped Star, Ritwik Ghatak, 1960
Purple Noon, René Clément, 1960
Zazie dans le métro, Louis Malle, 1960
Divorce Italian Style, Pietro Germi, 1961
Lord of the Flies, Peter Brook, 1963
Tom Jones, Tony Richardson, 1963
Charulata, Satyajit Ray, 1964
Woman in the Dunes, Hiroshi Teshigahara, 1964
Closely Watched Trains, Jirí Menzel, 1966
War and Peace, Sergei Bondarchuk, 1966
Memories of Underdevelopment, Tomás Gutiérrez Alea, 1968
The Angel Levine, Ján Kadár, 1970
Dodes'ka-den, Akira Kurosawa, 1970
The Phantom Tollbooth, Chuck Jones, Abe Levitow, and Dave Monahan, 1970
The Little Prince, Stanley Donen, 1974<
Picnic at Hanging Rock, Peter Weir, 1975
The American Friend, Wim Wenders, 1977
The Ascent, Larisa Shepitko, 1977
The Getting Of Wisdom, Bruce Beresford, 1977
Empire of Passion, Nagisa Oshima, 1978
Watership Down, Martin Rosen, 1978
My Brilliant Career, Gillian Armstrong, 1979
Stalker, Andrei Tarkovsky, 1979
The Tin Drum, Volker Schlöndorff, 1979
Wise Blood, John Huston, 1979
You Are Not I, Sara Driver, 1981
Under the Volcano, John Huston, 1984
Mishima: A Life in Four Chapters, Paul Schrader, 1985
My Life as a Dog, Lasse Hallström, 1985
Betty Blue, Jean-Jacques Beineix, 1986
An Angel at My Table, Jane Campion, 1990
The Comfort of Strangers, Paul Schrader, 1990
Europa Europa, Agnieszka Holland, 1990
The Handmaid's Tale, Volker Schlöndorff, 1990
Emily Brontë's Wuthering Heights, Peter Kosminsky, 1992
The Castle, Michael Haneke, 1997
The Sweet Hereafter, Atom Egoyan, 1997
The Virgin Suicides, Sofia Coppola, 1999
The Piano Teacher, Michael Haneke, 2001
The Hours, Stephen Daldry, 2002
Gomorrah, Matteo Garrone, 2008
Almayer's Folly, Chantal Akerman, 2011
45 Years, Andrew Haigh, 2015
Certain Women, Kelly Reichardt, 2016
Zama, Lucrecia Martel, 2017
RELATED: New to Stream: HBO Max September 2020 Highlights
Monday, September 28
The Prison in Twelve Landscapes
The contemporary American police state shapes almost every aspect of society—whether we're aware of it or not. Without ever venturing inside a penitentiary, director Brett Story excavates the insidious, often-unseen influence that prisons—and the American system of mass incarceration—has on communities and industries all around us. From a blazing California mountainside where female prisoners fight raging wildfires to a Bronx warehouse that specializes in prison-approved care packages to an Appalachian coal town betting its future on the promise of new prison jobs to the street where Michael Brown was shot in Ferguson, this remarkably clear-eyed documentary sheds new light on how a system built on exploitation and racial injustice became woven into the fabric of everyday American life.
Tuesday, September 29
Short + Feature: All This Jazz
When It Rains and Ornette: Made in America
Two jazz-inflected riffs by legendary American independent filmmakers make sweet music together in this double feature in double time. Charles Burnett's charming short When It Rains follows a trumpeter on a New Year's Eve odyssey through Los Angeles as he attempts to save a mother from eviction, his quest punctuated by musical interludes that have the rhythmic, improvisational quality of jazz itself. Shirley Clarke brings a similar freewheeling energy to her appropriately idiosyncratic Ornette: Made in America, which blends documentary footage, dramatic scenes, and some of the first music-video-style segments ever created into a kaleidoscopic portrait of free-jazz pioneer Ornette Coleman.
Wednesday, September 30
The Loveless
The first feature by both acclaimed director Kathryn Bigelow and future David Lynch producer Monty Montgomery, as well as the screen debut of star Willem Dafoe, this edgy, should-be cult classic puts a furiously subversive spin on the rebel biker films of the 1950s. Dafoe is the pomade-slicked, leather-clad Vance, whose outlaw motorcycle gang roars into a small Southern town en route to the Daytona races, igniting simmering tensions with the locals and setting the stage for a violent standoff. The air of all-American menace is heightened by the jukebox soundtrack courtesy of costar and neo-rockabilly legend Robert Gordon.