Bong Joon-ho's Parasite has been one of the most critically lauded films of 2019 across the globe and has garnered an impressive six Oscar nominations, including Best Picture, and Fandango's users have voted on the major categories for the ceremony and with over 2,000 votes, moviegoers have voted for the South Korean black comedy to win the top prize and for its co-writer/director to win Best Director!
RELATED: New Trailer For Bong Joon-Ho's Parasite Released
Meet the Park Family: the picture of aspirational wealth. And the Kim Family, rich in street smarts but not much else. Be it chance or fate, these two houses are brought together and the Kims sense a golden opportunity. Masterminded by college-aged Ki-woo, the Kim children expediently install themselves as tutor and art therapist, to the Parks. Soon, a symbiotic relationship forms between the two families. The Kims provide "indispensable" luxury services while the Parks obliviously bankroll their entire household. When a parasitic interloper threatens the Kims' newfound comfort, a savage, underhanded battle for dominance breaks out, threatening to destroy the fragile ecosystem between the Kims and the Parks.
"Fans are more excited to watch the Academy Awards because they've actually seen the nominated movies," Fandango Managing Editor Erik Davis said in a statement. "This year's Oscar races for Best Picture and Best Director are the most suspenseful, and if the Fandango polling is any indication, it's going to be awfully close, with Parasite and 1917 neck and neck in the voting for both categories. Moviegoers are also rooting for fan favorites like Joker, Little Women, Once Upon a Time…in Hollywood, Knives Out, Toy Story 4, and Rocketman,  all of which figured prominently as winners in the Fandango survey, ranking as the top choices for Actor, Actress, Supporting Actress, Supporting Actor, Adapted Screenplay, Original Screenplay, Animated Feature and Original Song."
Here are the other results from Fandango's poll…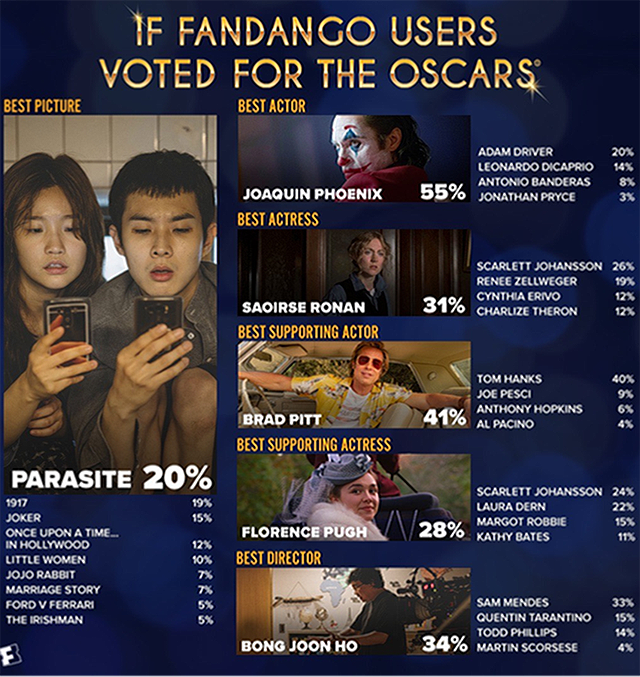 RELATED: Comic-Con: Snowpiercer Series Trailer Breaks the Ice
Parasite is a peculiar tale about two families who are worlds apart yet somewhat alike, portraying a striking reality of the world we live in. The film stars Lee Sun-Kyun (A Hard Day), Cho Yeo-Jeong (Obsessed), Choi Woo-Shik (Okja), Park So-Dam (The Priests), and Chang Hyae-Jin (Poetry).
In addition to marking a reunion between Joon-Ho and star Song Kang-Ho (Snowpiercer, The Host), the film also marks the fifth collaboration between NEON's CEO Tom Quinn and the 49-year-old South Korean director, with their work on the sci-fi hit Snowpiercer still proving to be one of the highest-grossing multiplatform titles in history.
Parasite debuted at the Cannes Film Festival to critical raves and currently sits at a 99% "Certified Fresh" approval rating from 377 critics on review aggregate Rotten Tomatoes, making it the best-reviewed film of the year, and taking home the Palme d'Or from the festival.