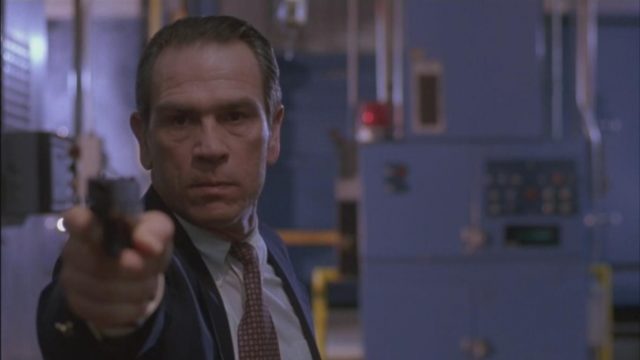 Comingsoon.net is on the run and imagining being hunted down by some of the best federal marshals in the biz. Check out our picks in the gallery below!
RELATED: CS Soapbox: Things We Want From The Teenage Mutant Ninja Turtles Reboot
There's something undeniably cinematic about a U.S. Marshal; the Marshals Service being the primary agency for dealing with the most romanticized of criminals: the fugitive. This is not to say that a fugitive in cinema or on television is always an admirable character, and neither are the marshals; however, whether they have a questionable moral compass or are a chain-smoking drunk, they're still a heck of a lot of fun to watch.
RELATED: CS Video: The Fugitive Interview With Kiefer Sutherland & Boyd Holbrook
The one aspect of the stereotypical U.S. Marshal that seems to permeate this medium revolves around a sort of "southern charm." They're all cowboys.  In honor of all successful manhunts, here are some gunslinging U.S. marshals we'll never forget.
Most Memorable U.S. Marshals in Television and Film
Matt Dillon, Gunsmoke (TV Series 1955–1975)

Portrayed in the television version of Gunsmoke by James Arness, Matt Dillion serves as the U.S. Marshal of Dodge City, Kansas. Arness' version became known for his softer more understanding approach to criminality. 

Samuel Gerard, The Fugitive (1993)

Tommy Lee Jones' take on Deputy U.S. Marshal Samuel Gerard is a scene-stealing one; there's an element of playful irreverence that keeps the character from being too stern. This character was no doubt an inspiration for the character of K in Men in Black.   

Rooster Cogburn, True Grit (1969)

John Wayne first portrayed this iconic character in the 1969 adaptation of Charles Portis' novel. He is known as the "fearless, one-eyed U.S. marshal who never knew a dry day in his life." 

Rooster Cogburn, True Grit (2010)

One of the only actors alive who could have probably rival John Wayne's version of Rooster Cogburn, Jeff Bridges. He made the character uniquely his own. 

Jed Cooper, Hang 'Em High (1968)

When talking about memorable cowboy-esque characters, Clint Eastwood is an actor (and John Wayne) whose name almost always coming up. This marshal seeks revenge on the people lynch him for a crime he did not commit.  

Will Kane, High Noon (1952)

Gary Cooper was an acting renowned for his understated style; in other words, he was cool. His Oscar-winning performance as former marshal Will Kane is arguably the best of his career.   

Karen Sisco, Out of Sight (1998)

Elmore Leonard was a master at writing memorable characters, and Karen Sisco was no exception. Jennifer Lopez's take on her in Soderbergh's Out of Sight adaptation infuses the role with seductive grit.  

Raylan Givens, Justified TV Series (2010–2015)

Another Elmore Leonard character brilliantly adapted by Timothy Olyphant in one of FX's all-time greatest dramas. 

Wyatt Earp, Tombstone (1993)

Maybe the most memorable marshal in history (actual history), Kurt Russell's Wyatt Earp is quite possibly the best.