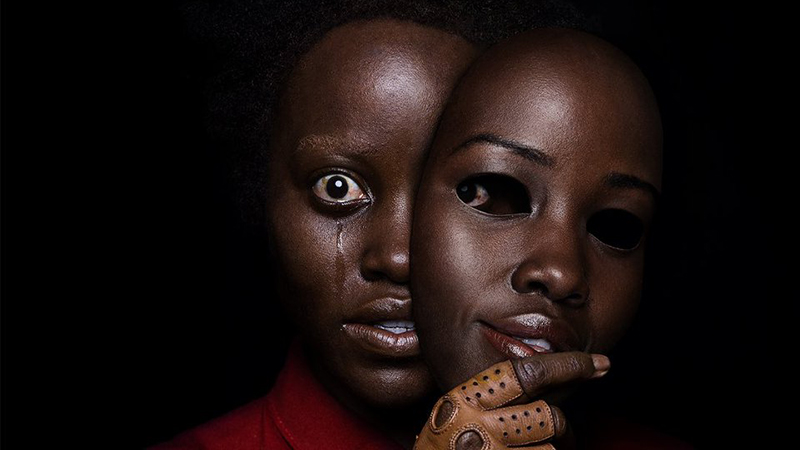 Jordan Peele has revealed the new Us poster for his upcoming horror thriller. Featuring Lupita Nyong'o, the poster plays on the classic comedy and tragedy theater masks with the doppelganger theme front and center. You can check out the full poster in the gallery below!
RELATED: Watch Yourself. The New US Movie Trailer is Here!
Us stars Lupita Nyong'o (Black Panther), Winston Duke (Black Panther), Elisabeth Moss (The Handmaid's Tale) and Tim Heidecker (Ant-Man and the Wasp) along with Shahadi Wright Joseph (Hairspray Live!), Evan Alex (Mani), Madison Curry, Cali Sheldon, Noelle Sheldon (Friends) and Duke Nicholson.
In the film, a mother (Lupita Nyong'o) and a father (Winston Duke) take their kids to their beach house expecting to unplug and unwind with friends (including Elizabeth Moss). But as night descends, their serenity turns to tension and chaos when some shocking visitors arrive uninvited."
Us is written and directed by Peele (Get Out), who also produces through his Monkeypaw Productions. The film is produced by Sean McKittrick, Jason Blum and Monkeypaw's Ian Cooper with Daniel Lupi executive producing.
RELATED: Jordan Peele Reveals Twilight Zone Episode That Inspired Us
Peele is gearing up to produce a remake of director Bernard Rose's 1992 horror film Candyman and is also busy working on the series Weird City for YouTube Premium, HBO's Lovecraft Country and the CBS series remake of The Twilight Zone.
The film is scheduled to hit theaters on March 22.