The ten best Al Pacino movies
One of the greatest actors of all time, Al Pacino's filmography contains some of cinema's best. Working with some of Hollywood's most influential directors, Pacino has turned in some truly dynamic performances. Often he is cast as the mobster type, but occasionally he has played against type, and often to perfection. His persona is iconic, his performances legendary and his career is distinguished. Narrowing it down to ten movies is certainly a tough task.
The Godfather

What can be said about one of cinema's most iconic films that hasn't already been said? Al Pacino's work as Vito Corleone's son, Michael is truly astounding. Launched into stardom with this role, Pacino only adds to an amazing cast. The movie is of course of the greatest films in history, chronicling the grittiness of the American dream for this crime family. Pacino's arc finds him surpassing the ambitions of his father. The movie is one of cinema's most iconic blockbusters and one of its most influential.
Purchase now on Amazon for $12.99.
The Godfather, Part II

Possibly surpassing his personal work in the first film, Pacino is terrific here as well. A generation-spanning story of the past and present of the Corleone family, Pacino and De Niro are both brilliant. Part II offers a look at the now ultra powerful Michael Corleone. Francis Ford Coppola's decision to juxtapose the story of young Vito Corleone to that of his son's is a terrific storytelling structure. It's a characters study on the perversion that is brought about by power. The only sequel in history to earn a win for Best Picture, Part II has an unopposed spot at the top of the film world for a reason.
Purchase now on Amazon for $12.99.
Serpico

Blending into his role here, Pacino plays a cop with a disillusioned view of his world. Tired of the corruptness and wanting to call it out, Pacino's performance is fearless and raw. The film, directed by Sidney Lumet, is exquisite in its creation. The film is part of Pacino's impressive run in the 1970s where the actor was on top of his game. It was his second of four straight Oscar nominations and this just as deserved as the others. A gritty street-level look at a morally righteous cop, Serpico nails it. It's a shame it would take him almost 20 years to win his first Oscar with his simply astounding performance in Scent of a Woman. 
Purchase now on Amazon for $9.99.
Glengarry Glen Ross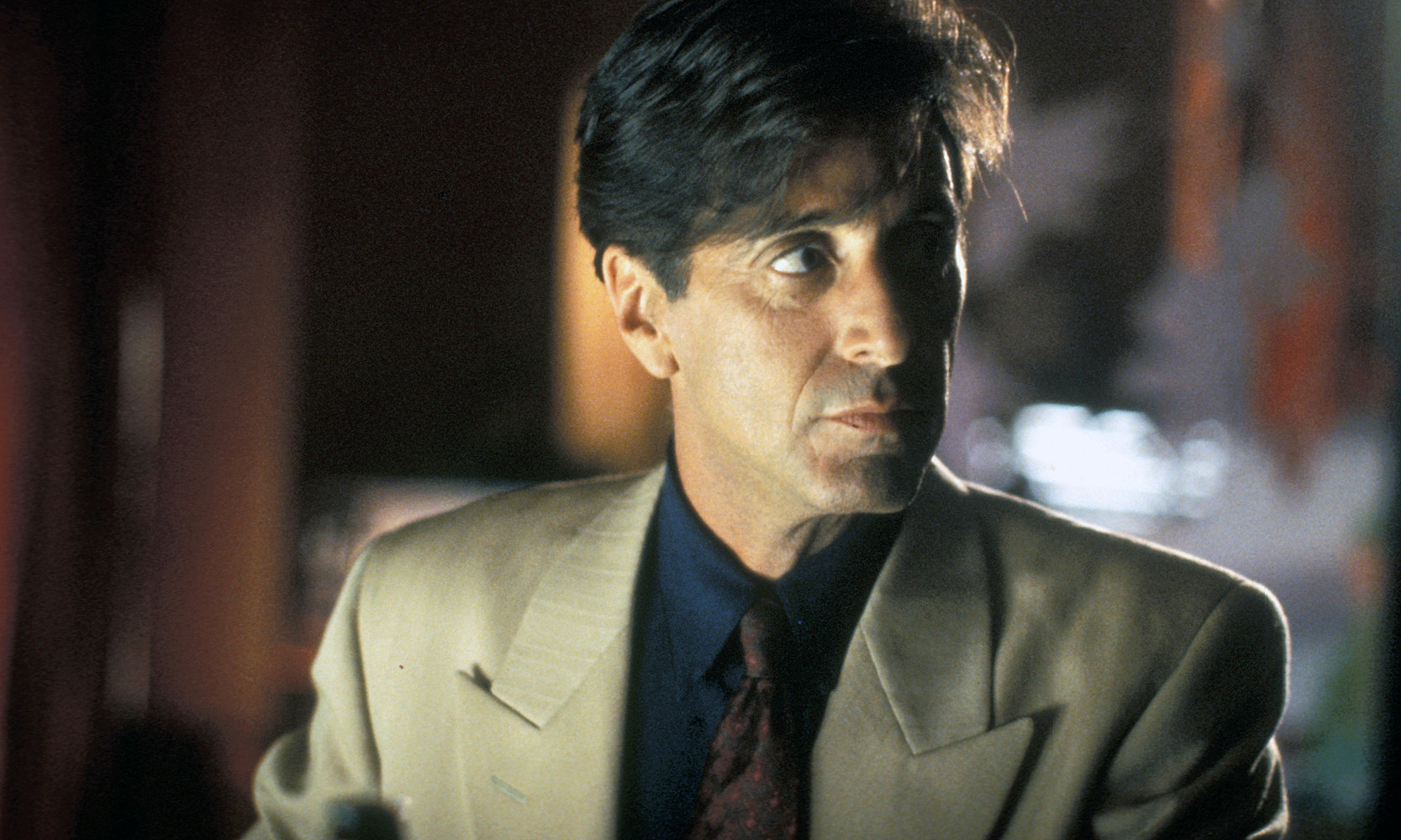 Much like his run in the '70s, Pacino gained his footing again in the 1990s with more career-defining work. In James Foley's compelling look at the world of sales, Pacino joins an all-star cast that included Jack Lemmon, Alec Baldwin, Ed Harris, Alan Arkin, and Kevin Spacey. The dialogue is among the best ever put to film, and the actors performances are top notch. Baldwin's iconic line of "always be closing" has resonated to this day in its infamy.
Purchase now on Amazon for $9.98.
Heat

Michael Mann's epic crime thriller features two brilliant performances by De Niro and Pacino. Their screen time together although minuscule in the scope of the movies near three-hour runtime, is certainly memorable. The cat and mouse game played between the two masters of their craft is highly compelling and offers some tense drama. It's a masterwork of crime dramas and perhaps Michael Mann's masterpiece. Plus, it's downtown L.A. action sequence is some of the best action in a decade defined by it.
Purchase now on Amazon for $9.95.
The Insider

A thrilling, true-life drama, The Insider finds Russell Crowe and Pacino on top of their game. Pacino reunited with Michael Mann to star in this look inside the world of investigative journalism. It is engrossing from start to finish and is among the best films about journalism. Packed with great performances not just from Pacino and Crowe, but Plummer is also terrific as 60 Minutes journalist Mike Wallace. It is a story of morality and a man torn between the giant cigarette industry and his civic duty to inform the public of the truth, even with the potential deadly costs involved.
Purchase now on Amazon for $7.99.
Insomnia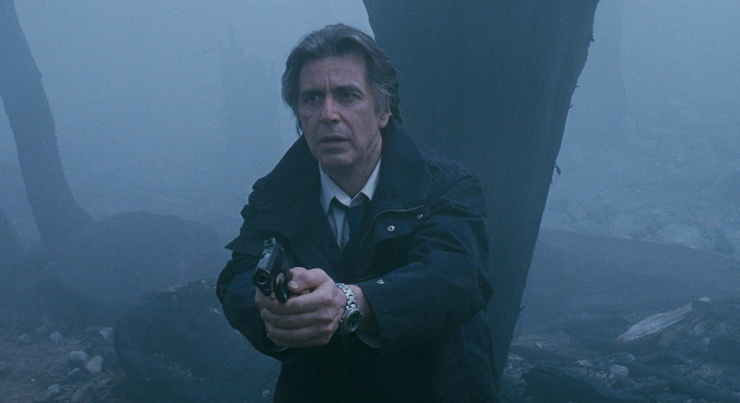 Fresh off the success of Memento, Christopher Nolan's third film finds him visiting the stark landscape of Alaska. With Hilary Swank, Pacino gets caught up in a game of cat and mouse. A tense and enthralling psychological thriller. Robin Williams also turns in a chilling performance. The movie's pace is unrelenting and always engaging. The setting plays a big role in the film and Nolan really makes you feel like you're there. It is just one of the many films in his career that transcends its genre with great filmmaking.
Purchase now on Amazon for $9.99.
Dog Day Afternoon

A down on his luck bank robber, Pacino's re-teams with Lumet to craft a tense, gripping portrayal of his desperate bank robber. At times darkly funny, other times emotionally riveting, Dog Day Afternoon brings the very best of Pacino and Lumet. Pacino commands the screen and his intensity only masks his paranoia and as his true motive becomes clear things only get worse. To boot, the movie's portrayal of the media attention of the situation feels all too relevant even to this day. It's criminal his first four nominations didn't earn him the Oscars he probably deserved.
Purchase now on Amazon for $19.99.
Donnie Brasco

Playing a low-level mob hitman, Pacino delivers a showy but solid supporting performance. Johnny Depp is the real star of the film, but the two have terrific chemistry in this mafia film. A relatively outside the box choice for director Mike Newell, the movie is compelling and ultimately is a subtle, never sensationalized look in a genre littered with over-the-top moments. Part of Pacino's 90's renaissance of sorts, the movie finds Depp and Pacino lost in two of their more enthralling characters. Its street-level style is a treat to watch.
Purchase now on Amazon for $12.99.
Scarface

While Al Pacino playing a Cuban certainly doesn't look good today, there's something still enduring about this movie. Scarface is a stylish, lurid film that thrives with Brian De Palma's excellent direction. It's a showy performance from Pacino and a film that tends to celebrate the excess and corrupt morality of its leads. That being said, the movie is an unapologetic, violent epic that expertly hits all the beats of its story without becoming one-hundred percent cartoonish. Oliver Stone's script is solid as well the supporting cast which helps drive home the intensity and madness of the film.
Purchase now on Amazon for $29.99.
We are a participant in the Amazon Services LLC Associates Program, an affiliate advertising program designed to provide a means to earn fees by linking to Amazon.com and affiliated sites.