ComingSoon Editor-in-Chief Tyler Treese spoke with My Father's Dragon director Nora Twomey about adapting the classic book into an animated film. Twomey discussed the storytelling potential of animation and the film's star-studded cast. My Father's Dragon begins streaming on Netflix on November 11.
"From five-time Academy Award-nominated animation studio Cartoon Saloon (The Secret of Kells, Song of the Sea, Wolfwalkers) and Academy Award-nominated director Nora Twomey (The Breadwinner) comes an exquisite film inspired by the Newbery-honored children's book from author Ruth Stiles Gannett," reads the film's synopsis. "Struggling to cope after a move to the city with his mother, Elmer runs away in search of Wild Island and a young dragon who waits to be rescued. Elmer's adventures introduce him to ferocious beasts, a mysterious island, and the friendship of a lifetime."
Tyler Treese: Cartoon Saloon has always had such range, visually, so I was curious about how you decided upon this particular style for the film.
Nora Twomey: The film's look is kind of inspired by three things. The first being the style of the book that it's based on. So it's based on a book by Ruth Stiles Gannett that was first published in 1948. Her stepmother, whose name was also Ruth, did these wonderful illustrations for the book. There's a wonderful sense of pattern to them. There's a lovely sense of the characters being almost camouflaged in the environments, which is just really beautiful. We were also really influenced by children's imaginations. This is a film that doesn't really talk down to younger audiences but really does try to [view] the storytelling perspective through the eyes of a child, through Elmer, the main character. So we wanted the look of the characters and the environments to kind of reflect children's imagination.
So I asked my two children to draw from the book. Rosa, our Production Designer, also asked her children to draw from the book. Everybody who was working in those early stages of production asked the children in their lives to draw what they felt the carriages looked like. We got some really unexpected results. They would draw like the head really big on a tire because the head is the most ferocious part or a tangle of crocodiles because they literally get tied up in knots, drawing crocodiles. That opened our eyes and our minds quite a bit when approaching, especially Wild Island and the animals that live on the island where Elmer begins his adventure. The third thing is that every film that we do reflects how it needs to be for the character to have a satisfying emotional arc.
And so for Elmer, who's really just a small kid in a big, big world that he has no control over — he doesn't know what's around the corner [and] he doesn't know what's chasing after him — there's that kind of underbelly of fear to the whole thing that also dictated how the film should look, what the physics of the island were, and trying to put the audience into the film with Elmer and Boris, make them feel like they're in the middle of a wonderful transformative, informative, kind childhood friendship.
You mentioned that it's based on the classic book. Did you grow up with that book or when were you introduced to it?
No, I was introduced to it about 10 years ago. So Cartoon Saloon is in Ireland, and the book isn't so well known in Ireland. But Julie Lynn, one of our producers on My Father's Dragon, read the book when she was a child. She read the book to her own children with her husband, who also read the book to their children. Meg LeFauve, who is a screenwriter who wrote for Inside Out and is now writing for the second Inside Out movie, also read the book as a child. She and John Morgan, who was her writing partner, all had a deep love for the book that spanned generations. By the time I met Meg and Julie and John, they already were feeling that we wanted to spend a lot more time on Wild Island and a lot more time in the middle of the friendship between Elmer and Boris.
And so, in the book, Elmer and Boris meet towards the end of the book. We knew that we wanted their friendship to be the very heart of this film. So we were already looking at ways to try and just spend as much time as we could on Wild Island because there's so much going on there. It's almost like a character itself. I went to visit Ruth a number of years ago in her home in upstate New York in Trumansburg, just to ask her, "what is it about Elmer that she felt that generations of families connected with, and who did you write the book for? What was her mindset when she was writing the book?" And she really said that it just happened.
She just began to write. She wrote for herself, didn't have a grand plan or anything like that when she was writing. She certainly wasn't talking down to children. She places tremendous importance on the imagination of children and the power and autonomy of children. Not only is she an amazing author, she raised six wonderful daughters, but she also did things like in her local village, she would go into the school and help children who were having difficulty learning to read. She inspired them with a sense of wonder and a sense of an appetite for story. So it was more the feeling of Ruth and the worlds that she created, that we adapted rather kind of a page for page adaptation onto the screen. That then allowed us to spend a lot of time in that friendship with Elmer and Boris, for them to feel like two kids that are just lost in a big world. They don't know what's around the corner, and that became the heart of the film.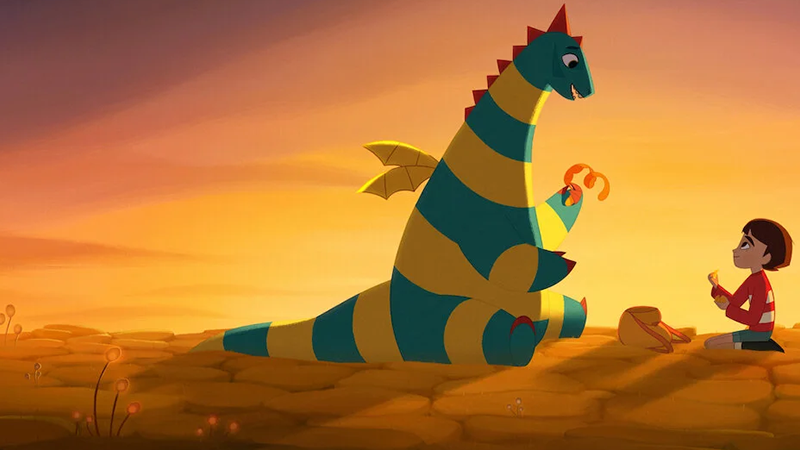 You have such a great cast here with so many stars. You have Whoopi Goldberg as a cat. How was seeing this amazing crew get assembled for your piece of art?
Yeah, it was really incredible. We have an amazing casting director, Amy Lippens, who really understood the kind of musicality of this film. Not just our score and our sound design, which is 50% of our movie, but knowing that our cast is such a wonderful ensemble or the potential for an ensemble was there to really push that, and to make sure that everybody who played a part in this film really believed what they were doing and that they had an amazing sense of imagination that got brought to the screen. We have Rita Moreno. We have just really incredible incredible actors. The very heart of the performances, of course, are Gaten Matarazzo and Jacob Tremblay, who play Boris and Elmer.
But every single one of our cast just were delighted to play. I think actors like animation because [you can] turn up in your sweatpants, and nobody cares. You're standing in front of a microphone. It's just you and your imagination and whatever you can bring to your part. So it was incredible getting to work with them all. Luckily, most of the recording happened before the pandemic, so I actually got to meet them all in person and got to play with them in the recording sessions and especially seeing how Gaten and Jacob worked together. I think Jacob was 13 and Gaten was 17 at the time, so they were kids, and they were playing a lot. They had a really genuine friendship between the two. That made my job as a director really easy. I literally just had to sit back and watch them watch them play. They were so amazing.
There was also an anime adaptation of My Father's Dragon in 1997. After production wrapped, did you ever look at that to see how the approaches differed in adapting it?
Yeah, I did, actually, beforehand, because I just wanted to make sure that we weren't stepping on the exact same territory or anything like that. And it's beautiful. It's a really beautiful adaptation. I think we knew what we wanted to do with this film and making sure that the sense that Elmer and Boris were on a sinking island that echoed and represented how Elmer was feeling and how he managed to navigate his real-life problems. There was a page in the book that I really, really connected with. It's one of the early pages where Elmer is kind of sneaking these saucers of milk to a stray cat, and his mom gets really, really angry with him.
And I just thought it was such a wonderful multilayered … there was so much between the lines and that page. What's going on in Elmer's mom's life, that a saucer of milk is a big deal and what's going on with Elmer when he looks up at his mom's face with all of this anger and probably to see somebody that he doesn't recognize. I thought there was such amazing potential for the screen in moments like that. And that's what we replicated throughout the film. We found moments that were telling you more about how a child can't really control adult problems, can't solve other adult problems. They just have to learn how to how to navigate their way through the world. How to find friends who can help you navigate with you. I remember when I was around the age of Elmer, my parents were no longer the answer to my problems or I didn't see that their answers were particularly ones that were going to work for me — my parents were very, very supportive. It was friendship [that] kind of felt like it was the center of the universe and what we've done with My Father's Dragon is try to put our audience in the center of that friendship and help them experience it and navigate the world of Wild Island with Elmer and Boris.
Worldwide, we're seeing more recognition for animation as serious art. It's not just Pixar and Disney getting all the accolades. Now we're seeing great work in Ireland, great anime like Your Name and Belle. When you look at the current landscape of animation and see the added recognition, how does it feel as somebody that's been in the industry for so many years? Do you feel like it is being taken a bit more seriously now?
Yeah, it certainly is a battle and it shouldn't be a battle. Disney and Pixar are fantastic. A lot of my favorite films are from those studios, but animation has a very long history starting in the 1800s and in Europe it was very big, up until I guess the second World War really made everything kind of take a backstep in terms of that amazing Russian animation and Eastern European animation. The world of short films, in particular with animation, is so strong and you have such amazing concepts being tackled in the most wonderful and abstract ways. It is wonderful to see its stretch. People like Guillermo del Toro bringing his own sense to film.
My Father's Dragon is a very inclusive film. It's layered but it's for everyone. I did remember that it was challenging. People were shocked in ways to say, "Well, why would you handle subject matter like that in animation?" And I did it because it's the most incredibly expressive medium and it allows an audience in a way that I think that's quite unique. So I really do look forward to seeing many films. One of my favorite films is The Red Turtle by Michaël Dudok de Wit. I think that's just, again, such an incredibly complex, beautiful film with the guise of simplicity on it. Films like Anomalisa, those things couldn't be done in live action with the same sense of empathy and compassion from the filmmaking team.
I do look forward to how streaming services, in ways, are broadening our sensibilities. I watch my own children and they'll go quite happily from 2D to 3D to live action to something that's like on YouTube that's a meme on top of a meme on top of a meme. So storytelling is changing, and how the mediums that people are using that; artists, animators, and filmmakers are using are changing. So I'm really excited for the future and what that means for animation.