The summer movie season is over, folks. Bullet Train was the last big release for some time, which means we've officially entered the dry month of August, where the most notable release on the menu is Steven Spielberg's E.T. – The Extra-Terrestrial (and that's not a bad thing). Before we jump into the fall movie season, I thought it'd be fun to look back at the box office performances from the dearth of summer flicks released from May to July.
Surprisingly, there were quite a few successes to counter some disappointing bombs. Of note, only Top Gun: Maverick crossed the billion-dollar mark. A few others got close, but couldn't leap over the bar (mostly due to China's lack of involvement). So, while we're mostly back to normalcy in terms of theater-going, we're still a far cry from the glory days of distant 2019 when the box office was loaded with billion-dollar-plus earners.
RELATED: Predator Stars Jesse Ventura & Bill Duke Praise Prey
Summer Box Office Winners
Top Gun: Maverick
Domestic: $663M
International: $690M
Worldwide: $1.353B
Before Top Gun released, I predicted it would gross roughly $800M worldwide and play out like a Mission: Impossible film. My assessment stemmed mostly from what appeared to be a lack of enthusiasm for the long-awaited sequel from people that I knew and/or talked to. I was overwhelmingly excited for the pic, but no one else came close to matching my enthusiasm.
Boy, was I wrong.
Top Gun exploded out of the gates with a massive $125M, but then a funny thing happened: it kept/keeps making money. Why? Because it's a really good movie. The type of quality entertainment not typically found in the modern cineplex, one boasting heroes, incredibly staged action (that's not reliant on CGI), and an overall positive vibe about family, country and teamwork. To date, Maverick sits at No. 7 on the All-Time Domestic list and will likely pass Avengers: Infinity War and maybe even Black Panther before all is said and done. That's absolutely incredible, and a rare instance of a modern film enjoying strong legs at the box office.
Worldwide, Maverick has no chance of cracking the Top 10, but keep in mind it never received a China release where Tom Cruise vehicles usually perform well. Seriously, with the Chinese total, it's possible Maverick would be gunning for The Lion King ($1.663B in 2019) and/or Jurassic World ($1.671B in 2015).
Jurassic World: Dominion
Domestic: $372M
International: $589M
Worldwide: $961M
I expected Dominion to go gangbusters at the box office because A) dinosaurs B) the returning OG cast (a tactic that worked incredibly well for Spider-Man) and C) the threequel was (kind of) advertised as the conclusion of the Jurassic World saga. The problem is that reviews for Colin Trevorrow's monster bash were abysmal and cut into what should have been a massive opening weekend (though $145M is nothing to balk at) and word of mouth was generally poor.
Still, as was the case with Doctor Strange, Jurassic World somehow managed to leg it out to nearly a billion worldwide. I don't care what franchise you are, a billion dollars is still a billion dollars. So, while Dominion fell far short of its predecessors (Jurassic World scored $1.669B in 2015, Fallen Kingdom earned $1.308B in 2018), I'm sure Universal is perfectly content with its overall performance.
Doctor Strange in the Multiverse of Madness
Domestic: $411M
International: $543M
Worldwide: $954M
Doctor Strange wasn't the biggest Marvel hit at the box office but still managed to gross a staggering $954M worldwide (sans China), which places the Sam Raimi pic firmly between Spider-Man: Homecoming ($878M) and Captain Marvel ($1.129B). One could chalk up audience enthusiasm as fallout from the very popular Spider-Man: No Way Home, but considering its lack of true star power and A-list superheroes, the near billion-dollar gross for Strange has got to count as a huge win for Marvel and the Mouse House and proves the superhero brand is still very much alive.
Minions: The Rise of Gru
Domestic: $335M
International: $424M
Worldwide: $759M
In a year that saw a Buzz Lightyear solo movie from Pixar and a superhero movie featuring Dwayne Johnson and Kevin Hart, it's crazy that the No. 1 animated film was Illumination's Minions: The Rise of Gru. I shouldn't be surprised. The original Minions grossed a staggering $1.157B at the worldwide box office in 2015 (placing it at No. 4 on the All-Time Animated Films list), but I deeply underestimated the value of these goofy animated flicks.
Surprisingly, Gru is set to overtake the original's $336M domestic haul but is about $400M away from matching its global take. Not opening in China and Japan doesn't help, but this is still a massive win for the studio.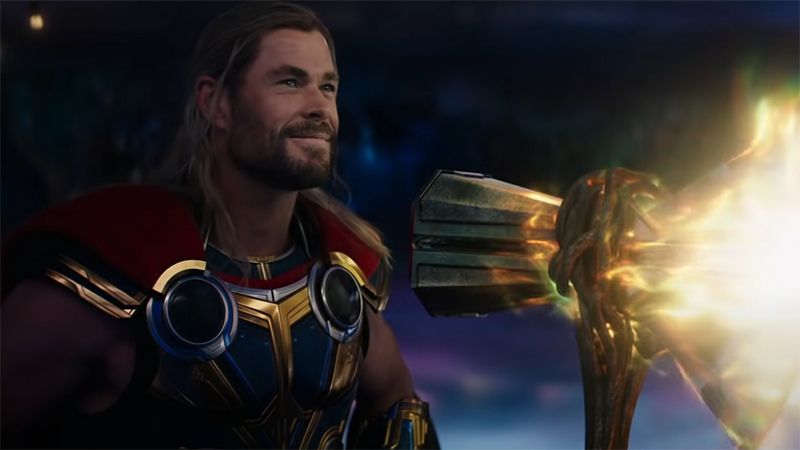 Thor: Love and Thunder
Domestic: $317M
International: $382M
Worldwide: $699M
In a similar vein to Doctor Strange, Thor performed reasonably well despite ho-hum reviews and lukewarm fan reaction. The God of Thunder wound up with near identical domestic numbers to Ragnarok ($315M) and only comes up short at the global box office because — say it with me: Taika Waititi's film wasn't released in China. Ragnarok scored $112M in the Middle Kingdom back in 2017, and while that number still doesn't get Love and Thunder past its predecessor, it's close enough to call it a wash.
Still, some may chalk this up as a loss for Marvel considering the star power and anticipation for Thor 3. We hadn't seen the character since Endgame and the trailers leaned hard on A) the Guardians of the Galaxy and B) Jane's transformation into a brand-new Thor. One would imagine such inclusions would merit higher results.
RELATED: Kevin Feige Initially Wanted to Have All 6 Avengers Die in Avengers: Endgame
Elvis
Domestic: $137M
International: $114M
Worldwide: $251M
The Black Phone 
Domestic: $86M
International: $62M
Worldwide: $148M
Where the Crawdads Sing
Domestic: $65M
International: $12M
Worldwide: $78M
Tucked in-between the big releases were smaller films that achieved their own victories. The Black Phone carried the torch for horror films while Elvis and Crawdads drew in older audiences. None of these numbers are particularly eye popping, but in the wake of a massive pandemic, it's nice to see relatively smaller fare achieve success.
Elvis, in particular, cost a cool $85M to produce and swung its way to $251M worldwide, placing it just under Encanto in terms of movie musicals.
Crawdads shocked plenty with a strong $17M opening weekend and continues to impress with a cumulative $78M total. That number may not jump out to you, but against a $25M budget, the makers behind the production aren't complaining.
Summer Box Office Losers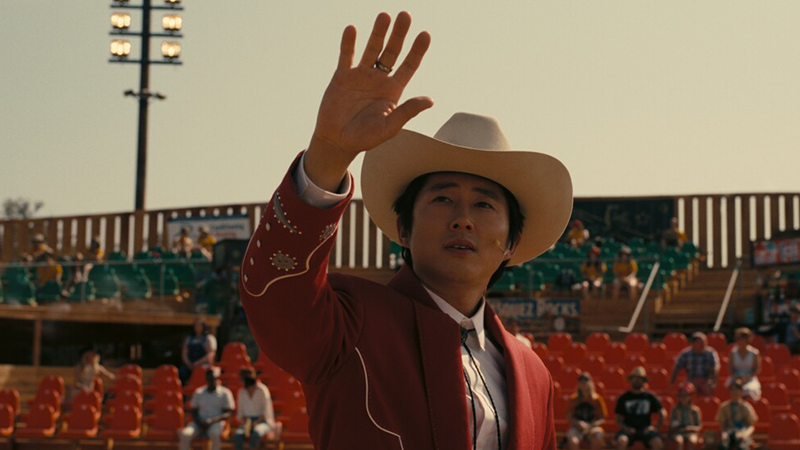 Nope
Domestic: $107M
International: $6M
Worldwide: $113M
The jury is still out on Jordan Peele's sci-fi thriller, the criminally underrated Nope, as it just released in several territories internationally. While it recently crossed the $100M mark at the domestic box office, compared to Get Out and Us, which earned $175M apiece domestically in 2017 and 2019, Nope's failure to catch fire is a bit worrisome for Peele's brand. This is why Hollywood runs away from original properties.
Downton Abbey: A New Era 
Domestic: $43M
International: $47M
Worldwide: $91M
This might seem a little harsh considering A New Era ended up grossing $91M worldwide, but the sequel to 2019's Downton Abbey feature took in $100M less than its predecessor … which is probably not what the producers expected. Or maybe they did. Who knows.
Now, an argument could be made that the original hit pay dirt mainly because it was the first bit of Downton fans had received since the show ended in 2016. The hype led to the feature overperforming at the box office and achieving the lightning-in-a-bottle type of success, while A New Era performed in a manner befitting of its type of film.
Or maybe interest in Downton has waned in recent years. Considering it only cost $40M to produce, the $91M is still a win, but that's still a huge drop off from one film to the next.
Pixar's Lightyear
Domestic: $118M
International: $99M
Worldwide: $217M
DC League of Super-Pets
Domestic: $46M
International: $38M
Worldwide: $84M
The Bob's Burgers Movie
Domestic: $31M
International: $2M
Worldwide: $34M
Paws of Fury: The Legend of Hank
Domestic: $17M
International: $746
Worldwide: $18M
Animated comedies not named Minions had a rough go at the box office this year. Bob's Burgers couldn't even recoup its modest $38M budget, while Pixar's Lightyear crashed and burned for a myriad of reasons (the same-sex kiss controversy, a complete lack of interest in this iteration of Buzz and/or a desire to wait and watch the flick on Disney+), Paws of Fury was DOA and DC League of Super-Pets has so far failed to generate much hype despite its star-studded cast and superhero premise.
All of these films showed promise but were lost in Minions' massive shadow. Still, you'd think even a poorly reviewed Lightyear would manage decent numbers on par with Cars 3. Buzz couldn't even leap over The Good Dinosaur, and barely cleared Onward domestically. So much for that live-action Woody flick.
Firestarter
Domestic: $9M
International: $5M
Worldwide: $14M
Just a few odd years ago we were all talking about the "Stephen King renaissance" thanks to the box office success of IT, a handful of Netflix features, and that short-lived (and bizarre) J.J. Abrams show. I expected remakes of Cujo, Salem's Lot, and The Stand … and instead, we got Firestarter. A remake of an 80s film no one remembers.
As it turns out, audiences weren't keen to venture from their homes to check out the thriller on the big screen, resulting in a putrid $14M box office.